×
remind me tomorrow
remind me next week
never remind me
Subscribe to the ANN Newsletter • Wake up every Sunday to a curated list of ANN's most interesting posts of the week.
read more
News

Viz Licenses Dragon Ball's Yamcha Spinoff, Ao Haru Ride, Radiant Manga, More

posted on by Karen Ressler
---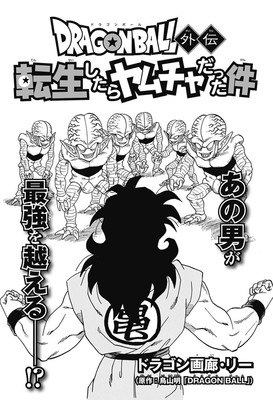 Viz Media announced at its Anime Boston panel on Friday that it has licensed the Dragon Ball: That Time I Got Reincarnated as Yamcha!, Ao Haru Ride, Record of Grancrest War, Abara, Ran And The Gray World, and Radiant manga.
In addition, Viz announced that it will release Dr. Stone in print this fall and We Never Learn in print this coming winter. The company also announced the Dragon Quest Illustrations: 30th Anniversary Edition art book, slated for winter. Finally, Viz announced that it will release all 14 volumes of Tokyo Ghoul in a complete box set with a double-sided poster.
Viz will release dragongarow LEE's Dragon Ball: That Time I Got Reincarnated as Yamcha! (Dragon Ball Gaiden: Tensei Shitara Yamcha Datta Ken) this fall. The company describes the story:
A DRAGON BALL fan dies and is reincarnated as Yamcha—DRAGON BALL'S biggest punching bag and total internet meme. Knowing this character's bleak future, he strives to make Yamcha the strongest DRAGON BALL character ever!
The three-chapter parody manga ran on Shueisha's Shonen Jump+ beginning in December 2016. Shueisha published a single compiled volume in November.

Viz Media will release Io Sakisaka's Ao Haru Ride (Blue Spring Ride) this fall. The company describes the story:
Futaba Yoshioka thought all boys were loud and obnoxious until she met Kou Tanaka in junior high. But as soon as she realized she really liked him, he had already moved away because of family issues. Now in high school, Kou has reappeared, but is he still the same boy she fell in love with?
The manga ended in 2015 and Shueisha published the series in 13 compiled volumes. The manga inspired a television anime and a live-action film in 2014.

Viz will begin releasing Makoto Yotsuba's Record of Grancrest War (Grancrest Senki) manga this fall. The company describes the story:
In a world where the noble elite are supposed to fend off the threat of terrifying Chaos but instead engage in pointless petty squabbles, young mage Siluca Meletes dreams of bringing justice to the land. She finds an ally in Theo, a young knight with a bright future. But as Theo soon finds out, despite her righteous goal of world peace, her methods are more than a little unorthodox!
The manga adapts the light novel series by author Ryo Mizuno (Record of Lodoss War) and illustrator Miyū. The novels inspired an anime adaptation that premiered in January.
Hakusensha will publish the fourth compiled volume of the manga on May 29.

Viz will release Tsutomu Nihei's Abara in a complete deluxe edition this coming winter. The company describes the story:
A vast city lies under the shadow of colossal, ancient tombs, the identity of their builders lost to time. In the streets of the city, something is preying on the inhabitants, something that moves faster than the human eye can see and leaves unimaginable horror in its wake. Factory worker Denji Kudou just wants to keep his head down and continue his quiet existence, but he is the key to stopping forces that would bring about an apocalyptic transformation of the world.
Nihei (Knights of Sidonia, Blame!) serialized the manga from 2005 to 2006. Shueisha published the series in two compiled volumes and Kodansha later rereleased the series in one volume.

Viz will release Aki Irie's Ran And The Gray World (Ran to Haiiro no Sekai) manga beginning this fall. The company describes the story:
Little Ran Uruma can't wait to grow up and become a sorceress like her mother, so with the help of a magical pair of sneakers, she transforms into an adult and sets off! Her father and older brother Jin try to keep her safe at home, but Ran is determined to advance her powers and have adventures of her own!
Kadokawa published the series in seven compiled volumes from 2009 to 2015.

Viz will release Tony Valente's Radiant in fall 2018. The company describes the story:
Seth is an aspiring wizard living in a pastoral village under the watchful eye of his mentor. Like all wizards, he is an "infected"—one of the few people that has survived contact with a Nemesis, creatures that fall from the sky and contaminate all they touch. His encounter gave him powers and led him to choose a path that seemed to be perfect—to become someone who hunts and fights the Nemesis. But Seth longs for a quest that goes beyond the simple hunt for monsters. He wants to find the place they come from, Radiant, and destroy it. Along with other wizards, he travels the world in search of Radiant, under the sinister eye of the Inquisition…
Valente launched the comic in 2013, and Asukashinsha began publishing the comic in Japan in 2015 as part of its Euromanga Collection imprint. The comic's eighth volume shipped in France in December, while the seventh volume also shipped in Japan in December.
The series is inspiring an anime adaptation that will premiere in October.
---