News

Karakuri Circus Anime Adds 8 Cast Members

posted on by Rafael Antonio Pineda
---
The official website for the television anime of Kazuhiro Fujita's Karakuri Circus (Le Cirque de Karakuri) manga revealed eight additional cast members for the anime on Friday. The additional cast includes: (Note: Name romanizations are not official.)
Katsuhisa Houki as Liang Jian-feng, the father of Liang Ming-Xia, and Narumi's martial arts master. He began suffering from ZONAPHA syndrome 50 years ago.


Yoshino Nanjō as Liang Ming-Xia, the daughter of Liang Jian-feng, and a skilled martial artist.


Ayane Sakura as Fatima, a "Shirogane" who operates primarily in the Sahara Desert. She is lonely, and longs for love.


Kenji Hamada as George LaRoche, a "Shirogane-O" who operates in America. He fights automata by being able to manipulate a ball made out of a special alloy.


Hiromichi Kogami as Rockenfield, a "Shirogane" who works in England as a medical scientist. He fights automata for the family he loves.


Tomokazu Seki as Baiyin, the elder of two alchemist brothers from China. He was born into a family famed for the crafting of puppets, and he learned alchemy in Prague.


Toshio Furukawa as Baijin, the younger of two alchemist brothers from China. He loves his brother, and like him, learned alchemy in Prague.


Additionally, Megumi Hayashibara will play Francine, a poor girl who is an apple seller and lives in the slums of Prague.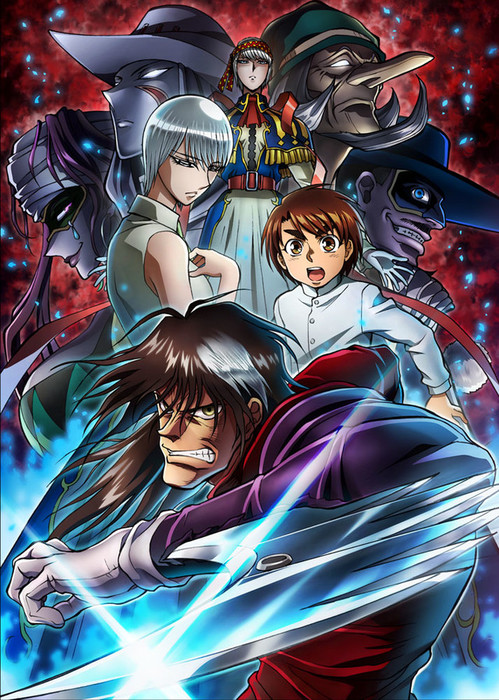 The anime premiered on Amazon in Japan on October 10, and on television on Tokyo MX on October 11. Amazon Prime is exclusively streaming the anime in Japan and overseas.
The story centers on Masaru Saiga, a fifth-grade boy who aims to become a puppeteer. After Sadayoshi Saiga — the CEO of the giant home telephone maker Saiga and Masaru's father — passes away, Masaru inherits 18 billion yen. Masaru is targeted for his wealth and is saved by two people. Narumi Katō is a man who has studied Kung-Fu and has a weird illness called "Zonapha Syndrome," and Shirogane is a silver-haired woman who controls the puppet "Arurukan" (Harlequin). Together, Masaru, Narumi, and Shirogane get thrown into various conspiracies by those who would try to steal Masaru's fortune.
Studio VOLN (Ushio & Tora, Idol Incidents) is animating the television anime series for Twin Engine. Satoshi Nishimura (Ushio & Tora, Trigun, Fighting Spirit) is directing the series, and Takahiro Yoshimatsu (2011 Hunter × Hunter, Trigun) is designing the characters and serving as chief animation director. Toshiki Inoue (Ushio & Tora, Death Note) and original manga author Kazuhiro Fujita are handling the series scripts. Yuki Hayashi (My Hero Academia, Haikyu!!) is composing the music.
---