Sergeant Keroro Premieres Tuesday 1 July 2008, 6.00pm on Animax
Sergeant Keroro airs 6pm Monday - Friday
Short Synopsis
In this long-running comedic anime series, a platoon of frog-like alien invaders gets into all sorts of wacky trouble in their quest for world domination.
Story
Be prepared to laugh your hearts out in this wild, wacky and oddball comedy that is Sergeant Keroro, a humorous and light-hearted series following a platoon of frog-like alien invaders who lands on Earth with the mission of taking over the planet.
However, things do not go as planned on Earth as the platoon is separated from its leader, anti-hero, and protagonist Sergeant Keroro, who has been discovered and captured by members of the Hinata household. Sergeant Keroro is under the mercy of the family and is reduced to being the family's domestic helper, stuck with the unenviable task of doing mundane household chores everyday.
Humour ensues as Sergeant Keroro reunites with his platoon mates. The Hinata family is not only amused by Sergeant Keroro and his four other platoon mates, they also find themselves foiling the platoon's odd alien ways and mission to take over the world.
Other quirky and goofy characters, hailing both from Earth and outer space, join in to add plenty of colour and laughter to the series. With a wide variety of references to other anime including the extremely popular Gundam franchise, as well as general pop-culture, this light-hearted, fun and entertaining comedy is sure to delight and amuse. Sergeant
Special note:
Keroro's popularity has also seen the release of three full length animation features including Keroro Gunso, the Super Movie (2006); Keroro Gunso 2, The Deep Sea Princess (2007); and Keroro Gunso 3, Keroro vs. Keroro (2008), as well as a multitude of merchandise from Bandai.
Character Profiles
Sergeant Keroro
Leader of the platoon of alien invaders, Keroro is easily distracted and would rather spend his time assembling his Gundam models than resume his plan for world domination. Living and working as a domestic helper in the Hinata household.
Private Tamama
Has an innocent and mild personality, but if something happens to annoy him, he snaps and unleashes his 'Tamama Impact', a ferociously powerful weapon, to vanquish the source of annoyance. Living in the Nishizawa household, Private Tamama is very devoted to Sergeant Keroro.
Corporal Giroro
The no-nonsense and serious member of the platoon, Corporal Giroro is the trigger-happy sharpshooter who is constantly reminding Keroro of their invasion mission. He is living with the Hinata family and carries a torch for the eldest daughter of the family.
Sergeant Major Kururu
As the brains behind the Keroro Platoon, Sergeant Major Kururu is responsible for intelligence and planning, and is the partner of teenage schoolboy Mutsumi Hojo. Always up to mischief, full of deceit and even evil, Sergeant Major Kururu is disliked by most others and resembles a mad scientist.
Lance Corporal Dororo
Lance Corporal Dororo is a quiet character who is also a ninja, having lived and trained with ninjas to be a martial arts exponent before joining the platoon. Dororo is often forgotten by the rest of Keroro Platoon and will result in the switching on of his trauma switch where he will sulk and cry in a corner.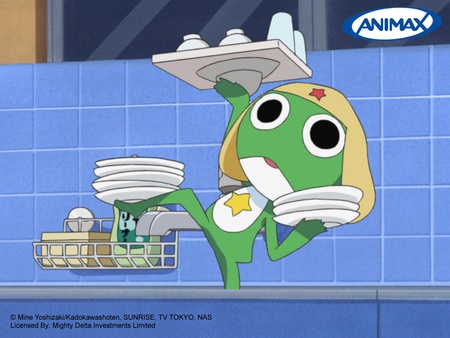 ---