Touch Detective for iOS Released August 4, 2011
Go to YouTube at the time of release and View the trailer!!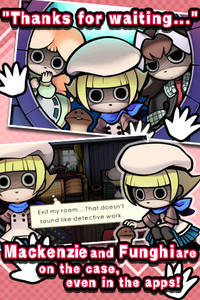 Beeworks Co., Ltd. (Head Office: Minato-ku, Tokyo, President: Kaneko Kenichi) and SUCCESS Co.,
Ltd. (Head Office: Shinagawa-ku, Tokyo, President: Yoshinari Takato) are proud to announce the
App Store® release of "Touch Detective" for iOS today.
We would also like to announce the release of a trailer for the game on YouTube.
About Touch Detective for iOS
・ "Thanks for waiting..."
Since first being released for the Nintendo DS in 2006, "Touch Detective" has attracted a strong fan
following with its slightly dark characters, mysterious and heartwarming story, and unique outlook,
and is now being released as an iOS app with an all-new bonus episode!
■ App Store URL :
http://itunes.apple.com/app/id438842356?mt=8

■ "Touch Detective" Basic Information
Title: "Touch Detective"
Genre: Game
Category: Adventure/Family
Price: [Chapter 1 – Chapter 2, Part 1] Free
[Ch. 2 Part 2 – Ch. 3 Part 1] [Ch. 3 Part 2 – Ch. 4 Part 1]
[Ch. 4 Part 2 – Bonus Chapter: "Funghi Breaks Out!"]
$3.99 each
[Complete Collection (from Ch. 2 Part 2 on)] $8.99
Supporting Devices: iPhone 4, iPhone 3GS, iPod Touch 3rd generation or later (excluding 8GB
models) and iPad.
Required OS: iOS 3.0 or later.
■ Related links for "Touch Detective"
Official Site:
http://beeworksgames.com/touchdetective/
YouTube:
http://www.youtube.com/watch?v=tgm-BSRhRDU

Original Story: Touch Detective (4 Chapters in All)
■ A touch adventure!
With her assistant Funghi by her side, our heroine the
rookie detective Mackenzie investigates mysteries!
■ Investigation is easy!
Gather evidence by touching curious items and
possible suspects! You'll need good intuition and
deductive skills!
■ Mysterious cases in a strange world!
Capturing a dream thief, rescuing a snow fairy...enjoy
all four mysterious, heartwarming chapters!
■ Packed with bonus contents!
Comes complete with the opening movie, jukebox
feature, and Touch List that won acclaim in the DS
version!
Bonus Chapter: "Funghi Breaks Out!" (3 chapters in all)
■ Exclusive to the app version!
An all-new, complete story never released on DS! The
most perilous case in the history of "Touch Detective"!
■ Starring Funghi!
Funghi fans, rejoice! The ever-popular Funghi takes
his turn in the limelight! Don't underestimate his skills!
■ A substantial adventure!
This is no bare-bones side story! It's a full-length
escape game in its own right, with a beginning,
middle and end!
■ A new character!
Find out the truth behind this shadowy, mysterious
figure!
* Please note: "Funghi Breaks Out!" is exclusive bonus material for purchasing all chapters of "Touch
Detective" for iOS, and is not sold separately.
---