Namco Bandai Games to Use ShiftyLook to Create Webcomics for Upcoming Smartphone and Tablet Titles
Update: Namco Bandai Games provided an updated version of this press release.
---
TOKYO, JAPAN – March 5, 2012 –
NAMCO BANDAI Games Inc., a subsidiary of NAMCO BANDAI Holdings Inc. (TYO: 7832), announced today the upcoming addition of webcomics based upon smartphone and tablet games Alien Confidential and Rocket Fox to its ShiftyLook IP cultivation and community platform. Webcomics for Alien Confidential join Bravoman, Xevious and Sky Kid at the March 9, 2012 launch of the service, while Rocket Fox webcomics will launch later in the month. ShiftyLookcan be accessed at
shiftylook.com
.
"ShiftyLook can unlock the potential of our IP," said Shigetaka Kurita, GM, Network Strategy Office, NAMCO BANDAI Games Inc. & Executive Producer of ShiftyLook. "Whether old or new, arcade or mobile, any title of ours that hasn't yet hit the big time can potentially join in on the fun."
Alien Confidential: Black & White (webcomic):
Written By: Sharon Scott
Pencils By: Andew Pepoy
Webcomic Launch Date: March 9, 2012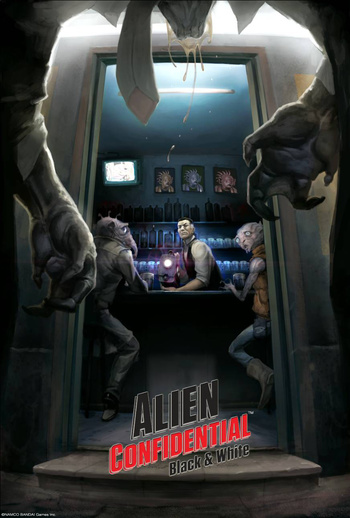 At a nondescript bar in downtown Chicago, the most out of this world stories are told. Travelers from far and wide stop by for an escape for a drink, an hour, a night, just to be somewhere else. But this bar doesn't serve a drop of alcohol, it serves only super-thaumatin, the sweetest substance ever made, to aliens from all reaches of the universe.
Arash started Black & White after he was discharged from G.R.A.Y., the government-backed international underground organization charged with keeping interstellar alien immigration under wraps and under control. Serving up his homemade Super Thaw, an ice-cold blend of flavors most humans find bothersomely sweet (but get no kick from), aliens from any other planet seem to get instantly intoxicated, meaning good business for the B&W.
Filled with tales of action, adventure, mystery, and even romance from all corners of the cosmos (including some of his own), Alien Confidential: Black & White is an anthology-style webcomic that has fun with the evergreen line: "So an alien walks into a bar..."


"Alien Confidential: Black & White is an exciting opportunity to set the tone of the universe in advance of the game's release," said Masataka Shimono, Producer of Alien Confidential for NAMCO BANDAI Games Inc. "We look forward to this enhanced storytelling multi-medium and what it can do for fans."
Alien Confidential (game):
Developed By: NAMCO BANDAI Games Inc.
Platform: Smartphones and Tablets
Category: Social Game
Game Expected Release Date: Upcoming


Since the beginning, even preceding the dawn of mankind, extraterrestrial beings, aliens, have been visiting the earth. They have lived amongst us secretly throughout the entire history of our species, and most have desired to retain a sense of concealment and a low profile. But on occasion, those which would wish to cause harm to humanity appear, and it is from these aliens that tales of legendary monsters and mythical creatures have been born throughout the ages.
Today, the Global Resistance AgencY, otherwise known as G.R.A.Y., protects the earth from extraterrestrial threats and strives to maintain the secrecy of the aliens' existence. With hundreds of millions of aliens on our planet alone, there are G.R.A.Y. bureaus all across the globe handling all alien matters, big and small.
G.R.A.Y. agent, now it's your turn to gear up and get armed...the gauntlet has been thrown and it's time to protect our planet!
Rocket Fox (webcomic):
Written By: Stacy King
Line Art By: Shane Law
Webcomic Launch Date: March 2012


Guy Fox is a fox who loves adventure. Cheerful and curious, there is nothing he won't do to get at a good flowerocket wherever he can find one. Still learning how to harness the flowerockets' power of foxfire, he often finds himself on the receiving end of one of master Zenko's lengthy lectures for being too rash.
The Rocket Fox webcomic features all the characters from the game – Guy Fox, Samiho, Huli, Zenko and more – and brings them to life through a lighthearted, adventure. The story of the webcomics will follow an original storyline as well as adapt the story of the game.
"Rocket Fox and webcomics are a natural fit." said James Kucera, Executive Producer at NAMCO BANDAI Games America Inc. "Similar to how the Sunday news strips of old capture a sense of lightheartedness with readers and make a genuine connection, so does the Rocket Fox game and comic."
Rocket Fox (game):
Developed By: NAMCO BANDAI Games America Inc.
Platform: Smartphones and Tablets
Category: Platformer
Game Expected Release Date: Upcoming


Inspired by the Japanese mythology of the kitsune, Rocket Fox is an all-ages platformer that follows Guy Fox and his friends through high-flying adventures from one island to the next in a mythical land. Light fireworks with your magical fire to create giant explosions and release Foxfire, the energy that keeps all foxes alive. As you learn about how to use special Flowerockets and harness your Foxfire, you will become stronger and be able to adventure to new flying islands and uncover mysteries with your friends. What lies ahead for Guy Fox and his friends?
An exclusive hands-on demo of Rocket Fox will be available at the ShiftyLook Launch Party at WonderCon 2012 (Anaheim, CA) and at the NAMCO BANDAI Games Presents ShiftyLook x Destructoid Party at PAX East 2012 (Boston, MA). Additional details will be available on shiftylook.com on March 9, 2012.
Alien Confidential: Black & White's Sharon Scott and Andrew Pepoy will be appearing alongside Bravoman's Matt Moylan and Dax Gordine, Xevious' Mike Norton and Mike Costa and Sky Kid's Jim Zub at the Video Game Characters Reborn! NAMCO BANDAI Games Presents ShiftyLook panel at WonderCon in Anaheim, California on March 17, 2012 (2:30PM to 3:30PM, Anaheim Convention Center Room 208) and ShiftyLook Launch Party (7:00PM to 10:00PM, Hilton Anaheim Hotel, Pacific B Ballroom).
Webcomics on ShiftyLook will be available worldwide in English, free of charge, through web browsers for PC, Mac, iOS and Android. Participation in the ShiftyLook community is exclusively through BANDAI NAMCO ID, the NAMCO BANDAI Group's official user ID system, which may or not be available in a particular region. BANDAI NAMCO ID is not required to interact with the official ShiftyLook Twitter account (@ShiftyLook) or Facebook Page (fb.com/ShiftyLook).
---
this article has been modified since it was originally posted; see change history