Valve and MangaGamer.com Breaking Down Barriers With The Uncensored Steam Release of Kindred Spirits on the Roof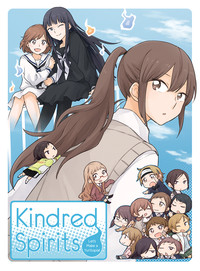 September 1st, 2015 — Valve and
MangaGamer
.com Break Down Barriers With Upcoming Uncensored Steam Release of
Kindred Spirits On The Roof
MangaGamer.com has just announced that one of their latest acquisitions,
Kindred Spirits
on the Roof, first presented at
Otakon
2015, will also be released on Steam. General Manager of MangaGamer.com Koji Hotta stated, "We've always been proud of our work at MangaGamer.com and seeing the industry move in a socially progressive direction is motivating."
The story of Kindred Spirits focuses on a lesbian relationship between two ghost girls who haunt an all-girls academy and the unrequited feelings in their hearts, unable to fully experience love during their lives. The game features some explicit sexual content which will remain uncensored in the upcoming official Steam release. The game's catchphrase is "Let's make this a Yuritopia!"
"It's great to see our years of effort finally paying off as visual novels containing adult content gain more mainstream acceptance and recognition as a valuable medium for artistic expression."
John Pickett
, MangaGamer.com's head translator commented. "This is monumental news for the industry as a whole. Everything will be open and up-front with this release; no off-site patch or workarounds. Kindred Spirits will be sold on Steam completely uncensored. Seeing frank depictions of same-sex relationships welcomed on such a major gaming platform is a true testament to the open-mindedness of our society and the growing desire for mature entertainment that people of all walks of life can enjoy."
The MangaGamer.com staff sound optimistic about the future, "We always have and always will support the full adult content on our platform like we did with *eden. However, it's great to see our partners at Valve making a shift toward acceptance on this topic. We've also seen bundle sites like Groupees and IndieGala now more open to adult content. It's motivating for the future."
MangaGamer.com also recently released a physical edition of No, Thank You!!!, a game featuring gay relationships, at
Anime Expo
. Another less explicit lesbian romance title, A Kiss for the Petals: Remembering How We Met, will be available on Steam later this month.
ABOUT MANGAGAMER.COM
MangaGamer.com
is the world's first legal download site for English translated Visual Novels. Since its launch in July 2008, it has offered services where fans can download and enjoy popular Visual Novels such as
minori
's
ef -a fairy tale of two
and
OVERDRIVE
's
Dengeki Stryker
right from their home. Don't forget to visit us on
Facebook
and
Twitter
!
---