×
remind me tomorrow
remind me next week
never remind me
Subscribe to the ANN Newsletter • Wake up every Sunday to a curated list of ANN's most interesting posts of the week.
read more
The Spring 2023 Anime Preview Guide

I Got a Cheat Skill in Another World
---
What is this?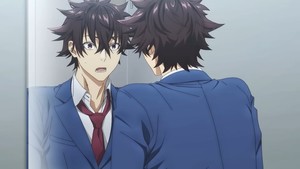 A door to another world stretches out before a boy who's been brutally bullied all his life. This alternate reality grants him access to all sorts of things, like cheat skills and a portal that lets him travel between his old and new worlds. Can this class loser turn his life around back home?
I Got a Cheat Skill in Another World and Became Unrivaled in the Real World, Too is based on writer Miku and illustrator Rein Kuwashima's light novel series and streams on Crunchyroll on Thursdays.
---
How was the first episode?

James Beckett
Rating:
To be honest, the fact that I Got a Cheat Skill in Another World and Became Unrivaled in the Real World, Too seems to actually kind of try makes it even more irritating. The show's self-serious direction, coupled with the fact that we spend an extraordinary amount of time with the pre-isekai'd version of our hapless, overweight, and terminally miserable protagonist, gives you the impression that it thinks very highly of itself, as if it's telling the real version of the same old isekai power fantasy that the other shows didn't have the guts to depict. Then, after all of that, the premiere just devolves into the same inane montages of JRPG menu stats, language learning, and instant buff bod transformations that we see in every single one of these terrible series.
I can't believe I'm about to say something positive about The Fruit of Evolution, but at least that godforsaken blight understood that it has become impossible to treat the cheap reincarnation power trip with any seriousness anymore; you either handwave the setup as a necessary but perfunctory evil—which is what most of these shows tend to do lately—or you confront the whole core of your premise as the fundamentally stupid joke that it has become. Watching Tenjou wallow in dramatic self-pity for nearly an entire episode is neither entertaining nor emotionally moving. It merely reinforces the toxic subtext that so many of these crummy shows peddle, intentionally or otherwise: that to live as a nice, regular, but not conventionally attractive or popular guy in the everyday world is a fate worse than death.
Sure, our guy Tenjou doesn't actually have his fateful encounter with Truck-kun, but his hot body and isekai powers are his one-way ticket to living a happier, more fulfilling life all the same, and I'm sure the rest of this season will go on to have him exercise his newfound power on all sorts of monsters, demon lords, buxom witches, or whatever. In a different series, I could see myself getting on board with the fact that Tenjou is seemingly going to be hopping back and forth between Earth and multiple, different isekai realms, because that is novel to me, at the very least. Given how terribly this premiere was executed, though, I cannot imagine ever sitting down to watch I Got a Cheat Skill again, no matter how many different universes Tenjou visits.
---

Richard Eisenbeis
Rating:
As far as isekai premieres go, this one starts off incredibly strong. Those first 10 minutes showing the bullying he faces from not only his classmates but from his siblings and parents are some emotionally brutal stuff. Watching him face constant oppression but still strive to do the right thing—even knowing the beating that awaits him—is more than enough to win me over.
A lot of what makes this part hit so hard is the style of the animation. The dark shadows and detailed faces make everything seem completely serious. The visual contrast between a Yuuya affected by obesity and his fashion-model-like classmates reinforces just how distantly he perceives himself from them. The scene where he lashes out at the mirror, watching the blood drip from his knuckles as he cries in impotent rage, is great because his pain is palpable and it hurts not being able to comfort the poor kid.
However, once we get into the isekai stuff, things go a bit downhill. We're immediately thrown into the standard tropes of status windows, powerful weapons, cheat skills, and getting overpowered with little-to-no effort. While it is important to lay down the rules of a fantasy world setting early, having to pause the show to read each and every text box that pops up absolutely destroys the flow of the episode.
Another problem is that he becomes a literal Adonis overnight—and never even notices. On one hand, I get what the show's going for. I am a person who almost never looks in mirrors. If the one in my bathroom broke, I probably wouldn't bother with a replacement. However, the idea that Yuuya wouldn't notice his absolutely ripped body is just silly. After such a weight loss, you feel and move different.
Speaking of looks, while I praised the animation and art style, I have to admit I broke out laughing when the show mentioned it was his middle school graduation. This means that Yuuya and all his classmates are 15 years old despite looking like they're in their mid-20s.
However, while the episode does have its problems in the back half, it gets all the setup done so we can get to exploring the actual premise from here on out—him being overpowered in our world as well as the fantasy world. And honestly, I'm on board with this empowerment fantasy. I'm ready to watch him get back at his bullies and win the love he has been denied for so long.
---

Rebecca Silverman
Rating:
This is absolutely a power fantasy, but it's at least one I can get a little bit more behind. Mostly that's because of something that we see at the end of the episode, that even though protagonist Yuuya has become ripped and gorgeous on the outside, on the inside he's still that same kid who spent every day being bullied by his family and classmates. In the first novel, that sticks with him throughout, and since this adaptation is sticking very close to the source material right now, there's a real sense that the author understands that the sort of bullying he went through isn't something you just "get over." It takes time, and some of it always lives deep in your soul, just waiting for everything to start again. Just because this is from the same author as The Fruit of Evolution doesn't mean it's all bad.
Sadly, beyond Yuuya's characterization, this is pretty bog standard, even if it looks better than your average isekai LN adaptation. It's a little different in that Yuuya's otherworld journey takes place via a door that his world-traveling grandfather left him inside a secret treasure room, which feels like a good misdirect since the opening scenes seem to be heavily hinting at death via traffic accident. Yuuya himself realizes immediately that things are just way too easy once he walks through the ornately carved door, though of course he's not foolish enough to turn down the gift he's been offered. It feels almost like he's playing house in a fantasy land where none of his tormenters can reach him, and smiting monsters that can't actually harm him through the magic barrier around his new cabin could be sort of cathartic for him. But yeah, it's still pretty much same old, same old, complete with stats, pop up windows, and ludicrous powers for almost no work.
Obviously, I'm a little torn here. I really do like the way Yuuya is characterized and how he reacts even with his new strength to his old monsters. But I can also see this being unable to maintain its momentum and sliding back into the realm of isekai harem OP pabulum. I'm willing to give it a chance, even if I don't love that Yuuya can't be a hero when he's overweight (so yeah, content warning for fat shaming), because it's got a decent enough hook. File this one under "give it a few episodes and see."
---

Nicholas Dupree
Rating:
We, as a society, have got to stop letting Shin Itagaki direct things that aren't Teekyū. The man has demonstrated, across every project he's run since Berserk 2016, that he cannot direct action or fantasy to save his life. He reliably makes the worst possible choices in framing, blocking, and editing to deliver claustrophobic, indecipherable car wrecks. Anyone who watched the later episodes of So I'm a Spider, So What? knows what I'm talking about, and every bad decision from that series has been transplanted here, only without the dulcet tones of Aoi Yūki to make it more tolerable. Watching this episode—as in, just the act of visually consuming it—was physically headache inducing.
Though maybe I'm being a little too hard, since Itagaki's signature style at least gave me something to hold my attention across this episode; the writing was never going to manage that much. Our hero, Yuuya, has one of the most tired and hackneyed backstories you'll ever see. His entire character arc is that everyone in the world hates him for being fat and ugly, and everyone beats and harasses him at literally every opportunity for the crime of breathing. Yet the story doesn't actually sympathize with Yuuya, because if it did, the solution wouldn't be for him to magically become skinny and conventionally attractive. Rather, it's all just buildup to make the people in his life (besides his eventual harem of attractive anime girls, of course) as detestable as possible, while wringing the audience for pity through Yuuya's abuse. It's just another aspect of the inherent power fantasy, and leaves Yuuya with less depth than The Ugly Barnacle.
Of course, his rise to power and hotness is just as shallow. Yuuya joins a long line of isekai melvins who just stumble into super powers, literally being handed them the second he walks into fantasy land. You can tell that even the show is bored by this, because it speeds through his skill acquisition so quickly that you never have time to read the dozens of stat screens and RPG menus that constitute his training montage. That doesn't make those endless text-boxes any less annoying, but it highlights just how meaningless it all is. These aren't important or considered skills meant to flesh out his character—they're a bottomless vault of cheap powers to pull from so that our hero never has to struggle for anything. We've all seen this a million times before.
So yeah, this is a bust on all fronts. In the hands of any other director, Cheat Skill would be a flavorless waste of 22 minutes. Here, it's still just as bland, but delivered with the clarity of a half-remembered nightmare.

---
Disclosure: Kadokawa World Entertainment (KWE), a wholly owned subsidiary of Kadokawa Corporation, is the majority owner of Anime News Network, LLC. One or more of the companies mentioned in this article are part of the Kadokawa Group of Companies.
---
discuss this in the forum (256 posts)
|
this article has been modified since it was originally posted; see change history
back to The Spring 2023 Anime Preview Guide
Season Preview Guide homepage / archives