×
remind me tomorrow
remind me next week
never remind me
ANN Reader Survey • If you haven't had a chance yet, please fill out our annual survey, It's so helpful to us. As a thank you for filling out this massive survey, we're giving away 100 ANN subscriptions to people who fill it out.
read more
×
remind me tomorrow
remind me next week
never remind me
Subscribe to the ANN Newsletter • Wake up every Sunday to a curated list of ANN's most interesting posts of the week.
read more
RIGHT TURN ONLY!!
Kingdoms' Heart
by Carlo Santos,


Thanks to everyone who commented on RTO's little paradigm shift. Once again we are here at the Court of Pure Manga Reviews, hoping to fine-tune the wheels of justice in order to better serve YOU, the reader! I just hope there won't be too many people filing appeals...
---
NEGIMA!


Vol. 13
(by Ken Akamatsu, Del Rey, $10.95)
FROM THE BACK COVER:
"As the Budôkai Martial Arts Tournament draws to a close, Negi finds himself facing one of his own students, Setsuna, in battle. But after the strange disappearance of Takahata-sensei, and an even stranger conversation with the mysterious Ku:nel Sanders, can Negi pull it together to emerge victorious? Elsewhere, student Asuna leads a group of rescuers—among them another student of magic—deep into the catacombs beneath Mahora Academy. Who will receive the greater shock: Asuna in the depths below, or Negi facing his long-lost father?"
EVIDENCE FOR:
Chapter 118: never forget. Maybe I'm just a sap for father-son drama, but the reunion between Negi and his dad got me right in the heart, instantly making this my favorite volume of Negima! so far. Perhaps you, too, will be touched by the poignancy of this wandering son's search for his family bonds. Before he gets there, though, there are a couple of fights left to cap off the Budôkai Tournament arc, still alive with the energy that has carried it over the past few volumes. Kaede's self-cloning fighting style looks especially good on paper; Akamatsu's interpretation of this ninja staple shows it as a fierce, powerful attack and not just an assassin's parlor trick. And anyhow, aren't you just glad that the tournament arc is over? There's still the rest of the school festival to go, after all, and this volume proves to be an effective climax—rather than going all-out with REAL ULTIMATE POWER, it finishes with heart. Fatherly love: now that's real magic.
EVIDENCE AGAINST:
How are people
reading
this? It's all fight, fight, fight in what has to be the most crowded layouts to ever grace a mainstream boys' manga. Text bubbles everywhere, incessant toning and background effects, and so many speedlines you think the pages are going to rip themselves right out of the book. Sure, the fights are supposed to look energetic, but this is just a mess. And no matter what anyone says about Akamatsu's style, I still find his girls to be generic-looking—to the point where I have trouble remembering who the secondary (and tertiary) characters are. Doesn't matter if she's naked or goth-loli or wearing a penguin suit, the faces just don't register at all. Getting back to the subject of story arcs, meanwhile, it'd be nice if the sneaky Chao internet subplot would just go away; it doesn't seem to be adding anything to the story, not even if "it becomes important later on."
FINAL VERDICT:
The court was certainly moved by Negi's family-bonding moment, but Akamatsu's technical missteps average this one out to about a
B
.
---
SUZUKA


Vol. 3
(by Kouji Seo, Del Rey, $13.95)
FROM THE BACK COVER:
"Everything was going just fine between Yamato and his gorgeous neighbor Suzuka ... until Yamato opened his big mouth and said the three most dangerous words a guy can utter: 'I love you.' Now Suzuka is giving him the silent treatment. In a desperate bid to get back on her good side, Yamato joins the track team. Far from being pleased, Suzuka is furious, believing Yamato will bring the
real
athletes down. Yet Yamato surprises her—and himself!—when he turns out to be a worthy contender. Now he's headed for victory at the track. But will he ever win the only prize he really wants: Suzuka's love?"
EVIDENCE FOR:
It's not often you see a male romantic lead get rejected as early as Volume 2—but that's exactly what opens the doors for growth in this one, where Yamato gets over his misery-wallowing and signs up for the track team. Let's face it, everyone's gotten tired of him mooning over this one girl the whole time, so it's good to see the story shift to something more action-oriented. Speed and grace are the backbone of athletics, and you'll see plenty of that in the slick, detailed art. Keep an eye out for Yamato's new teammate Miki as well; she's got an appealing personality that really boosts the storyline by virtue of not being a sad-sack, a bitch, or a drunkard. (And yes, you almost want to root for her to pair up with Yamato instead...) The fluid storytelling should make it clear that change is in the air, with the relationships moving along at a confident pace. The last chapter in the book is especially rewarding, with Suzuka's past revealed and a new plot twist to come. Best of luck, Yamato!
EVIDENCE AGAINST:
What's with all the negative waves in this volume? As Suzuka and Yamato grow apart, they also grow more annoying: she gets all bitter and moody about Yamato joining the team, and he gets all whiny about her still not liking him. Sorry, but I have trouble finding sympathy for the main characters if they're just going to be brats who can't communicate. Speaking of brats, the supporting cast is still poorly developed, somehow caught in a netherworld between trying to be comic relief but also providing relationship advice. Look, we're trying to get into a touching love story here and these idiot college girls keep showing up with their boob jokes. What'll it be, then? Goofy bathhouse comedy or coming-of-age school romance? Please, let's stick to the latter road.
FINAL VERDICT:
Overall, the court sees this series continuing to improve, with the characters still flawed but striving for change. Let's give it the silver medal: a
B
.
---
TO TERRA...


Vol. 1
(by Keiko Takemiya, Vertical, $13.95)
FROM THE BACK COVER:
"The future. Having driven Terra to the brink of environmental collapse, humanity decides to reform itself by ushering in the age of Superior Domination (S.D.), a system of social control in which children are no longer the offspring of parents but the progeny of a universal computer. The new social order, however, results in an unexpected byproduct: the Mu, a mutant race with extrasensory powers who are forced into exile by The System.
The saga begins on educational planet Ataraxia, where Jomy Marcus Shin, a brash and unpredictable teenager, is nervously preparing to enter adult society. When his Maturity Check goes wrong, the Mu intervene in the great hope that Jomy, who possesses Mu telepathy and human psychic strength, can lead them back home, to Terra..."
EVIDENCE FOR:
Not in the mood for a visit to a fantasy world (see below)? How about a futuristic one? The quest for Terra is a captivating story with detailed 30th-century flair: massive starships, gleaming civilizations, and that Star-Trek-meets-disco sense of fashion. Maybe they really
did
draw better back in the days when you had to do everything by hand, no computers, no shortcuts, no cheating. Takemiya doesn't cheat with the plot, either; her storytelling moves ahead with sure and steady pacing, fully developing each character as they struggle to understand themselves. Look to the Keith Anyan arc in the middle chapters to see this mastery in action: in those 200 pages, he will change more than most characters do in an entire series. Also watch with awe as he loses himself in the abstract, fluid worlds of emotion and memory. Like most sci-fi series, To Terra is an impressive re-imagining of the outside world, but then it really gets you with what happens inside the mind.
EVIDENCE AGAINST:
The principal themes of To Terra—individual vs. society; free will vs. automation; humanity's legacy on Earth—had already been a science-fiction staple for decades when it was first published. Add to that another 25-odd years of constant expansion of the genre, and from that vantage point it's clear that series feels a little "old." I can respect it for its craftsmanship, and for its historical importance, but it's obviously lost some edge since the late 70's. (The computer cards. Oh, the computer cards.) Certain dramatic moments also lack an edge, failing to deliver impact because they're hard to follow on the page—Soldier Blue's sacrifice and Jomy lashing out over his childhood friend come to mind. The serialization structure is awkward too, jumping from Jomy to Keith then back to Jomy briefly before the next volume. Sounds like this space opera is not quite in tune.
FINAL VERDICT:
The 30th century as seen from the 1970's? Well, the court loves a good story from any time period. A little too retro for some tastes, but still worth a solid
B+
.
---
THE TWELVE KINGDOMS


Vol. 1: Sea of Shadow
(by Fuyumi Ono, illustrations by Akihiro Yamada, Tokyopop, $16.99)
FROM THE BACK COVER:
"For high-schooler Yoko Nakajima, life has been fairly ordinary...that is until Keiki—a kirin disguised as a young man—tells Yoko that she is his master, and they must return to their kingdom. Once confronted by this mysterious creature and whisked away to an unearthly realm, Yoko is left with only a magical sword. a gem, and a million questions about her destiny, the world she's trapped in, and the world she desperately wants to return to.
More than just a fantasy story filled with horrific monsters, half-beasts, and magicians, The Twelve Kingdoms centers around a world reminiscent of Chinese mythology and rife with civil and political upheaval. Sea of Shadow, the first volume of this seven-volume epic, takes you on a wild ride that leaves you questioning the bounds of reality and fantasy."
EVIDENCE FOR:
Middle-earth. Narnia. Earthsea. To these unforgettable fantasy worlds you can now add the Twelve Kingdoms, which is not so much a book as an experience. Ono's alternate feudal world is completely thought-out in every aspect: geography, history, politics, theology, even biology. (I'm still giddy over the eggfruit theory of reproduction—so outrageous, yet so logical!) But if the wideness of this world should seem daunting, relax. The plot itself operates on a very personal level, following Yoko as she struggles for survival in the kingdom of Kou. The result is a thoroughly immersive experience, exploring the land through Yoko's eyes—starting small with villages and towns, trekking through the wilderness, meeting people and beasts, until the scope enlarges to the point where Yoko's majestic destiny is revealed... whoops, can't say too much about that. Imaginative details like animals, landscapes and architecture are described concretely, giving us a frame of reference while still showing just how exotic everything is. By the end, Yoko's character has grown so much, and even minor details from the beginning turn out to play essential roles in this elaborate world. Surely you, too, will want to join her on this journey of exploration.
EVIDENCE AGAINST:
Rule of thumb: the first book of a fantasy series is never the best one. Oh, everyone loves Harry Potter, but nobody says Sorcerer's/Philosopher's Stone is their favorite (it's almost always Prisoner of Azkaban); in Narnia, The Magician's Nephew is just a fluffy prequel that sets up The Lion, the Witch and the Wardrobe. So it is for Sea of Shadows, which plays out as a monotonic road-trip story where Yoko is just trying to get somewhere—anywhere—that will lead her back to Japan. She's just walking... around... in the wilderness. Even when Yoko does get a sense of purpose, it's a rush job that's shoehorned into the last few chapters of the novel, without so much as a climactic battle. The language of the book is also a little utilitarian—maybe about middle-school level—but still, the translation reads better than some of the reported disasters in Tokyopop's novel line.
FINAL VERDICT:
The court understands that first volumes of fantasy novel series are all about discovering the world for the first time, and so they don't have to be loaded with bang-bang storytelling. For its detail, for its richness, Twelve Kingdoms deserves an
A
.
---
WILD ADAPTER


Vol. 1
(by Kazuya Minekura, Tokyopop, $9.99)
FROM THE BACK COVER:
"Makoto Kubota wandered through life, not taking things too seriously or looking too deep within himself. His job as the head of the Izumo Group's youth gang kept him pleasantly occupied with yakuza wars, mahjong and assassinations... Until the day he stumbled upon a strange drug called Wild Adapter that produces bizarre side-effects—including death. Forever changed, Kubota becomes entangled with a drifter named Minoru Tokito, and the two form an unlikely companionship that draws them deeper into the mystery of Wild Adapter...
From the creator of Saiyuki comes a manga in the film noir tradition, full of intense action, wild assassins and mysterious, amnesiac strays."
EVIDENCE FOR:
This is a story ... about cool dudes. I mean, they're so cool. They're cool when they sign up for the yakuza, they're cool when they blow some guy's brains out, they're cool even when they're playing mahjong. Kubota is the kind of character who draws you in like that, with his casual intensity, acting as if he doesn't care about anything and yet dedicating himself completely when he feels like it. The storytelling is like that too—so smooth, laid-back, like a funk-tinged jazz groove, and then exploding with action when the time is right. Look to the second half of the volume for that action, along with intense drama as the drug comes into play and Kubota gets tangled in business that's shady even by yakuza standards—all the while being totally cool. The scratchy, high-contrast art confirms that latent coolness, conveying the series' bleak urban atmosphere: metropolitan Japan with all the dirt, crime and sex that the tourist brochures just won't admit to. Get into this world and see what it means to be ... cool.
EVIDENCE AGAINST:
This volume is not exactly what one would call value for money. (But of course, everything involving the yakuza ultimately results in financial swindling.) The first half is just a plotless prelude of Kubota and company hanging out, doing gang-like things, which is no use if you don't actually have a story to tell. And then it turns out that the entire first volume is itself a prelude! Where is this Tokito that the synopsis alludes to? He's sleeping. In a bed. Doing nothing! So now we've got an aimless tries to be compelling just by virtue of its controversial subject matter. That's some kind of arrogance on the manga-ka's part to think everyone's going to stick around that long. It's hard enough getting through the introductory chapters, which are plagued by spiky, lookalike character designs and vague, implicit dialogue that makes it hard to tell people apart. Goodness, can't you just tell us who everyone is and get the plot moving?
FINAL VERDICT:
The court did enjoy the gritty, understated style, but yes, an actual story would have been nice. That makes it about a
C
.
---

HOUROU MUSUKO (The Wandering Son)


Vol. 2
(by Takako Shimura, Enterbrain, ¥620)
FROM THE ENCYCLOPEDIA:
"Shûichi Nitori is a 5th grade student who likes to bake and has always been something of a feminine boy. When he transfers to a new school, Shûichi is mistaken for his 6th grade sister on his first day. Then he ends up sitting next to Yoshino Takatsuki, a tall, boyish girl who everyone calls 'Takatsuki-kun.' They both have secrets they can't let anyone know…"
EVIDENCE FOR:
I mentioned it in passing last time, so here goes: Hourou Musuko is the
only
cross-dressing manga I really, really like, and that's because it's the only one that isn't made of cheese and lame. Every other series uses gender reversal as a goofy plot device, but here, it's the actual heart of the story—looking at the psychological impact of a boy and a girl who feel more comfortable being the opposite sex. The first volume was a good introduction, but this one is where it really starts to take off, building up tension as people start to find out about Nitori and Takatsuki's little habits. When Nitori's sister finds his wig, you can practically feel the burn of embarrassment; the school trip arc goes even further with that theme and highlights the alienation that Nitori feels when surrounded by all the macho, "normal" boys. These emotions also come out in the art, rendered in a style that's the most difficult and beautiful of all: simple and few lines, but incredibly expressive. Just look at the characters' faces, filled with anxiety and wonder as they learn more about each other. Watch the pacing and cutting from scene to scene, delivering each dramatic blow at just the right moment, breaking your heart little by little as these kids struggle for self-confidence and identity. Host clubs and princesses ain't got nothing on this.
EVIDENCE AGAINST:
Famous comic writer Mark Millar once said that video games are for pedos. He may have gotten his entertainment media mixed up, because if there's anything with that uneasy air of child exploitation, it's comics like this one, where uncommonly young characters are forced to tackle issues above their grade level and have to adopt an unrealistically mature attitude about it. Although there's nothing explicit or suggestive in the content, these prepubescent kids seem unusually calm about their problems, even freely hanging out with a transvestite call girl who's probably the least appealing character in the series. Takatsuki even gets groped at one point—and you're telling me, five pages later, that she's totally shrugged this off and doesn't feel any long-term trauma about it? So much for emotional realism there. This volume also feels plotless at times, just following the kids from day to day until something happens to them. With so much potential for drama in the series, this kind of noodling seems like a waste.
FINAL VERDICT:

Actually, that plotless noodling is what makes the dramatic moments so much more effective. The court will be looking forward to see how Nitori and Takatsuki grow up.
---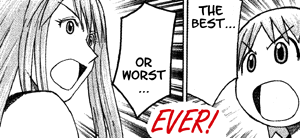 Let's enter the realm of superlatives once more! Come sit down for a look at one of the
Best Manga I've Ever Read:
EVEN A MONKEY CAN DRAW MANGA


Vol. 1
(by Koji Aihara and Kentaro Takekuma, Viz, $15.95)
Oh man, I think I want to have this book's babies, or something. This is the ONLY manga instruction manual I would recommend to anyone, ever. Honestly, walking through the "How-to Art" section of bookstores depresses me because they're completely taken over by dudes who draw this crappy fake anime style but aren't good enough to get their comics published so they end up doing how-to books.
But Monkey Manga ... Monkey Manga is different. Presented in actual comic format, it's a complete and utter skewering of everything in the field, from the technique to the creative process to the business to the subject matter. These guys are not going to lie to you: "Stealing Is the Essence of Manga!" they say, advising artists to copy poses right and left. And then they do a rundown of every major genre, by demographic, where you will learn VITAL!!! information for REAL manga artists like The Evolution of the Panty Shot, Subliminal Messages, and Ladies' Comics Are Like Tetris (amazingly, that theory also works for yaoi if you just make the main character a boy). I'm serious, they cover all the bases here, even genres that will never sell in America, although I would not put it past Tokyopop to do something like, a mahjong basketball fantasy where Lebron James defeats the entire New York Knicks with his FOUR WIND DRAGON TILES, and it will suck because the artist didn't read Even a Monkey Can Draw Manga. So don't make that mistake. Throw away everything else on your bookshelf that says "How to Draw..." and replace it with this single volume. My only regret is that Viz never got around to printing the rest of the series.
---
discuss this in the forum (40 posts)
|