RIGHT TURN ONLY!!
Samurai Blues
by Carlo Santos,

Out of the various attractions at the
Shonen Jump Defense Force
Viz Media booth at Comic-Con, one of the most fun ones was the wall of Post-Its where fans of
Bleach
could leave personal notes for manga-ka Tite Kubo.

Most of the notes ran the typical fannish gamut—"I love your series," "Bleach is the greatest," "Ichigo is hot!"—but there was one note in particular that I think really said it all.

---
BOBOBO-BO BO-BOBO


Vol. 1
(by Yoshio Sawai, Viz Media, $7.99)
FROM THE BACK COVER:
"Yoshio Sawai pushes the bounds of satire and the medium of manga itself with
Bobobo-bo Bo-bobo
. Irreverent, silly and unpredictable,
Bo-bobo
is pure comic genius.
In the year 300X, a cruel dictator has mandated the hunting of all hair in the Maruhage Empire. But a single man rises to the occasion and takes a stand against this violation of human hair rights. Bo-bobo, master of Fist of the Nose Hair, uses the prehensile hairs of his schnoz to most lethal ends. Follow the nonsensical adventures of Bo-bobo and his sentient sidekick snacks as they lead their hilarious rebellion against the Empire."
EVIDENCE FOR:
Good news! If that one-volume excerpt of
Bo-bobo
that Viz published a few years ago just wasn't enough, then get ready for more! This "Volume 1" drops in on another story arc (because when a series makes as little sense as this one, does it really matter where you start?) where Bo-bobo and friends take on the "Cyber Knights" and their increasingly bizarre abilities and attacks. Marvel at the guy who kills with the power of kanji, or the dude with a car for a head, or an entire arena battle that takes place suspended upside-down with bungee cords. Ah, the inventiveness that ensues when a story isn't constrained by silly things like logic! The only thing wackier the villains is how our heroes defeat them—usually by really stupid coincidence. Surely the bad guys should've learned by now: come up with a foolproof battle plan, and you're only going to lose to the ingenuity of complete fools.
EVIDENCE AGAINST:
Unfortunately, it would also seem that this series has been authored by a complete fool. There is only one actual joke in all of
Bo-bobo
: some guy attacks some other guy, using a ridiculous move with a ridiculous name, while Beauty stands to one side expressing her shock. Repeat ... repeat ... repeat. Sure, it's supposed to be a parody of the tournament genre, but that's no excuse for being a
bad
example of it. Without compelling characters, a rich back-story, or a self-consistent world, this is just a superficial copy of the genre without any of the things that make it great. Even the thrilling, dynamic artwork of the best fighting series is nowhere to be found: readers can expect sloppy, unrefined linework and masses of scribbles that pass for "explosions" and "blasts of energy." And that's if you can get past the hideous character designs, which probably seemed funny at the time but now are just torture to look at. Oh hey, that sounds like the description of
Bo-bobo
in general.
FINAL VERDICT:
Readers should probably steer clear of this
D
-grade title unless they're sure that they can turn down their powers of reasoning low enough to actually enjoy it.
---
THE FLAT EARTH/EXCHANGE


Vol. 1
(by Toshimi Nigoshi, CMX, $9.99)
FROM THE BACK COVER:
"With the world's birth rates in decline, young Kotaro Shiga was placed in a state of suspended animation to be awakened when the problem was solved. But one hundred years later, he wakes up to find a world dominated by androids where only a handful of humans remain. How will Kotaro survive ... and is there any chance that he can help the human race to rise again and reclaim mastery of the world?"
EVIDENCE FOR:
Sometimes, a manga's selling point comes from the concept alone. This one puts a twist on the post-apocalyptic robot-takeover genre: what if the machines had been around so long that they started referring to themselves as "people," while actual humans were considered artificial creations? The result is a strange, bewildering society—and none is as bewildered as Kotaro, who is pretty much thrown into the middle of things. Clear, well-spaced layouts provide good visual pacing, and the gradual flashbacks filling in the details on Kotaro's past make this an intriguing quest to find out more.
EVIDENCE AGAINST:
READER BEWARE! This may be the most confusing, illogical, and badly-paced series you will ever have the displeasure of reading. Perhaps we
should
be thankful that the layouts are easy to follow, because everything else that actually happens in the story is a nonsensical mess. Yes, it is clear to see when people are talking, or shopping at a market, or trying to defuse a hostage situation—but why? Or when? Or how? The drawings look decent (well, okay, if you can stand super-cheesy 90's art), but when you try to put the scenes in order, nothing makes sense! Why did the short-haired bishounen capture Kotaro? Why is the long-haired bishounen after him, and why is he going on various random adventures (which may or may not involve some elite squad called Section 6)? Who is Ath and Ree and Gaudi and why do people address each other with stupid fantasy-sounding names without bothering to introduce themselves for the benefit of the reader? In fact, why do they address each other at all, with incomprehensible snippets of conversation that go nowhere? If Nigoshi is trying to create an atmosphere of utter confusion to put us in Kotaro's shoes, well, GOOD JOB, it's working!
FINAL VERDICT:
A story so poorly executed that it wins a rare, elusive
F
. It's so disjointed that I have to wonder if they printed Volume 2 or 5 or 11 by mistake, not that it matters anyway, because this is the last one I will ever read.
---
ME AND THE DEVIL BLUES


Vol. 1
(by Akira Hiramoto, Del Rey, $19.95)
FROM THE BACK COVER:
"Legend has it that if you take your guitar and stand at a crossroads at the witching hour, the devil will appear. He'll grab your instrument, play you a song, and hand it back to you. You'll walk away an expert bluesman, but you'll have to pay the price: your immortal soul.
The year is 1929. Deep in the Mississippi Delta, a young man named RJ dreams of becoming a bluesman. RJ is a simple farmer who can barely play guitar, but when he takes a midnight stroll, his life is forever changed.
A phantasmagoric reimagining of the life of legendary blues great Robert Johnson,
Me and the Devil Blues
follows the journey of a man who really did sell his soul to the devil. Why not come along for the ride?"
EVIDENCE FOR:
Me and the Devil Blues
is the best $20 you will spend on a music-themed manga this year, and that's even if you plan to pick up two volumes of
Nodame
or
Beck
. What makes the story so frighteningly good is how it completely captures a time and place as distant as the Old South—the stark landscapes, the convincing characters, even the spoken dialect (masterfully translated into olde-tyme American English). Ultimately, though, it is RJ's origin story (part folk tale, part biography) and his descent into misfortune that gives the series its soul; the 50 pages in which he wanders into a juke joint and blows the world away with his Satan-given guitar skills is one of the most unforgettable sequences in all of comics. The lack of sound is hardly a hindrance; the blues is not something you hear, but something you
feel
, and the grim, earthy artwork definitely has the feel of the blues all over it. Hashimoto wields an unbelievable range of visual techniques—line drawing, hatching, toning, sketching, painting—and it would not surprise me in the least if he, too, might have once stood at a crossroads with his art supplies.
EVIDENCE AGAINST:
The series kicks off with one of the most amazing first volumes of manga ever drawn—so it's a bit disappointing to have to admit that the second part of this double-volume book drops the ball. After RJ hits the road with Clyde (y'know, from Bonnie and Clyde), the gangster kind of hijacks the plotline and gets into all this 1930's crime-drama stuff, which is pretty cool as well, but isn't nearly as unique or haunting as demonic blues-playing action. The worst part is when RJ gets knocked unconscious by a bunch of mean guys, rendering him useless for over 100 pages, and suddenly I have an inkling of how Rukia fans must have felt during the Soul Society arc of
Bleach
. It's probably all part of Hiramoto's master plan, but honestly, it's taking him an awful long time to work it out.
FINAL VERDICT:
A little bit ragged later on, but my goodness, the entire first part is so completely pitch-perfect that this is still an
A-
work.
---
SAMURAI CHAMPLOO: COMPLETE

(by Masaru Gotsubo, concept by manglobe, Tokyopop, $14.99)
FROM THE BACK COVER:
"In a world filled with evil, three strangers find themselves on the run from the law. A hardworking waitress, an arrogant mercenary and a mysterious samurai form an uneasy alliance. They are searching for the enigmatic Sunflower Samurai, but along the way they come across a collection of deceptive and insidious characters: ninjas, assassins, and even a prince in disguise. The journey proves to be a roller coaster ride of battles, danger, desperation and companionship!"
EVIDENCE FOR:
It may not have Shinichiro Watanabe's virtuosic animation or a chill hip-hop soundtrack, but the paper-and-ink version of
Samurai Champloo
still exudes audacity and anachronism. The second volume of this short series does it best, gleefully parodying historical classics (that famous warrior trying to collect 1000 swords? Oh, he was just some crazy Russian) and even going so far as to step on the sacred cow that is
Lone Wolf and Cub
. But for all the cultural parodies, it's the characters that really carry the series: Mugen's outrageous attitude and fighting style fill each page with energy, while cool, efficient Jin has a deadpan witticism for every situation. In between, of course, is bubbly and beleaguered Fuu, desperately trying to keep the guys in control (and usually failing). Just set these characters against each other and let the hilarious dialogue fly; this is one of the few manga where the verbal humor is actually funny. Bold lines and slick action scenes also make this a visual pleasure, with badass moves and swordplay that nicely fill out the action portion of this action-comedy.
EVIDENCE AGAINST:
It
doesn't
have Shinichiro Watanabe's virtuosic animation or a chill hip-hop soundtrack, therefore this version of
Champloo
is inherently inferior. Add in the fact that it's woefully short, wastes the entire first volume on episodic content, and doesn't have anything resembling a real "ending," and this looks more like cheap filler rather than a proper companion series to the anime. Even Mugen's wild, breakdance-driven style of fighting is watered down to just being a swordsman who uses his legs a lot, and if you can't trust the artist to get one of the series' most notable elements right, what can you trust him with? Meanwhile, Jin is pretty much left to rot as a character, and Fuu's search for the Sunflower Samurai is little more than lip service, so any hope of depth or plot continuity is just a shallow illusion. Then again, we probably should have seen that coming with a 2-volume series that's so starved for material it still needs side-story chapters at the end.
FINAL VERDICT:
Not quite as great as the anime, but still very fun—and funny. This stylishly unique historical comedy gets a
B
for its efforts.
---
SUGAR PRINCESS


Vol. 1
(by Hisaya Nakajo, Viz Media, $8.99)
FROM THE BACK COVER:
"When Maya Kurinoki takes her little brother to the local ice-skating rink for the first time, she's got her hands full just trying to get him to let go of the bar. To inspire a bit of bravery in him, she attempts a double axel—and lands it! Maya never imagined that this jump would change her life ... or that a coach named Eishi Todo would vow to make her a figure skating 'princess'! Now all Maya has to do is convince famous skater Shun Kano to become her partner. Too bad Shun doesn't want to have anything to do with her!"
EVIDENCE FOR:
If Nakajo's
Hana-Kimi
wasn't exactly sufficient in the sports department (let's face it, the series was basically a bishounen fest where the main guy
occasionally
participates in the track team), then
Sugar Princess
gets the genre right this time. The manga-ka's sheer passion for figure skating makes up for Volume 1's occasional rough edges, with a lead character so likeable that her enthusiasm will probably rub off on anyone who even stands too close to this book. Watching Maya gradually develop her skills and confidence is one of the most satisfying things about the opening story arc, and the mention of a competition should keep things rolling for the next few volumes. The beauty of the sport is also clear to see in the graceful sense of line and simplicity of the layouts: unlike most mainstream shoujo, this one resists the temptation to slap on Every Damn Screentone In The Universe and actually lets the artwork speak for itself ... through the visual poetry that is figure skating.
EVIDENCE AGAINST:
Maybe that visual poetry would be best reserved for Sunday afternoons and the Winter Olympics, because hiding behind the sparkly veneer is an extremely average sports-underdog story. Actually, the veneer isn't even that sparkly, considering that Nakajo can barely draw ice, does all the major skating scenes from blatant photo references, and has this odd quirk of character design where their eyes are always a little misplaced on their heads. But yeah, the story isn't so hot either, relying on quick-and-easy stereotypes—ultra-likable heroine, icy-cool hot guy, mysterious but wise coach—as well as a quick-and-easy plot formula where a scrappy but talented youngster refines her skills until she becomes a champion; romantic overtones included at no extra cost. If it should suddenly get way better in future volumes, that remains yet to be seen, but ultimately, this opener is lacking in dramatic quality because every single plot point can be seen coming in advance. Cute story? Yes. Gripping story? Not quite there yet.
FINAL VERDICT:
Probably worth it for fans of the sport or of the manga-ka—but other readers may want to go in search of something that'll score higher than a
C
.
---

HOLLOW FIELDS


Vol. 2
(by Madeleine Rosca, Seven Seas, $9.99)
FROM THE BACK COVER:
"As the dark secrets of Ms. Weaver's past become clear, it's up to Lucy to rally her fellow students into action against the Engineers' evil machinations. But how can she possibly turn the most influential girl in school, Summer, into an ally when she is actually Lucy's greatest enemy? And who is the mysterious apparation from the windmill that comes to Lucy with an ominous warning?"
EVIDENCE FOR:
Hey, whatever happened to Taro Aso and his precious International Manga Award? Well, regardless of who wins next, Madeleine Rosca can always boast about being the only English-language prizewinner in 2007's inaugural contest—and
Hollow Fields'
second volume proves that she still totally deserves it. The series' schoolgirl-steampunk aesthetic is as captivating as ever, whether it's the elaborate architecture or the stylish character designs. The story, too, gets into some serious developments—it takes real bravado to do an entire opening chapter (and flashback!) from the villains' point of view, but this one pulls it off, and the heartstopping action sequence in the last 30 pages is Lucy's great shining moment. It's Rosca's shining moment too, as she proves that she can do more than just set the atmosphere, finally putting the characters into conflict against each other. But while the big picture is becoming clearer (and more intriguing), it's the little details that raise this series to the top: hilariously morbid class assignments, flourishes of clockwork design, and sharp dialogue like "This place is worse than hell! It's hell mixed with toilets!" Why must this evil boarding school be so ... awesome?
EVIDENCE AGAINST:
Look what you did, you whiny Japanophiliac fanboys! You complained so much about "OEL artwork looks like pants" that someone who actually
can
draw went over to the other end of the scale and overdid it! Rosca's style is confident, dynamic, dazzling ... and sometimes, too much for the eye to take in. Either the obsessive-complusive steampunk details clutter up the whole page, or maybe the overuse of close-up headshots gets confusing—how are you supposed to have a sense of location when 70% of the panels are backgroundless character illustrations? The middle chapters are a bit of a drag too, filling Lucy's days with mundane school activities in between the intriguing opening and exciting closer. The "ominous warning" that arrives halfway through is probably the low point—oh look, a conveniently placed plot device! But the good thing about having a low point is, there's nowhere else to go but up.
FINAL VERDICT:
This may be the best thing ever to come out of Tasmania. If you thought the boarding-school genre was all played out, let
Hollow Fields
reawaken your imagination.
---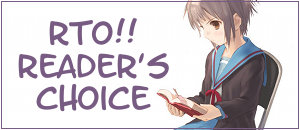 This week, we're going where the boys are! CM Branford presents a deeply personal review of classic BL manhwa
Let Dai
, which you can also read online from
the publisher's website
. (And yes, Reader's Choice is STILL looking for more reviews in this genre! Show some yaoi pride!)
LET DAI

(by Sooyeon Won, Netcomics, $9.99 ea.)
Let Dai
is possibly the seminal title of the BL Korean manwha genre. A tragic and often brutal tale of a group of teens trying to survive in an unforgiving world,
Let Dai
focuses on the "good girl falls for bad boy" cliche, only the girl is another boy. Jaehee has a cute girlfriend and a normal life until one day he saves a girl being hassled by a gang. This incident seals Jaehee's fate as it forces him into an encounter with the strangely charismatic and cruel gang leader, Dai (a play on the English word, "die"). Jaehee and Dai find themselves inexplicably drawn to one another, a love that defies not only social norm, but the serious differences in the worlds that they come from. As personal tragedies surround them and resistance bombards them at every opportunity, including terrible pain they inflict on one another, the two boys cling together, never truly sure if it is what they want, need or deserve.
I come into this review having read the entire 15 volume series, and knowing that a lot of people have avoided starting it based on a fear that it will have a tragic ending. When I started reading
Let Dai
it was after I had finished reading Akimi Yoshida's
Banana Fish
, an equally tragic and foreboding tale, and easily compared to this one. That was pretty much the level of expectation I had for this series: that it would end tragically and make me want to throw the last volume across the room in frustration (like I had with
Banana Fish
; though a beautiful and fitting ending). And yet I still read through it. Every volume was like watching a car accident in slow motion. You don't want to look, but you can't turn away, either. I spent intermittent periods trying to decide if I did indeed want a tragic ending, hoping longingly that it would all turn out okay for Dai and Jaehee and they'd run off together into the sunset where their parents and the school and all the leering eyes trying to tear them apart couldn't find them. In the end, I was unexpectedly
not
forced into a fit of frustrated anger (this time, by throwing my laptop), instead left with a feeling of maturation and life lessons taken to heart. The pain still lingers, the consequences of mistakes apparent, but a satisfying evolution from innocence into adulthood nonetheless.
I recommend
Let Dai
to the patient BL reader, not the one who wants "all sex, all the time." Even if you want your "happily ever after," I still recommend giving this series a try. The beautiful art and poetic storytelling style make the experience well worth it.
---
Is there a hidden gem of manga you'd like to reveal to the world? Is there a piece of garbage that deserves to be bashed in public? Or is there a title that didn't get a fair grade here, and you want to set the record straight?
Now's YOUR chance to be the reviewer! Write a review of about
300-400 words
(a little more or less is fine) and include:
- Your name
- Title of manga (and volume no., if applicable)
- Author/Artist
- Publisher
- Briefly describe the story, then explain why this manga is great, terrible, or in between. Be objective, but also be entertaining.
Then send it in to
rtoreaders (at) gmail (dot) com
. One review will be selected out of all the submissions and will be published in the next column. All types of manga and manga-inspired comickry are accepted, from past and present, from Japan and beyond—what matters is that it's the Reader's Choice! NOTE: Submissions may be edited for formatting and grammar.
---
discuss this in the forum (30 posts)
|