×
remind me tomorrow
remind me next week
never remind me
Subscribe to the ANN Newsletter • Wake up every Sunday to a curated list of ANN's most interesting posts of the week.
read more
Shelf Life
Welcome to Bronco Country
by Bamboo Dong,
When I stepped off the plane into my favorite airport in the country (the beautiful Denver International, filled with creepy murals and luscious tap water), I was elated. Partially because the first thing I saw was a sign that read "Welcome to Bronco Country," and also because I was back in my home state, ready to go to the convention that started everything for me five (or has it been six??) years ago. Even after years of being spoiled by the fangasms that are
Anime Expo
and
Otakon
, there's still something nice about going to small, friendly homegrown conventions like Nan Desu Kan or Anime Iowa. Big conventions make you feel like you're in a giant exhibition of bright colors and information—small conventions make you feel like you're home. Dorky, but true. Here's a shout out to everyone who made this past weekend great.
Welcome to Shelf Life.


Zipang DVD 1 - Future Shock
Geneon 92 min. 1/? $24.98 08/05/2006
Zipang DVD 1 - Future Shock + Artbox
Geneon 92 min. 1/? $34.98 09/05/2006

Down-to-Earth and comfortably paced, Zipang is a wonderful breath of fresh air in the maelstrom of this season's releases. It's not often that a series can start by going back in time, and still wonderfully segue into a show that both embraces reality—yet offer the question: what if a 21st century destroyer went back in time to the Pacific theater of World War II? Would saving one's fellow countrymen be worth altering the entire course of history? A crew is plunged into the conundrum of their lives when their expedition out to sea throws them back into the Battle of Midway. Things are further complicated when they pick up a seawrecked Imperial pilot; suddenly, it's a matter of trying to avoid muddling history. Between dodging US missiles and being spied by Japanese warships though, it's a much bigger task than they envisioned. For history buffs and fans of war movies, this series is a true treat. The story and characters are handled solidly by the writers and director, giving viewers a sense of being on the deck with the confused men. If you're looking for a serious drama that will keep you on your toes, give Zipang a shot.


Full Moon DVD 2 - Full Moon Debuts
Viz Media 100 min. 2/? $24.98 09/19/2006

Simultaneously silly, serious, and uplifting, Full Moon wo Sagashite is a touching show that should be on every shoujo fan's Must See list. With her new career starting as the sixteen-year old Full Moon, Mitsuki is thrown into a world few twelve-year olds would be familiar with—photoshoots, recording sessions, high-profile interviews. If it weren't for her Shinigami friends, she'd be lost. …Or… maybe better off, considering the kind of trouble they land her in. For now, this series is still concentrating on luring in new viewers with its cotton-candy colors and cutesy humor, but every now and then, things are shaken up by a glimpse of something much more heartrending, like her longing for her childhood love, and the constant reminds of her finite life. The idea of girls transforming into older pop stars and idols isn't a new one, but Full Moon does it with such finesse (and with the ability to keep its target audience well in mind) that it's easily something that can be enjoyed by many types of fans. Slightly more serious and less sporadic than the manga, this series is well worth watching.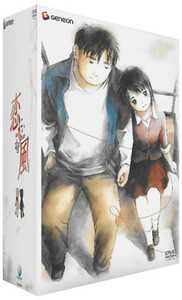 Koi Kaze - Box Set
Geneon 325 min. 1/1 $59.98 07/18/2006

Koi Kaze is, without a doubt, one of the best shows you've probably never heard of. From its soft pastel palette, to its gentle violin solos, it washes you in a wave of calm as you watch this touching tale of forbidden romance. Dealing with the uncomfortable issue of sibling romance, it's a series that absolutely must be approached with an open mind. If you can abandon your judgment in favor of empathizing with the characters, you'll be treated to a show that will leave you as emotionally wrought as the siblings. When an older brother and his little sister are reunited, they find themselves falling in love. They each know it's wrong, but in the spirit of true love, it's something that can't be contained. Poignant and moving, Koi Kaze is something to be experienced.


X Remix DVD Box Set
Geneon 650 min. 1-5/5 $149.98 07/11/2006

Dark, intense, and visually seductive, the X TV series is one of those shows that you can't help but be impressed with. I'm not a big CLAMP fan, but I love X. For those unfamiliar with the premise, it follows two groups of warriors as they battle for the right to choose the fate of the world. One side is determined to save humanity, while the other thinks the only way to save Earth is to eradicate mankind and start over—and in the middle of everything is a young man whose actions could decide the end. What makes X so appealing isn't so much the story, but the momentum of how it's told. The characters have the ability to touch viewers even in the short time they have, and as each fight rages, one can't help but cheer for both sides. There are no truly dislikeable characters, something that makes the series that much more entrancing. X isn't quite as popular now as it used to be, but with this 5.1 surround sound re-release, it's a good time to give this some good ol' lovin'.



Jinki:Extend DVD 1
ADV 125 min. 1/? $29.98 09/05/2006

As much as I was entertained while I was watching Jinki:Extend, I couldn't help but wishing I was watching Evangelion instead. Sure, Aoba was simultaneously as cute as a button and annoying as a mosquito bite, but if I want to watch malicious parents force their naturally gifted kids into piloting organic-monster-transformed-robots versus monsters, I'd rather be settled down with my Eva Platinums. Jinki:Extend follows a sweet girl named Aoba, a plastic model fanatic with serious spunk. After the death of her grandmother, she's whisked away to her mother's organization (appropriately named Angel), a clandestine group that uses giant robots to fight giant beings named Jinki, and also evil terrorist groups. It's a predictable show, from being able to guess each step and knowing the inevitable war vs. pacifism internal conflict, but it's for whatever reason, it isn't too taxing to watch. The characters are fun to watch and it's a joy to watch Aoba grow over time. With so many shows out there, it's hard to really place this high on a list, but if you're dedicated to seeing every mecha show out there, this is alright for a rental.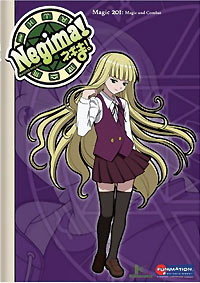 Negima! DVD 2 - Magic 201: Magic & Combat
Funimation 100 min. 2/? $29.98 09/05/2006
Negima! DVD 2 - Magic 201: Magic & Combat Limited Edition
Funimation 100 min. 2/? $34.98 09/05/2006

In the chemical reaction that is Negima, the activation energy is slowly approaching, but it's still far, far away. I truly believe that the series has the potential to be good, but the pacing and the characterization are so sporadic that it's hard to get into it. After piddling around with a few filler episodes right from the get-go, Negima has kicked it into high gear by injecting a few episodes of storyline from absolutely nowhere. With a few magical words and a quick smooch, Asuna can now fight for him. This largely means having to duke it out against the robot girl and a couple others. As happy as I am that the series has dramatically shifted to something more story-oriented (and is allowing room for the different characters to show more emotions), I'm not too pleased with the pacing. The way Negima jumps from plot point to plot point is a bit abrupt, so instead of accepting the story, you're more likely to wonder, "Wait… where did that come from?" Still, it's nice to see that the characters have begun to change and evolve, especially with bits of their past unraveling. Hopefully once the pacing has smoothed itself out, the rest of the series will fall into place as well.

That's it for this week! My queue is piled high, so join me again in two weeks for a look at more recent releases.
---
discuss this in the forum (41 posts)
|