Shelf Life
Kanon in D minor
by Bamboo Dong,

It's almost Christmas, which means the malls are packed, and the cash registers are constant proof of hasty last-minute purchasing decisions that will result in even more packed return lines post-holiday. I'm not sure what the woman in front of me at Macy's was thinking when she plopped the knit sweater bedecked with reindeer and holly onto the counter. Whoever's getting that tomorrow better love reindeer.
This week's column is short and sweet, but it does reference the holidays at least twice, so you can fill up on that old-timey cheer. Welcome to Shelf Life.
The one big advantage of Bandai Visual releasing so many titles in high-def is that hopefully, this'll eventually pave the way for more and more HD and BD releases. Before I started watching their discs, I never thought that high definition would really matter with anime, but the difference is staggering, and some of these releases are straight-up good looking. The natural downside is, even with a smart looking picture, it can't make a messy story any better.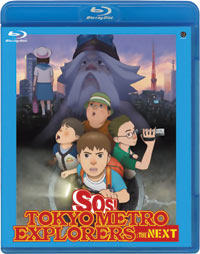 The latest Blu-Ray release from Bandai Visual is the visually scrumptious SOS! Tokyo Metro Explorers: The Next. Ringing up at $64.99, it's a better deal than its sub-only DVD counterpart, which carries a price tag of $54.99. Right from the start, it's easy to see that, artistically, this film is quite wonderful. Although Katsuhiro Otomo's character designs take a while to get used to (why all the children have perpetually red noses is beyond me), they're quirky and charming, much like the animation. The opening sequence is incredibly clever, showing three kids on separate subways on their way to meet each other. Every time the "camera" zooms out, rather than just panning across the city, the scene turns into a JR map, with gray blocks denoting all the major buildings, and all those other small touches that make viewers appreciate how much detail went into the animation. All the backgrounds were carefully drawn to match the Tokyo cityscape, and for the first twenty minutes or so, it's easy to be enraptured by everything you see on your TV.
That's when the story kicks in. At that point, things descend into a jumbled chaos, and what started out as a quaint movie ends up being a bizarre mess. When we first meet the characters, we see them as a bunch of kids who want to explore the underground passages of Tokyo. Armed with a video camera and a hand-drawn map taken from explorer Number One's father, they set out to find a great treasure that's allegedly been buried since the war. What they end up finding is a community of underground dwellers, and an eccentric old soldier who's convinced everyone is an Allied spy and has spent his entire life guarding "Japan's secret."
What eventually erupts includes a violent battle, a runaway tank, and extraneous news reports that a Godzilla-like monster may be on the loose. I get that this underground community and the richness of their lives is supposed to be the "treasure," but it's a narrative mess and all the oh-so-wacky hijinks that ensue aren't really fun to watch at all. The movie had so much potential, but the end result is a let-down.
Unless you're a maniacal Otomo fanboy and need to own everything associated with his name, this isn't really something worth owning. Still, it's definitely worth a rental just for the animation alone (and who knows, maybe you'll end up loving the frenetic pace of the story), and at least this way, it won't cut a large chunk out of your paycheck, either.[TOP]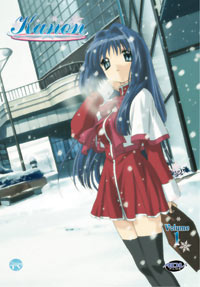 Now that a large portion of the country is covered in snow, it's a good time to indulge in ADV's new release of Kanon, the ultimate "sad girls in the snow" show. Though, frankly, I wouldn't agree with the ridiculous back-of-the-box description of the series being a "poignant concerto of tears, laughter, and pinky promises," because whoever wrote that clearly doesn't know what a concerto is. Regardless, it is a pretty cute (and somewhat angsty, at times) show, and although it's quite a bit slower than Air, it's something that will please fans of the visual novel genre.
Seven years have passed since Yuichi has visited the town his cousin lives in, but since he's transferred into her high school, he's moving in with her and her mom. He doesn't remember much about the town, but he keeps getting flashbacks of girls and feelings he doesn't understand. However, it's still a quick transition for him, and before long, he's made friends with a bunch of other girls, some of whom know him from the past.
While many of the girls fill certain visual novel stereotypes, for newcomers to the genre, some of them may seem a little over the top. An example in particular is a girl who not only looks five years younger than Yuichi, but also has wings on her backpack, and has a trademark sound effect. She's not the brightest bulb on the Christmas tree, and actually chased her tail for a good minute trying to see the wings on her back. Other archetypes include a sword-toting senior, a sickly girl, and a hyperactive nuisance, but in the end, they all provide a colorful backdrop and more opportunities for male viewers to fawn over.
Although I wasn't as taken in by the first volume of Kanon as I was by Air, I still found it very pleasant to watch. It's a very calming show, and even the occasional obnoxious moments couldn't break up the soothing atmosphere of the snowy town. So far, though, only the characters have been introduced, and not much else. There hasn't been an established storyline yet, and since almost nothing is revealed in Yuichi's flashbacks, the story doesn't really have a clear endpoint in sight. However, it's a fairly innocuous show and it's helped by the fact that there's actually a normal male protagonist. He's a smart, nice, independent guy, which makes the series infinitely more enjoyable to watch than those with wimpy milquetoasts who get beat up all the time. In fact, most of the characters are pretty likeable, so even with the lack of story, it's still easy to want to know what happens next.
It goes without saying that if you're a fan of moe, then Kanon is a must-buy. With its giant cast of young-looking high school girls, it's as moe as they come, and nothing brings out the brotherly instinct in daydreaming anime fans like girls shivering in their mittens. Even if you're not into this kind of thing, though, Kanon has enough to offer that you'll probably be entertained. It's a very low key series, with a few laughs scattered here and there, and there's just enough hints at angst and tragedy to keep you interested.[TOP]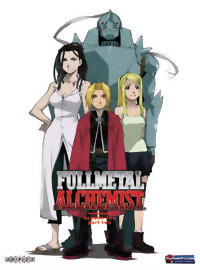 Of course, if you're not a big risk-taker and you'd rather stick to some tried-and-true favorites, you could always indulge in Funimation's continuing release of the Fullmetal Alchemist box sets. The second box contains the episodes that were originally in discs five through seven, and include more of the harrowing story that FMA fans have come to know and love.
With the second box, viewers are introduced to the secret state lab that Ed finds himself in, in which he discovers plenty of dark secrets about the Philosopher's Stone and all that goes into making it. Some would argue that this is where the story really kicks into full gear, and it's a fair assessment. There's not really a dull moment in the show, and this is definitely one of the meatier parts.
Of course, if you're eyeing this box, there's a good chance that you've already seen it. At this price, there's really no reason not to get it. True, it's not as pretty as the tin cases that Funimation released at the beginning, but it's much slimmer, much cheaper, and honestly, those tin cases are pretty impossible to find nowadays. Now you can on your own copy of the show, stop mooching off your friends' DVDs, and admire the glittering Adonis-like body of Armstrong whenever you please.
It's been a while since Fullmetal Alchemist was released, so if there's a good time to buy the show, it's now. And, now that Christmas is looming upon us, it's a great time to either run out and get that one last-minute gift, or burn through all your gift cards. [TOP]
And that's that. Happy holidays, everyone.

This week's collection is from Ryan Newberry, whose precariously stacked anime makes me fear for the lives of his models.

Have any pictures of your collection you want to show off? Send your jpgs to shelflife at animenewsnetwork dot com!
---
discuss this in the forum (10 posts)
|