The List
8 Real Exotic Car Cameos
by Lynzee Loveridge,

The fascination with automobiles, accessories, horsepower, and torque is no stranger to Japan. Sometimes we put anime on our favorite cars, like itasha, and other times we put our favorite cars into anime as these directors did. The following eight exotic cars can be found in the three dimensional world for the right price. For those of us who will never be able to afford a six-figure vehicle, we can enjoy watching our favorite characters drive them around like bats outta hell.






8. Toyota Cresta (Great Teacher Onizuka) Toyota's four-door sedan was marketed as a luxury vehicle too exclusive to see a stateside release. It's popularity would keep new models in production from the 1980s to 2001 with extras like GPS navigation and a 200 horsepower engine. Onizuka vice principal Hiroshi Uchiyamada bought his own Model 2.5 Liter Super Lucent Cresta with all the bells and whistles, hoping to cover for his lackluster family life. Unfortunately for Uchiyama, his car becomes the butt-end of a running gag and is destroyed no less than five times in the television anime series. Can't a guy get a break?







7. Toyota Sprinter Trueno AE86 (Initial D) Takumi Fujiwara's "panda" AE86, known as a Toyota Corolla in the West or simply a "hachiroku" was a popular rallying and circuit car in Japan, or in Fujiwara's case, perfect for tofu deliveries on mountain passes. The car was perfect for drifting, as Fujiwara demonstrates throughout Initial D, thanks to its light body weight. Real life racing legend and "Drift King" Keiichi Tsuchiya also utilized an AE86. The series' use of the model as well as its endorsement by Tsuchiya keeps resale prices high in Japan.








6. Chevy Corvette C3 w/ LS7 engine (Gunsmith Cats) Bean Bandit's 1968 Corvette Stingray isn't rare in terms of sports cars, but its big block LS7 engine is extremely rare. The engine never went into production by Chevrolet but a few manifolds were sold as performance parts by dealers. The design specs included 464 horsepower, quite a few steps above the standard '68 300 horsepower engine. Bean's Corvette is only silhouetted in the Gunsmith Cats opening sequence, and his incarnation in Riding Bean drives a Porsche x Stringray hybrid.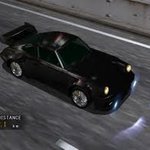 5. Ruf CTR (Wangan Midnight) German car manufacturer Ruf introduced the CTR, or Yellowbird, in 1987. The Yellowbird nickname is due to the car's color, so when Wangan Midnight's Tatsuya Shima shows up with his black version, you can guess what he changes the name to. The high-performance, aerodynamic sports car was Ruf's response to Porsche's 911 Carrera with the model being redesigned from chassis purchased from Porsche. The model is extremely rare, with only 29 actually made; others are simply modified from customers previously owned Carreras. A model went for about $223,000 in 1987, an equivalent of $443,619 in 2012 dollars. Good thing Shima's day job is a surgeon.








4. Lotus Europa (eX-Driver) When AI cars break down in futuristic Japan, the only response is to send a team of high school kids in "classic" cars to take care of the problem. Lead character Lorna Endou tackles the issue in her Lotus Europa Special, a rare 1970s coupe. The car is light, weighing in at 1,631lbs and can go 0-60 in 6.6 seconds with two passengers. A total of 3,130 specials were produced in Lotus factories. Lorna's car fits in nicely with her other peers' rare models: the show also features a Lancia Stratos HF and a Caterham Super Seven JPE.









3. Ferrari F40 (Girls und Panzer) The principal of Ōrai Girls' Academy isn't suffering the same financial hardships as the school he manages, if his mode of transportation is any indication. He drives a Ferrari F40, a supercar produced in the late 80s to early 90s with a staggering price tag of $400,000. A little over 1,200 were produced in total, and despite it never being Ferarri's intentions, several were used on the racetrack too. The principal's car suffers a painful fate: it's crushed under Ami Chouno's tank.









2. Shelby Cobra GT500 (Gunsmith Cats) It was very, very difficult for me not to give Rally Vincent's Shelby Cobra the #1 spot just based on pure, childhood nostalgia. I've spent most of my young adulthood wanting her car simply because she drove it. The 1967 Shelby Mustang goes 0-60 miles per hour in about 4.8 seconds. Approximately 2,048 were made by Ford and Shelby in 1967, so its best not to think about how a 19-year-old bounty hunter in Chicago managed to get a hold of one. Rally certainly puts it to good use, but it's almost painful to watch her dodge traffic in the OAV's chase scenes. Just...put that in a nice garage somewhere!









1. Lancia Stratos (Ghost in the Shell: Stand Alone Complex) If Batou has one prized possession, it might be his 1970s Lancia Stratos. The yellow Italian car was a very successful rally car in its heyday, taking home the trophy in the World Rally Championship three years in a row. Only a few hundred were ever made, and nowadays a good auction will bring in about $230,000, so the value is likely much higher in Ghost in the Shell's world set in 2030. At some point Batou loses his taste for the exotic; he replaces the Stratos with a less rare Ford GT in Solid State Society.






The new poll: Footage of battles in the upcoming Dragon Ball Z: Battle of the Gods film has begun streaming. Which character's return are you excited to see?
The old poll: Last week's poll asked what Spring series you are most looking forward to watching. I am horribly disappointed that none of you are as excited as I am about Polar Bear Cafe 2: With Ducks. I guess viewers don't like birds as much as mammals around here.
The following options received no votes:
Danbōru Senki Wars
,
Gakkatsu!
Season 2,
Kuromajyo-san ga Tōru!!
Season 2,
Ketsuekigata-kun!
,
Dibetagurashi: Ahiru no Seikatsu
,
Yuyushiki
, and
Himitsu Kessha Taka no Tsume Neo
Season 2.
---
Alright everybody, see you all next week! I look forward to your input in the comments and feel free to follow me on Twitter @ANN_Lynzee or e-mail me at
[email protected]
---
discuss this in the forum (44 posts)
|