The List
7 Famous Movie Characters Voiced by Japanese VAs
by Lynzee Loveridge,

It's a given that many of our favorite anime shows will get an English dub on the home video release. The same can be said for when our own popular Hollywood films make the hop over to Japan. Plenty of anime voice actors also receive work dubbing over American films, with regulars attached to specific actors, like singer and voice actress Ryoko Shiraishi assigned to Miley Cyrus and Daisuke Hirakawa attached to Orlando Bloom. This week's list looks at some of American culture's most popular characters and the Japanese voice actors who dubbed them.

7. Harry Potter (Kensho Ono) Kuroko's Basketball star Kensho Ono provided the Japanese dub voice of everyone's favorite wizard. The book and film franchise was huge in Japan and regularly sold out of bookstores and captivating audiences. Just a few months ago, references to the book took a political turn with representatives from China and Japan referring to one another as "Voldemort." Ono has continued as a voice actor and will star in the upcoming Saint Seiya: Legend of Sanctuary CG film. Check out a dub clip here: Link.









6. James Bond (Akira Kamiya) Kamiya voices the Pierce Brosnan Bond films (GoldenEye, Tomorrow Never Dies, The World Is Not Enough, Die Another Day), the same guy behind Detective Conan's Kogoro Mouri, City Hunter's Ryo Saeba, and Fist of the North Star's Kenshiro. The franchise is another popular one in Japan. The latest film, Skyfall with Daniel Craig, took some inspiration from Japan when the villains hideout was shot on Hashima Island. It'd go on to open at #1 in Japanese box offices. Check out a dub clip here: Link.







5. Katniss (Nana Mizuki) The prolific singer and voice actress is signed on to dub over Jennifer Lawrence in the Hunger Games trilogy of films. While the films are her first major role in live-action dubbing, Mizuki is not a newbie to voice acting. She's been in the business since the 1990s and has recently starred as Saya in Blood-C, Cure Blossom in Heartcatch Precure!, and Hinata Hyuuga in Naruto. Check out a dub clip here: Link.






4. Gollum (Chō) Did you know One Piece's Brook was also the dub voice of Lord of the Rings' Gollum? Chō has been in the anime business for over two decades working in both anime and Japanese dubs of popular series, including Duane in Full House and Elmer Fudd. The Lord of the Rings film series was massively popular in Japan, with all three films ranking in the top all-time opening weekends.







3. Anakin Skywalker (Daisuke Namikawa) Daisuke managed to land voice over roles for both Frodo in Lord of the Rings and Hayden Christensen in Star Wars, both successfully franchises in Japan. He's popular on the anime side of things too, voicing Italy in Hetalia, Hisoka in Hunter x Hunter, and recently took the reins as Goemon in the Lupin III franchise after Makio Inoue retired from the role in 2010. Namikawa is also the go-to actor for any dub voice work for Leonardo DiCaprio.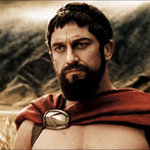 2. Leonidas (Jouji Nakata) 300 earned its place in pop culture thanks to its over-the-top action and Zack Snyder's now trademark slo-mo sequences. Gerard Butler's turn as King Leonidus earned the character internet meme status. When the time came to dub the film in Japanese, producers turned to tough-guy voice actor Jouji Nakata. Nakata has brought life to Hellsing's Alucard, One Piece's Hody Jones, and Fate/stay night's Kirei Kotomine. You can see his delivery of the fan-favorite "This is Sparta!" line here: Link






1. Batman (Tomoyuki Dan) Tomoyuki Dan's career was unfortunately cut short last year when he passed away at the age of 50. He voiced two different superheroes during his career, most notably as the dub actor for Christian Bale's Batman in The Dark Knight trilogy. His take on the character equally stern, although Dan nixed imitating Bale's gravelly whisper. You can see his confrontation with The Joker (Keiji Fujiwara) here: Link.





The new poll: What spring anime are you most looking forward to?
The old poll: The last poll asked for opinions on Japanese voice actors. Do you prefer old, new, or a mix of both:
I like a mix. 71.5%
I like my anime with experienced veterans of the biz, give me old favorites! 12.9%
I don't follow Japanese/American voice actors. 8.0%
Honestly, I can't tell the difference. 5.2%
I'm tired of the same-old, same-old. Give me more new voices! 2.3%
---
When she isn't compiling lists of tropes, topics, and characters, Lynzee works as Associate Editor for Anime News Network, blogs about women and LBGT topics in anime and manga on her blog Engendered Dilemma, and posts pictures of her son on Twitter @ANN_Lynzee
.
---
discuss this in the forum (32 posts)
|