The List
7 Best Dressed Female Anime Characters
by Lynzee Loveridge,

Every year, fashion bloggers and television programs weigh in on the best and worst dressed on the red carpet. Audiences wonder whether Sandra Bullock will get it together this year, if Lady Gaga is going to go full Godiva, and if Anne Hathaway will complete her transformation into Audrey Hepburn 2.0. Anime plays into fashion trends, too. Plenty of characters take inspiration from youth culture on Harajuku's Cat Street, a fashion hotspot going back over 20 years. This week we'll be taking a look at some of the best dressed ladies, and check out next week for best dressed men.

7. Maetel (Galaxy Express 999) Maetel really only has two outfits. Her space princess garb and, as you can see in the picture, a killer fur coat, dress, and matching cossak. Her look is all-around classy and invokes that memory of when traveling used to be a special event, including on space trains. Her sister also got the good-fashion genes as one of the most stylish space pirates this side of the galaxy.






6. Miwako (Paradise Kiss) This was a hard choice, but after talking it over a few times I opted for Miwako over the possibly more couture-styled Caroline. The primary reason is that Miwako's style is of her own choosing where as Caroline worked more as a dress form for whatever George wanted to put on her. Her style lends to all the best aspects of sweet lolita, although there's definitely some punk edge in there too. Exactly what you'd expect from a petite girl with a punk-rock boyfriend. Miwako's style is inspiring its duality. Her girly dresses don't mean she's a weak pushover, by any means.







5. Kobato (Kobato.) Clamp's first entry this week is Kobato, a mysterious girl with a bad-mouthed dog. She dresses in a conservative, ultra-feminine style filled with brightly printed sundresses and hats. It's the romantic notion seen in sweet lolita clothing without the creepy infantilization. Kobato's style is pretty, innocent, and romantic and best suited for picnics in an English garden.






4. Kate (Red Garden) You really can't have an anime set in a girl's school in New York without paying close attention to their outfits. One of the series' protagonists, Kate, has varsity prep style down pat only with a ton more flair. The Gonzo series came out in 2006, before the 60s/70s-infused style really made a comeback in the U.S. (There definitely weren't any girls wearing pussybow blouses when I was in high school). Then Mad Men happened, so in a way her vintage look was forward thinking. Kate's longer skirts and blouse/vest combo is bit on the outs now, though, except for remaining vintage style enthusiasts.






3. Makoto Kino (Sailor Moon) Picking a Sailor Moon character was difficult. There's a lot of questionable 90s fashion and many of the characters suffer from a bland color palette through out the show. After looking over the series, Makoto had a clear lead for mixing athletic, feminine, and comfortable fashion together (we're not going to talk about her green turtle neck/baby pink skirt combo, though). Makoto is another character where you can read a lot of her personality in her clothes. She isn't afraid of boyish looks, like you see in the picture, but can just easily turn it around and where something sophisticated and feminine. The few times the girls dress up for a formal event, Makoto's dresses always lean more elegant, like the full length black with a large rose print. She definitely doesn't put herself into one box.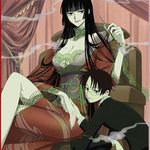 2. Yuko (xxxHOLiC) You can count on CLAMP to create some of the most extravagant outfits, which is why the manga group got two characters on this week's list. The mysterious Yuko has a closet I would happily raid any day of the week. She can usually be seen wearing luxurious, multi-layered kimonos or fancy romantic-gothic inspired dresses. It's unfortunate that the production values on the TV anime don't hold up to CLAMP's manga, because the woman's clothes are gorgeous.









1. Nana Osaki (NANA) Nana is hands down the coolest. She epitomizes that bad-girl grunge/punk rock aesthetic. Her clothes exude a "don't mess with me" vibe even though she's a deeply caring person on the inside. You can't help but want to be her, hang out with her, drink with her, and go to concerts. There's so much attitude drawn up in her clothes it's impossible to separate the fashion and the girl.






The new poll: If you could see an anime adaptation of any current Shonen Jump series, which would you pick? Choices include series running in both Japanese and English editions.
The old poll: The last poll asked what spring season anime are you most looking forward to? Here's the full results (anything under 1% is omitted):
---
discuss this in the forum (44 posts)
|