This Week in Games
Eight Great Things Yet to Come in 2017
by Dustin Bailey,
2017 has already been an embarrassment of gaming riches, and that's especially true for fans of Japanese development. The best
Yakuza
yet made it to the West, Team Ninja put together perhaps the best
Souls
derivative in
Nioh
, Atlus released an unbelievably stylish entry in the
Persona
series, Yoko Taro teamed with Platinum for one of the most wildly daring games in recent memory, and Nintendo's been firing on all cylinders with a tremendous new console, thoroughly refined editions of terrific multiplayer games, and an absolutely incredible reinvention of
Zelda
.
And we're just now reaching the traditional video game release season. There's no shortage of (probably) great stuff yet to come, so let's shove the backlogs to the back of our collective minds for just a bit and look forward to everything we still have to look forward to.

We're starting with something out in just a few days. Yakuza Kiwami is a remake of the original game built in the Yakuza 0 engine, and if you're looking for more detail there's a full review with your name on it. In short, it's a great way to revisit the story that spawned the series, even if it feels a little flat in comparison to the excellent 0. More than anything, it's amazing to see Yakuza alive and well on Western shores.

Nihon Falcom has one of the most fascinating catalogs of any major developer, with a long list of games that a small group of fans are incredibly invested in. With excellent PC ports and some first-time localizations, that fanbase has been growing, and their biggest recent release will out on Western shores very soon with Ys VIII: Lacrimosa of Dana. Ys is still probably Falcom's most recognizable series, and they've set an incredible bar when it comes to old-school JRPGs.

Even if it may have been the catalyst for the untimely death of AM2R, the official Metroid 2 remake is still looking pretty exciting. Yeah, Samus Returns developer MercurySteam also made that less-than-excellent 2D Castlevania: Lords of Shadow spinoff, but I'm confident that Nintendo's guidance will leave the latest Metroid adventure in good shape, especially given the positivity of hands-on impressions so far. Anything to wash away the memories of Other M and Federation Force will be very welcome.

So, Marvel vs. Capcom: Infinite is probably the shakiest entry on this list, especially if you look at the general tenor of the conversation around it. It's gone for a real uninspired art style, licensing deals have forced the roster away from iconic X-Men, and it's coming on the heels of a very disappointing entry in Capcom's biggest fighting series. But Street Fighter V, despite its many flaws, remained a thoroughly entertaining game to play, and I'm confident Infinite will at least reach that bar—and hopefully a bit more.

The first entry to make it West in ages, Gundam Versus is the latest in the arena fighting series that pits Gundams of all eras against each other. Online matches in 1v1, 2v2, and 3v3 flavors form the core of things, with fancy visuals, environmental destruction, and more mechanics than can possibly fit in this paragraph filling up the edges. The only question is whether the assuredly endless amounts of DLC will detract from the package.

Let's get the obvious out of the way: there are more efficient and cheaper ways to play emulated SNES games on a modern television than the SNES Classic, and given the prices you'll be paying on eBay if you actually want to own one of these things, it might be cheaper to get into upscalers and original hardware. But Star Fox 2 is almost out, and after being burned by Unholy Night I'm looking forward to Nintendo itself taking a crack at this whole "releasing a (technically) new SNES game in 2017" thing.

I missed the original Evil Within, but most accounts paint it as a flawed but fascinating take on horror. Shinji Mikami's getting second chance at it with Evil Within 2, and if Resident Evil itself is anything to go by, the second time's the charm. Interviews with the developers have shown them being very aware of the original's flaws, so the potential is there for the sequel to be something truly special.

Most of my thoughts on Super Mario Odyssey can be summed up by chanting a mantra: "Mayor Pauline of New Donk City." It's the weirdest Nintendo's allowed Mario to be since probably the Game Boy, and the utter nonsense we've already seen from the game's worlds has been something to behold. It looks to be a slower game than Galaxy, focusing way more on exploration and discovery in the style of 64 and Sunshine. It's looking great, and should prove a terrific cap to an excellent year for the Switch.
NEWS
FINAL FANTASY XV JUST KEEPS HAPPENING
When Episode Prompto came out, I felt like I had a pretty good grasp on what Final Fantasy XV is. A pretty good—often great—game with some serious flaws that was getting extra single-player story DLC over time. Since then, I've lost the plot altogether, and like with FF15 itself I feel like I'm barely hanging on for the roller coaster that's coming at the end. Did you know there was a beta for a multiplayer add-on not long ago? I was aware, but somehow it hadn't crossed over from "a thing I heard about" to "a thing that's a part of objective reality."
Now it's getting remade for mobile, featuring not-as-cute-as-you'd-hope chibi characters and apparently action-driven combat. And yes, the operative word is "remake," as it seems to be the entire story condensed down into a phone-friendly format across 10 bite-sized episodes. No side quests to speak of, as everything's focused on the main plot.
On the opposite end of the spectrum is Final Fantasy XV: Windows Edition. Yep, the long-awaited PC port will be hitting Steam, Origin, and the Windows 10 store early next year, bringing loads of fancy visual options along with it. Also, there's a first-person mode, which seems like an utterly nonsensical way to play the game. Look forward to it—you know, if you think your computer can run it.
ATTACK ON TITAN 2 IS ON THE WAY
There's one true certainty in life: Omega Force-developed anime games. Mostly, they're just reskinned Dynasty Warriors clones, though every once in awhile something manages to escape those bonds to stand on its own. And by "once in awhile" I actually mean "just once," specifically with last year's Attack on Titan adaptation. It wasn't mind-blowing, but it was good, wrapping Musou battlefield management around some really entertaining traversal and combat mechanics.
Now Koei Tecmo has announced Attack on Titan 2. That's kind of it, officially—the teaser trailer is just some quick shots of the cast and some titans. Presumably, it will incorporate the events adapted by the second season of the anime, but I'm hoping it goes a bit further than that. The first game was at its best when it was doing its own thing within the universe rather than slavishly following along with a story better told in other venues, so I'd like to see AOT2 do a bit more of its own thing.
BOY THAT SHENMUE TRAILER, HUH?
At the very least, Shenmue 3 is serving as an incredible illustration of how expensive it is to make a video game. The original Shenmue had an infamously bloated budget estimated north of $50 million—and that's in late-90s dollars—while Shenmue 3 is pushing forward on $6 million Kickstarter and some mysterious funding from outside sources. Even given the last decade's explosion in small-scale and indie development, that's not a lot of money to make something on the scale of Shenmue.
The recently-released trailer is offering a very strong illustration of that. It's got moments—some lovely locations and vistas, beautiful music—but it's served more to elicit a collective woof from the internet, thanks largely to its near-complete lack of facial animation, or much of anything to help sell its human drama. A variety of interviews have seen Yu Suzuki promise that it's very much a work in progress, but hey—maybe it's best for everyone involved if Shenmue 3 looks like a fancy Dreamcast game.
UPCOMING RELEASES
EVERYBODY'S GOLF

Developer: Clap Hanz
Publisher: Sony
Platform: PlayStation 4
Release Date: August 29
MSRP: $39.99

This is the latest entry in the series formerly known in the West as Hot Shots Golf, moving to use its Japanese name worldwide. It remains a thoroughly arcade-ified take on the sport, and since console-based Mario Golf has taken a seemingly indefinite sabbatical, it might just be your best option for the genre.
MARIO + RABBIDS KINGDOM BATTLE

Developer: Ubisoft
Publisher: Ubisoft
Platform: Switch
Release Date: August 29
MSRP: $59.99

I've been incredibly excited for this ever since finding out it was basically cartoon XCOM, and even the bizarreness of the colab between Mario and the Rabbids can't bring me down. There looks to be some strategic depth there, and the bright visuals and fantastically catchy Grant Kirkhope-penned music should bring everything together.
NARUTO SHIPPUDEN: ULTIMATE NINJA STORM LEGACY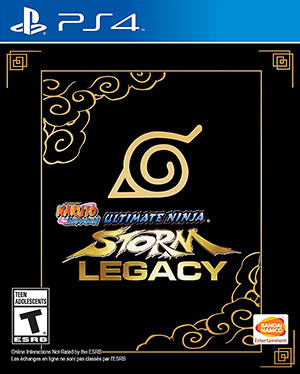 Developer: CyberConnect2
Publisher: Namco Bandai
Platform: PlayStation 4 / Xbox One / PC
Release Date: August 25
MSRP: $79.99

Not one, not two, not three, not five—four Ultimate Ninja Storm games, covering nearly a decade's worth of shonen adaptations. While the Legacy edition is on the pricey side, it does include the recently-released fourth game. But if you're just interest in the remastered trilogy, that'll be available in digital formats at $49.99. That's a lot of Naruto.
WARRIORS ALL-STARS

Developer: Omega Force
Publisher: Koei Tecmo
Platform: PlayStation 4 / PC
Release Date: August 29
MSRP: $59.99

Representatives from a dozen Koei Tecmo properties are coming together for a massive Musou crossover in Warriors All-Stars. Characters from Dynasty Warriors, Atelier, Ninja Gaiden, Toukiden, Deception and way, way more will hack and slash through some very familiar acton. But the chosen Dead or Alive characters include both Marie Rose and Honoka, and that is some hot nonsense.
YAKUZA KIWAMI

Developer: Sega
Publisher: Sega
Platform: PlayStation 4
Release Date: August 29
MSRP: $29.99

I have written many, many words about Yakuza Kiwami this week, including both those above and the review linked therein. Majima's everywhere, bikini bug battles, greatest slot car racer of all time, street fights, it's not GTA or Shenmue, and it's good but not as good as 0. I think that covers it? I think that covers it.
ALSO AVAILABLE:
There are
too many video games
out this week.
One Piece: Unlimited World Red Deluxe Edition
pretties up the 2014 game for a few more recent platforms. The delightfully weird
Rock of Ages
is getting a sequel in
Bigger & Boulder
.
ARK: Survival Evolved
is finally bringing its dinosaurs out of Early Access.
Resident Evil Revelations
is coming to PS4 and Xbox One.
Sonic Mania
is getting a slightly-delayed PC version.
Windjammers
is, at last, getting its own modern port. And
XCOM 2
is getting a fresh bit of DLC with
War of the Chosen
. Best of luck in surviving this impossible tide of video games.
---
discuss this in the forum (17 posts)
|
RightStuf - Anime, Manga and More