This Week in Games: Apollo Justice and Animal Crossing Return
by Heidi Kemps,

Hi everyone! Allow me to introduce myself. I'm Heidi Kemps, and I'm a career games writer. I manage a little site called gaming.moe where I write about all kinds of weird gaming (and occasional non-gaming) topics, mostly related to niche and retro games. I also do freelance work for a lot of big gaming sites… and now, I'm going to be handling This Week in Games for Anime News Network. Are you excited? I'm very excited! From this point on, you can expect the column to contain approximately 50% more complaining about the lack of Virtua Fighter 6 and random mentions of Raimais.

Unfortunately, we've hit that time of year when things are coming to a crawl in terms of news. Sure, there will be some announcements from the Game Awards and the Playstation Experience next week, but beyond that, news about "big" games is likely going to be pretty quiet until January. Good thing we've got plenty of smaller releases to highlight in the meantime!
FIRST LOOK: APOLLO JUSTICE: ACE ATTORNEY 3DS
Going back to an old Ace Attorney game you played many, many years ago is a weird feeling. It's like excavating corners of your brain that you had buried information about characters and story beats long, long ago, perhaps never to be seen again -- but the time has come where you need to dig them all up again, remembering in sudden fits just how this particular case played out. I booted up the 3DS reissue of Apollo Justice recently, and oh my lord, all of these weird little details just came flooding back.

What also came flooding back, though, is a recollection of why Apollo Justice is generally considered one of the weaker Ace Attorney series games: jeez, Apollo is just completely devoid of charisma. It's really strange -- Apollo becomes far more interesting of a character in Ace Attorney: Spirit of Justice, a game where he's not the main character. Heck, even his brief stint in Dual Destinies makes him more interesting than this: his motivations aren't very well developed, and it feels like he's just standing around slack-jawed while his assistant Trucy gets most of the good dialogue and scenes. Really, the standout personalities here are the side characters: the Klaviers, Ema Skye, and the lovably disheveled version of Phoenix Wright.
But looking beyond the story and characterization problems, there's not a whole lot new in this version -- some updated graphics and multi-language options are nice, but they aren't really game-changers. If you're dying to re-experience this particular oddity in the Ace Attorney canon -- or you've never played it before -- then it might be worth your time, but it's far from this series' strongest outing.
ROMANCING SAGA 2 IS FINALLY COMING OUT ON VITA AND "OTHER GAME CONSOLES"
After a year of delays, SaGa series creator Akitoshi Kawazu confirmed on Twitter that the remake of Romancing SaGa 2 will be hitting the Vita and "other game consoles" this December. It's a small miracle it's coming out at all -- the SaGa series has always been a very hard sell in the West, and the Vita's support is fading fast… but the mention of "other consoles" is quite intriguing.

Why is this noteworthy? Well, Romancing SaGa 2 is very highly regarded among Japanese players, and is often praised as one of the best games in the series. It's got a unique system where you play over several generations of characters, and your actions with one hero affect opportunities for exploration and character recruitment for generations to come. It's also got a neat take on perma-death: if your lead loses all of their "life points" or the whole party wipes, you simply pick a new character to become the lead, but it means building up skills and recruiting a party from scratch.
There's been an English release on iOS and Android available since last summer, and it's safe to say that version is the basis for the Vita/other console ports. I really like what I played of it on mobile, but the combination of the awkward controls (running around an RPG map with a virtual D-pad is never fun, and doubly so if enemies encounters are map-based rather than random) and the sub-par mobile translation killed my enthusiasm a ways in, plus I know I totally screwed up at least one major quest. I'm looking forward to starting fresh and having a proper control set, but I'm worried that they'll still be using the awful mobile translation…
GAME TENGOKU: CRUISIN' MIX WANTS ARTISTS TO STEP UP THEIR GAME
Import gaming was at its peak in the late 90s, especially if you owned a Sega Saturn: when the Western releases started drying up around 1997, import gaming was there to fill the void. A big genre on the system was arcade-style scrolling shooters, and one release was a port of an arcade game called Game Tengoku.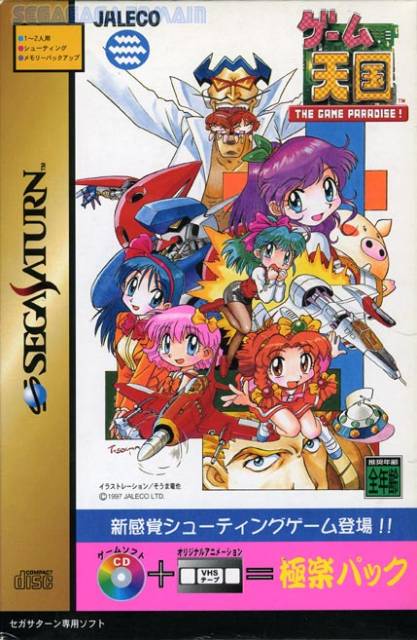 Game Tengoku can be easily described as "Jaleco's Parodius": It features a bunch of characters from various Jaleco-published titles mashed together into a shooter with a humorous theme. The Saturn port added a few bonuses, including a VHS tape containing a 15-minute original OVA based on the game (and considerably more footage of the voice actors in real life). While it had some notoriety in import circles simply by virtue of being a shooter, a lot of the in-jokiness was lost: most of the game's characters are unrecognizable to Western players (save for maybe Clarice from City Connection, who we'll get to in a bit), and the "game center" theming applies more to Japanese-style arcades than the mall hangouts of the 90s that have mostly died out.
Flash forward to almost a decade later, and Game Tengoku is getting a remastered re-release on PS4 and Steam as Game Tengoku: Cruisin' Mix. (The title's a very obscure reference to City Connection's original Western arcade release, which should indicate how deep the cuts are going to be.) The game hits in English later this winter, and the Western publisher, Degica, is holding a special art contest. They want you to submit a drawing of Clarice, and the one the development team likes most will be used in-game during Clarice's bomb animation.
If you've got an artistic talent and a desire to draw cute retrogaming girls, why not enter? The world could definitely use more art of one of gaming's first female leads. And if you're not familiar with Clarice and City Connection, you should definitely read up on them!
ANIMAL CROSSING: POCKET CAMP IS READY TO PUT YOU IN BOTH VIRTUAL AND REAL DEBT
Nintendo's newest mobile app hit globally last week, and it seems like everyone I know is now working to build that one piece of furniture they need to bring their favorite furry neighbor over to their virtual campsite. I've only had time to play it a little so far, but I see a lot of the qualities and charm that have made the full-sized Animal Crossing games such a hit. It's free-to-play, but you can pay real money to get "Leaf Tickets" that help you accomplish things like collecting materials and building goods a lot faster. This is an top of the virtual loans you take out to remodel your camper, which is basically your house -- though, strangely, it's not Tom Nook putting you in debt this time, but a trio of bird mechanics. I gotta say, I feel a lot better giving a bunch of blue-collar birds my hard-earned Bells.

I've heard some folks are disappointed that it's not more like the console Animal Crossing games, but honestly, that's to be expected: Nintendo's mobile business strategy isn't trying to port their console games directly to mobile, but to deliver a simpler experience more suited to the platform that doubles as a way to get you eager to play their full-sized offerings. Mobile games are the appetizer, but Nintendo's console offerings will always be the main course.
Overall, though, I think my favorite thing to come out of Pocket Camp so far is this tweet from NieR creator Yoko Taro.
https://twitter.com/ToastCrust/status/933224573662662656
NEW RELEASES

XENOBLADE CHRONICLES 2
Remember, many years ago, when Nintendo seemed reluctant to bring Xenoblade to North America? Nintendo of Europe handled it, and it was only after a big fuss was made about importing the EU version that Nintendo of America released it in comically low qualities. Now its sequel is one of the stars in the year-end Switch lineup, getting a rare (for a text-heavy JRPG) simultaneous global release. My, how things change!
Anyhow, Xenoblade Chronicles 2 takes place in a very different world than the original, where anime teens form friendships with sentient blades to find a long-lost paradise. Given the precedent set by previous games, the open-world adventuring should be of extremely high quality. While I'm not a huge fan of some of the main character designs, I'm intrigued to see what some of the guests they've brought in to draw other blades are doing: Kunihiko Tanaka's work is always great, and Soraya Saga is not only an important figure to mid-90s Squaresoft games but a fine artist as well. (Seriously, her Jojo fanart is phenomenal.) Even the Tetsuya Nomura designs are weirdly restrained by Nomura standards. I guess he got all the belts out of his system with Dissidia NT's Materia.
RESIDENT EVIL REVELAITONS COLLECTION

Look, that's always going to be the proper spelling of this game's title for me, okay? In complete honesty, I've never been that huge on Resident Evil. I mean, I liked RE4 a lot -- and who wouldn't, given how totally dreamy Leon Kennedy is -- and I truly appreciate the impact the games have had on the medium, but for the most part they just Aren't For Me. Fortunately, Dave Riley knows his way around a zombie-infested mansion or two, and he covered the game quite well. I gotta admit, though, those Ghosts-n-Goblins-style minigames by themselves are pretty darn tempting to an old-school arcade junkie like me.
---
discuss this in the forum (14 posts)
|
bookmark/share with:
RightStuf - Anime, Manga and More
We journey through the lineage of One Piece games, uncovering brawlers, baseball, and something called the WonderSwan!
― One Piece had a short voyage to success. Creator Eiichiro Oda devised the pirate epic as a series of one-shot stories in 1996, and One Piece was a prominent Shonen Jump manga by 1997, an anime OVA by 1998, and a TV series by 1999. And from there it took the next logical step for an...
This odd series combines isekai adventure with sex comedy hijinks in one of the most baffling ways possible, but is it a trainwreck worth watching? Nick and Steve find out the hard way.
― Conception combines isekai adventure with sex comedy hijinks in one of the most baffling ways possible, but is it a trainwreck worth watching? This week, Nick and Steve find out the hard way. Disclaimer: The views ...
Some English dub scripts are pretty extensively adapted, in some cases to the point where they've changed the story. When is it "okay" to adapt an English dub script this way? Justin gets into it.
― Brandon asked: When dubbing an anime, there is the matter of the script. There are some anime that are nearly identical to the original with some changes, like Attack on Titan; and there are some that sl...
The first movie in this trilogy retelling the story of Eureka Seven gets off to a rocky start. Theron Martin has the details.
― As alternate adaptations of previously-aired anime content go, this 2017 movie, which is scheduled to be the first of three, is an odd duck. It seems intent on contradicting itself, as it wants to nudge the story in some slightly different directions but is also keen on recy...
To celebrate the upcoming special theatrical event of MIRAI on November 29, December 5 & 8, GKIDS is giving away awesome stuff to ONE lucky winner!
― From acclaimed director Mamoru Hosoda (Summer Wars, Wolf Children) and Japan's Studio Chizu comes MIRAI, a daringly original story of love passed down through generations. To celebrate its upcoming special theatrical event on November 29, December 5 & ...
This anthology-style romcom has enough heart to ground its goofiness, as a charming reminder that even young love is never easy. Rebecca Silverman dives in.
― Teenage romantic comedy is a genre that has essentially been done to death. It's got a long history in both literature and film, so at this point to be able to do something even a little different with the genre is a major accomplishment. Tsure...
Anime DVDs and Blurays are often sold together in a combo pack that provides both formats - but what if you only wanted one or the other? Justin gets in to the reasons media is most commonly sold this way.
― Danette asked: Ever since Viz started started releasing the new Sailor Moon BD/DVD box sets I've stuck with the standard DVD editions over the BD/DVD editions because it doesn't make sense to me...
This classic '80s OVA gets a new release, but does it still hold up over thirty years later? Paul Jensen finds out. Plus, all this week's new anime releases!
― A friend of mine is headed to Anime NYC next weekend. I'm not, which means I get the dubious pleasure of having a thoroughly normal weekend while getting bombarded with texts and pictures from the convention. If you're going, have fun! If not...
This unusual take on an office comedy takes place in a high-security prison where the inmates and guards alike are fabulously crazy. James Beckett has the details.
― Nanbaka is one of the most flamboyant anime I've ever seen – this may be a show about a gang of rapscallions trying to bust out of jail and annoy the prison guard, but I'll be damned if Jyugo and the gang don't all look good doing it. Ev...
The Fall 2018 anime season is well underway, and we're busy reviewing all of this season's new English dubs!
Simuldubs Available Now: Golden Kamuy Season 2 - Fairy Tail: The Final Season - Ace Attorney Season 2 - Senran Kagura Shinovi Master - Conception - Hinomaru Sumo - Ulysses: Jeanne d'Arc and the Alchemist Knight - Radiant - Double Decker! - SSSS.GRIDMAN
― Welcome to Anime News Network's Fall 2...
Mike digs through Trigger's dusty reference bin to discover the influences that led to SSSS.Gridman, along with some of the studio's other most idiosyncratic works!
― A couple of years back, I was a guest at Anime Next, a fun, lively event that takes place in Atlantic City each June. Anime Next is part of a rare, kinda disappointingly small group of North American events that put the priority squarel...