This Week in Games
Reanimated
by Heidi Kemps,
Why, hello again! I'm back from Europe, I'm still kinda tired, and I missed a lot of gaming news that happened last week when it happened. No, I'm not going back on Twitter to catch up on The Discourse, because that never ends well.
ANYWAY. This week brings us no big bombshell newsbits, but a few interesting announcements (and one very intriguing tease people have run with). Let's relax for a bit and look at some cool new game stuff.
NINTENDO MIGHT BE RESURRECTING A LONG-DEAD GAME, AND PEOPLE ARE PLAYING SOME SERIOUS JUMP TO CONCLUSIONS
On a recent podcast, Game Informer Senior Editor Imran Kahn dropped hints that he'd heard about Nintendo working to revive a long-dead dead. "…there's a game that's thought to be dead that Nintendo's reviving, and it's not one that people would expect. It was very much a title that was dead and buried – very officially cancelled," were his exact words.
Boy, it sure didn't take long for the internet to latch onto that!
Almost immediately, speculation began to fly. What were some big cancelled games of the past few years that Nintendo could act as a savior for? Almost immediately, people were guessing Scalebound, Platinum's cancelled action/RPG. The reason for the guess? Well, Microsoft had recently abandoned the trademark! Except… well, that doesn't mean they gave up the IP rights entirely. Ball's still in their court on that one.
Another popular guess was Project H.A.M.M.E.R. (god that name sucks to type), a notorious piece of Wii vaporware that was stuck in development hell from the moment that console blinked into existence. I'm surprised people are clamoring for it, because, uh… let's be real with ourselves, that game never looked like anything special.
Liam Robertson, who specializes in digging out details about rumored and cancelled games, did a good video that goes into detail as to why he thinks those games probably aren't on the table, which I'll leave for you all here:
So what is the game, then? If I had to guess, I feel like Megaman Legends 3 is a smart bet. Megaman 11 did well, the game has appeal to the Switch's audience, and it'd get a lot of fan goodwill if it came back. For a real out-of-nowhere longshot, how about Starcraft Ghost?
EVO JAPAN BRINGS THE SURPRISES AND THE WEIRDNESS
Core Values! Okay, now that the stupid meme the fighting game community beat immediately into the ground is out of the way, let's talk EVO Japan!
I went to EVO Japan last year (I even took photos for this very website!) and had a swell time, despite the event's stumbles. Well, I didn't go this year, but a few other folks I know did… and going from what they told me, things… uh, they didn't improve much in terms of organization. (I heard of long, long brackets and snafus like DLC characters not being loaded onto consoles, among other issues.) But hey, at least the finals were entertaining! I'd definitely recommend checking out Tekken 7's grand finals at the very least.
With a big fighting game event comes announcements, and EVO Japan delivered some interesting surprises. First off was the announcement that Million Arthur: Arcana Blood is coming to Steam globally!
This fighting game spinoff of Square-Enix's Million Arthur mobile game franchise has some interesting characters and mechanics, but it's perhaps better known in the west for some of its guests, which include Reisz and Hawkeye from Seiken Densetsu 3 and Iori Yagami from King of Fighters. It got a PS4 release in Japan late last year, but it looks like the global version will be skipping consoles entirely and going straight to PC via Steam. Nice to see that this one won't languish in import-only obscurity!

It's not long until Dead or Alive 6 launches, but some DLC characters have already been revealed… and they're guests from SNK! Mai Shiranui, who also appeared in DoA5 Last Round, is returning, along with another character from the King of Fighters franchise. I think the smart money's on Angel, but there's plenty of strong choices in that cast. (I'd dig Leona, personally.)
The DLC train for Soul Calibur VI, meanwhile, continues to chug along. Our next soul to join the saga is Amy, who was MIA in Soul Calibur V but makes her long-awaited comeback! …Well, uh, I think she's long-awaited, I personally don't really know any Amy fans, but they wouldn't bring her back if there wasn't demand, right?
While Arc System Works didn't have anything new to announce on the Granblue Versus or Guilty Gear fronts, they did bring some new character announcements to Blazblue X Tag Battle. We're getting Teddie, Naoto Kurogane, and Seth from Persona, Blazblue, and Under Night In-Birth respectively, and we're also getting a familiar face from a brand-new franchise added to the mix:
It's Heart Aino, from the Arcana Heart series! She's got a shiny new HD sheen to her sprite, but she's still the cheerful girl we know and love. Well, okay, maybe not, since Arcana Heart tends to be an underground game outside of Japan… but is there still another crossover waiting in the wings? It's definitely being hinted at!
Bandai-Namco's Katsuhiro Harada was at EVO Japan, of course, and he always brings a little something with him when he attends fighting game events. This time, we've got a trailer for two characters. Julia's pretty standard, but the section The Walking Dead's Negan is absolutely, beautifully bonkers in the best way imaginable. Everyone needs to see the top-tier masterpiece that is the last two minutes of this:
I think we can all agree: Team Tekken makes some of the best damn trailers in the industry. I hope there's a Tekken 7 season 3, if only so we can see things get even stranger with the guest cast!
And to top it all off, SNK Heroines: Tag Team Battle is hitting PCs today! Maybe it'll make the wait for further KoF or Samurai Shodown news a bit more bearable.
NEW RELEASES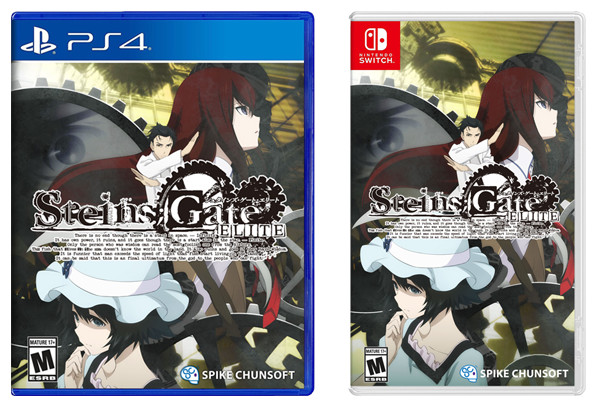 There's a lot of interesting games out this week! It's a good week for visual novel fans, as the long-awaited Steins;Gate Elite hits Switch and PS4! This is one of the most beloved VNs on the planet, so if you haven't experienced it yet, this is the version to get – though some folks aren't big on the redone art, which consists mostly of stills from the anime adaptation. The big draw, however, is the bonus content: 8-bit ADV Steins;Gate, which transplants the characters and story into a retro-styled adventure game, and Steins;Gate Linear Bounded Phenogram, which contains short story vignettes for all the members of the Future Gadget Lab. Getting these games is a bit messy, though: you have to buy the core game first, and the games are platform exclusive (8-bit ADV for Switch, Phenogram for PC and PS4). I wish you could get these two things independent of the game, but alas…

Also out this week is Idea Factory and Compile Heart's Death End Re;Quest. This one's a lot darker than the usual bubbly Idea Factory fare, featuring a creator trapped in a game world of her own making that's become corrupted and now straddles the line between game and reality. I've started playing this a bit myself, as the concept intrigues me – I'm not far enough in to give anything beyond extremely basic impressions, though.
For you PC folks, we've got both ther aforementioned SNK Heroines and Yakuza Kiwami, the latest of the series to be brought to the platform. It's not quite as big and full-featured as Yakuza 0, but it's still an excellent open-world-ish brawler regardless, and well worth checking out if you enjoyed 0 at all. Making the opposite trek from PC to PS4, we have all-women brawler Koihime Enbu RyoRaiRai, which has garnered a lot of praise in fighting-game circles for being a fun and accessible game beyond all the shiny fanservice.
That does it for this week. Just curious, though… are any of you playing Anthem? Like, how janky is it right now? Fallout 76 level? Launch Final Fantasy XIV level? I really want to know.
---
discuss this in the forum (19 posts)
|
RightStuf - Anime, Manga and More
Mike Toole takes all 8 episodes of Rooster Teeth's ambitious, 3DCG sci-fi mecha action series - starring Creed's Michael B. Jordan - out for a spin.
― Many fans of animation and nerd culture around the world revere Rooster Teeth, the Austin-based production studio that began a slow climb to fame back in 2003 with Red vs. Blue, a series of online animated shorts created with the Halo engine about two ...
This comforting shojo romance sees its heroine take her love life into her own hands more than ever before. Rebecca Silverman has the details.
― One of the most enjoyable aspects of suu Morishita's Shortcake Cake is that its romance doesn't rely on rivalries or underhanded tricks. In fact, at this point it even lacks the female rival who is so central to many romances, shoujo or otherwise. Instead th...
Being a kid without a dedicated parent is a rough way to start life, but these seven anime heroes made the best of it!
― If you're watching at least one show this anime season, it's gotta be The Promised Neverland. Zac and I talked about it over on the podcast yesterday. I wanted to reiterate that Emma's resolve is what sells that show (and its manga) to me again and again. You just can't help but r...
Zac and special guest Managing Editor Lynzee Loveridge get trapped inside The Promised Neverland and calculate how long it would take to watch all of One Piece. Plus: most anticipated Spring anime, Captain Marvel and much more!
― ANNCast 345 - The Neverland Band Zac and special guest Managing Editor Lynzee Loveridge get trapped inside The Promised Neverland and calculate how long it would take to wa...
A glitch in the matrix rankings caused FIVE stellar Boogiepop episodes to appear last week. The rankings have been adjusted accordingly, propelling Boogiepop and Others in the cumulative.
― Our team of reviewers are following 27 anime series of the Winter 2019 season and readers are rating each episode as the reviews go up. So let's have a look at what ANN readers consider the best (and worst) of th...
Get an in-depth education on the crucial art of character design from key animator and veteran designer Shizue Kaneko, the artist behind the designs of Pokemon the Movie: The Power of Us!
― It'd be difficult to overstate the importance of a great character designer on any anime. Not only are they responsible for creating the aesthetic and style of the characters themselves, but it's also their job to...
A familiar face returns in the captivating third and final film in the Psycho-Pass: Sinners of the System trilogy - and sets up the forthcoming third season of the show.
― The Psycho-Pass: Sinners of the System film trilogy is the latest collective work in the Psycho-Pass franchise. Rather than a single overarching case, each of the three films focuses on further developing a character or two origina...
This racy romance for women offers a dark take on sci fi adventure with some sensual thrills on the side. Rebecca Silverman has the details.
― Does it sometimes seem like male-oriented stories get all the sexy content? Maybe that's an overstatement, but there are definitely more racy stories written with a male audience in mind that are translated into English than their female-oriented equivalents. ...
This 3DCG series is the newest post-apocalyptic fantasy from TATSUKI, the creator of Kemono Friends. Micchy and Steve explain why you should be watching "Smokeweed the Animation" instead of the in-name-only Kemono Friends 2.
― Kemurikusa is the newest post-apocalyptic fantasy from TATSUKI, the creator of Kemono Friends. This week, Micchy and Steve explain why you should be watching "Smokeweed the An...
A Japanese actor's drug arrest yanks a Yakuza spinoff off the market while NIS America announces a ton of new stuff, and hey, Vanillaware is back with more fantasy - plus much more!
― Life comes at you fast sometimes. You might be mentally preparing a fun featurette for your weekly column since it's looking like it'll be a slow news week, when suddenly, BAM! A celebrity involved with a highly anticip...