Anime Spotlight: NATSU-IRO KISEKI
by Justin Sevakis,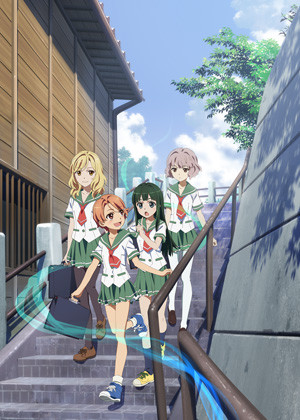 April 2012 (Japanese Premiere)


Key Staff
Director - Seiji Mizushima

    (Fullmetal Alchemist, Gundam 00, Un-Go)

Series Composition - Tatsuhiko Urahata

    (Murder Princess, Saki, Horizon in the Middle of Nowhere)

Original Character Design - Hidari

    (Fractale)

Production - Sunrise
Introduction
The secret those four share, is a miracle melting into the summer sky.
Story
Wake up the morning, go to school, and spend the afternoon with friends. The four of them shared their happiness and sadness together. They thought their average, everyday life would continue forever.
Until one summer miracle befell upon them. This is the tale of four girls raised in the city of Shimoda.
A fresh, warm summer miracle will surely envelop you.
Characters
\
Natsumi Aizawa
VA: Minako Kotobuki

Natsumi is a second year middle school student in the tennis club. She's a bright, energetic, and honest girl. Since she was raised by a single mother, she's used to helping out with household chores, and takes good care of her younger brother, Daiki. She lives next to Saki, and they've been friends since they were young, so they're a pair in the tennis club.

Saki Mizukoshi
VA: Ayahi Takagaki

Saki is a second year middle school student in the tennis club. She's perfect in both her studies and sports. Because she's always calm, she can appear to be cold, but she's actually passionate, caring towards her friends, and lonely. She respects her parents who work at the hospital.

Yuka Hanaki
VA: Haruka Tomatsu

Yuka is a second year middle school student who loves the idol group "Four Seasons". She's very expressive, and tends to set the mood for everyone. There are times when she invites trouble, but with her charm and cheerfulness, she's never been hated for it. Her family runs the long-standing ryokan "Hanakiya".

Rinko Tamaki
VA: Aki Toyosaki

Rinko is a mysterious second year middle school student who loves music. She listens to a variety of songs and singers. She often spaces out, and her emotions rarely show themselves. Since her family serves as hired priests for the shrine, she often helps out as a miko and with cleaning the shrine grounds.
Cast
Natsumi Aizawa

Minako Kotobuki

Saki Mizukoshi

Ayahi Takagaki

Yuka Hanaki

Haruka Tomatsu

Rinko Tamaki

Aki Toyosaki
Staff
Director

Seiji Mizushima

Assistant Director

Ryuichi Kimura

Series Composition

Tatsuhiko Urahata

Script

Sadayuki Murai
Tatsuya Takahashi
Yuniko Ayana

Original Character Design

Hidari

Character Design

Yuichi Tanaka

Production

Sunrise




©NATSU-IRO KISEKI project
---
discuss this in the forum (283 posts)
|
back to Anime Spotlight Spring 2012 - The List
Anime Spotlight homepage / archives