×
remind me tomorrow
remind me next week
never remind me
Subscribe to the ANN Newsletter • Wake up every Sunday to a curated list of ANN's most interesting posts of the week.
read more
Astro Toy with Rob Bricken: Death Note - L Nendoroid Series
by Rob Bricken,

L
Series: Death Note
Toyline: Nendoroid Series
By: Good Smile Company
Cost: ~$45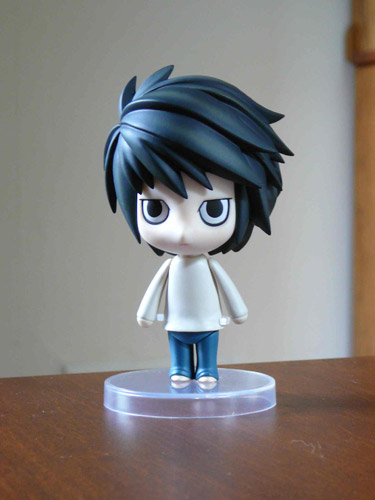 Are you a Death Note fan on a budget? Then you're likely not getting Medicom's incredibly nice and fancy 12-inch Real Action Heroes Death Note figures. Happily, the Good Smile Company has a cheaper and far more adorable alternative for you—their SD Nendoroid line, which released figures of L, Misa, Light and Ryuk late last year. Much the crowds of screaming fangirls who enjoy his freaky eyes, incredible intellect, and borderline sociopathic habits, I'm a fan of L, and chose him to examine the line.
First things first—although Death Note's L is supposedly three of the world's greatest detectives, there is one mystery I'm certain he couldn't solve—how the heck to make Good Smile Company's Death Note figures stand up on their own. As you can see, his adorable but enormous noggin is roughly 400% the size of his tiny, tiny body; this would create a tough toy to balance if L's head weren't totally solid, weighing a couple of pounds compared to his possibly 2-ounce body. Seriously, you could throw L's head at somebody and it would hurt like hell.

Thus it is totally impossible to stand up the figure on its own without the included clear plastic stand. Frankly, even with the stand it's not particularly easy—although the neck is a ball joint, you have to position the head perfectly straight up the body to keep from L from tipping over anyway—that's how big and heavy is head is. Besides the neck, L's arms and legs rotate, but since you need both legs on the ground to keep him standing, they might as well not be there.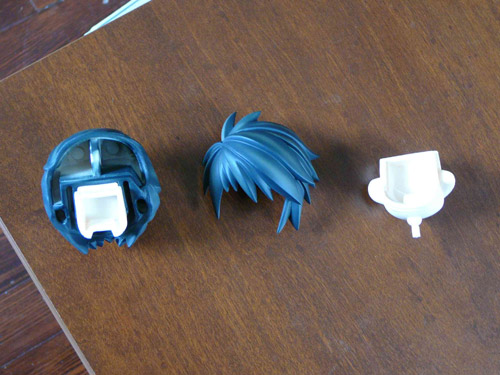 L's head does pop on and off easily, allowing you to remove his bangs and swap out one of his four faces—the top pic is his normal, Calm look (according to the packaging), and the lower image with the half smile and his eyes looking right is his Grin look. He also has a Displeasure face (next) and a Surprise face.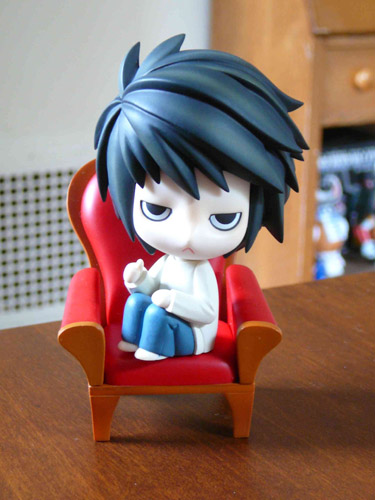 The other accessories include an armchair and a whole additional body, this one sitting, to replicate L's ridiculous sitting position. Whether he sits on the chair or off it, L's head is still so darned huge that it's still tough to keep him from falling over. You have to tilt his head forward just slightly to keep him from toppling over, although if he's on the chair, you can use the chair's back to prop his head against. The only other accessory is a replacement left arm, holding a cell phone in his peculiar L way, which, combined with the Surprise face, is kind of hilarious.

See? Look how adorably surprised he is!
Despite the fact that any kind of interaction with the figure is a total balancing act, it's forgivable since this L figure is so unbelievably adorable. I'm old and bitter and pretty immune to kawaii things, but even my shriveled black heart has room for L's nubby little hands and feet, and especially that Surprise look. It's not a lot of toy for $40, but it is good-looking enough that it if you want a super-cute Death Note figurine with swappable faces, it's a solid choice (and way cheaper than those beautiful but expensive Medicom 12-inch figures). Just be prepared for a lot of this:



Again, Good Smile released figures of L, Light, Misa and Ryuk; Hobby Link Japan has both Light and Ryuk for sale, while Kid Nemo has L and Ryuk (and Light in a Santa outfit). Misa seems to be the hard one to still find, so you might try hunting on eBay. Good Smile also released equally adorable figures from The Melancholy of Haruhi Suzumiya (of course) and Ghost in the Shell: Stand Alone Complex's Tachikoma (yet no love for Motoko and Batou), as well as a few other series.
---
discuss this in the forum (26 posts)
|