Astro Toy
Figma Homura Akemi
by David Cabrera,

Figma Homura Akemi
Maker: Max Factory
Series: Puella Magi Madoka Magica
Price: $50-60
Hey there, guys! Whatcha been up to? You know how it is over here: starting webcomics, buying action figures, playing King of Fighters. It's pretty much the life. So I said recently that I'd be making people happy with a popular figure of a popular female character.

Well, here she is! Akemi "Homerun" Homura is probably the fan favorite character (I mean, Mami won  Saimoe, but we all know that was on sheer meme power) from the recent big hit Puella Magi Madoka Magica. Sold out to preorders for months solid, you too can finally have your own figure of Madoka's closest confidant and admirer: the Tomoyo to her Sakura.
It's been a while since I reviewed a figure this small. I forgot what that was like. It's not just that Figmas are small, it's that Homura is a tiny girl: compare to Kaiji, the last Figma I covered. Posability is normal Figma: it can't kneel, though, because of the solid skirt.

With that in mind, this is a really good-looking sculpt. As with the Madoka Nendoroid from a little while back, care has been taken to get the uniform and the Aoki Ume face (note the eyes!) just right. Detailing is mostly on point-- things like the pattern on the stockings and the little gem on the hand-- but as usual you will notice uneven paint applications at the fringes of the dress. The detail isn't at the level of quality you'll see in the prototype shots.
In fact, let's stop to hand out a general figure collecting tip here, one that applies to pretty much any figure: don't trust the prototype shots on your average online figure shop. They're always much nicer than the product, Figmas especially. My favorite way to make a comparison is to look over at Hobby Search. The first few photos in any given gallery will be prototype shots, and when a figure comes in, they crack the box open and take the real shots. There can be some real horrors in there: I nearly bought the Kenshin Himura Revoltech (let's call him "Himuhimu") for the column, but not once I saw it! The practice is probably not great for sales, but it's a boon to their customers. Big ups to Hobby Search.

Homura's long, black hair is permanently windswept: it's divided into two jointed pieces for a little bit of movement, but you can't make it fall straight down. It just doesn't go there. I find this odd.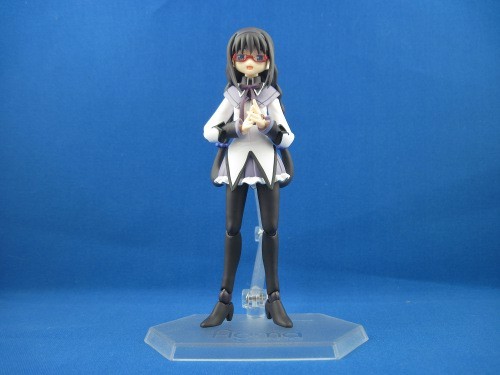 But wait, there's more hair! If you've seen Madoka you'll remember the meek Homura who appears towards the end of the series (why? Well, SPOILERS FOR ENTIRE SHOW). This figure comes with glasses and a replaceable, braided head of hair so that you too can make Homura's metamorphosis happen before your eyes. The included faces are two typically stern expressions and a smile.


"--That won't be necessary."
This is a pretty basic Figma (it comes in the small Figma box, no big props or gimmicks here), so the rest of the extras are light: they're all weapons. Again, in the show Homura raids weapons repositories (mostly yakuza offices) and fights witches with an arsenal of progressively more absurd firearms and bombs. No matter how much she blows up, though, things never really get better! So, if you think about it, Homura is the moe Wile E. Coyote.



And what's more moe than setting one's first pipe bomb, right?



The golf club certainly came out of that yakuza office... or perhaps it was a donation from Kazuo Koike? I heard he was a fan. A... wounded fan. Okay, I'm done, that was awful.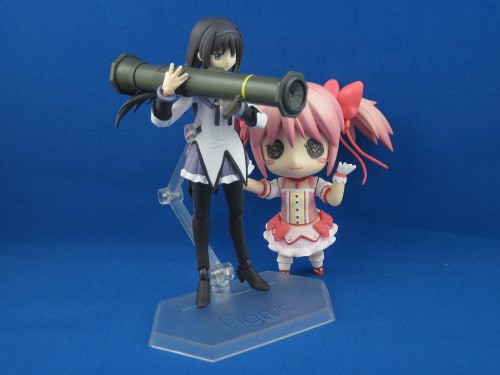 Just kidding, I'm not done at all. I'm actually imagining an Mad Bull 34 dialogue between Homura as Sleepy and Madoka as Daizaburo.
"What the hellaya doin', Sleepy! You know that's against the effin' rules!"
"Tha rules don't mean shit, Daizaburra, not when it comes to those goddam incyabatas!!"
"Ca'monn, Sleepy, ya' gonna blow us ta kingdum come! Let's get outta heeya!"

Okay, seriously, I'm done now. The Figma stand is very slightly different than usual: an attachment to the bar slips vertically up behind Homura's long hair and slips easily into the peg on her back. This is a very simple consideration, and it goes a long way when you're setting her up for display.


So here's a pretty normal Figma release. Everything is just as you'd expect. Yeah, there's some bad paint, but at this price (oh god, I'm getting used to $50 as a low price for an action figure help) it does its job as well as you could ask for.
This is one of the small-box Figmas, and as such the price is a little (just a little) lower than usual. We paid $54 on Amiami. As usual with Good Smile and Max Factory, you will want to act fast if you want this: HLJ already has the item listed as discontinued, meaning they figure they'll never stock it again.

There's only one reason you lost... you pissed me off.
---
When he isn't killing time on fighting games and mahjong, David Cabrera gets hype about anime, manga and gaming at Subatomic Brainfreeze. You can follow him on Twitter @sasuraiger.
---
discuss this in the forum (21 posts)
|