Kakurenbo Hide & Seek Contest
October 5, 2005
GRAND PRIZE WINNER:
Terry Richardson (Conway, SC)
WINNERS:
Jeremiah Eischen (Grand Terrace, CA)

Becky Opalach (Jackson, NJ)

Christopher Myers (Blacksburg, VA)

Chris O'Connell (New Britain, CT)
Get ready to journey down the darkest alleys, lit by the unseen and populated by the ghastly. Hide and seek is more than a child's game... it's a matter of life, death, and absolute terror. In a deserted street where no one dares live, kids amuse themselves with games of hide and seek, but their laughter is always swallowed up by demons and the darkness that surrounds them. In search of his missing sister, a young boy named Hikora joins in the game, but what lies in store for him will haunt his dreams forever.
Download the English and Japanese trailers!

With Halloween rapidly approaching, there's no better time than now to explore the dark, the spooky, and the absolutely terrifying. If you're looking for something to scare yourself silly this month, there's nothing better than the hauntingly beautiful Kakurenbo, which hits store shelves this October 11th from Central Park Media.

In the meantime, Anime News Network and Central Park Media are thrilled to present the Kakurenbo Hide & Seek Contest. Five lucky winners will receive a free copy of Kakurenbo. A lucky grand prize winner will win the CPM Halloween Treat Bag, which includes a copy of Kakurenbo, as well as other titles worthy of watching on a dark and stormy night.

Contest Details

Kakurenbo is all about hide and seek, so we're sending you out on a chase through the ANN Anime Encylopedia. There will be somewhere between 8-12 clues, with each clue leading you to another title in the encyclopedia. When you get to the last one, you'll definitely know it's the end.

Helpful hint: All of the clues contain pictures, but if you get stuck, read the text that goes with it. They'll be sure to tip you in the right direction!

When you get it, just fill out your answer below, along with with your name, email address, and mailing address. If you have any questions about the contest, seek us out at [email protected]

Contest Rules
The contest starts on October 5 and runs until October 31 at 11:59PM Eastern Standard Time. Anyone can enter, but prizes will only be shipped to addresses in the US and Canada, so if you live in Venezuela or the polar ice cap, borrow a friend's address.
Winners will be randomly drawn out of all the correctly answered entries. Employees and members of their family of Central Park Media and Anime News Network are not allowed to enter, but by all means, see if you can make it to the end of the hunt!
Only one entry per person, please. If you enter a bunch of times, we'll find out and throw out your entry, so play fair and don't cheat!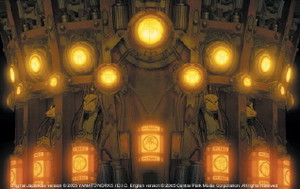 Prize List

5 Winners:
-Kakurenbo DVD

Grand Prize Winner:
-Kakurenbo DVD
-Cat Soup DVD
-Shadow Star Narutaru vol. 1 DVD
-Descendants of Darkness: Vampire's Lure DVD
-Black Jack: Infection DVD

FIRST CLUE

Kakurenbo takes place in a town with no lights. To turn on the power, you're going to need some volts.



Kakurenbo Japanese version © 2005 YAMATOWORKS / D.I.C. | English version © 2005 Central Park Media Corporation
The Fine Print: Anime News Network reserves the right to cancel this contest at any time (unlikely to happen). Contest is open to any and all residents of the planet Earth and neighbour parallel dimensions, but prizes will only be shipped within the continental United States and Canada (So if you win, but you live in Antarctica, you have to arrange to have it sent to someone living in the appropriate area, and they can send it to you.) Contestant names, e-mail and mailing addresses will not be given out to any one and will be erased when the winners have been confirmed. Non-winners will not be contacted, spammed or harassed in any way. We reserve the right to retroactively add new rules when and how we see fit.
Kakurenbo contest
---
discuss this in the forum (94 posts)
|