Gundam UC Model Give-Away
Winners Announced Here
---

To celebrate the release of "Mobile Suit Gundam Unicorn (UC)" Vol. 3 release, Bandai has provided ANN with Gundam UC plastic model kits to give-away to lucky 5 Gundam fans!
Regardless of your model building expertise (or lack thereof!), these kits are fun to build and make a great addition to your collection (they're also a great way to start your anime merchandise collection!).
Gundam UC Plastic Model Kits:

1. ReZEL (Commander Type) x 1 set

2. Unicorn Gundam (Destroy Mode) x 2 sets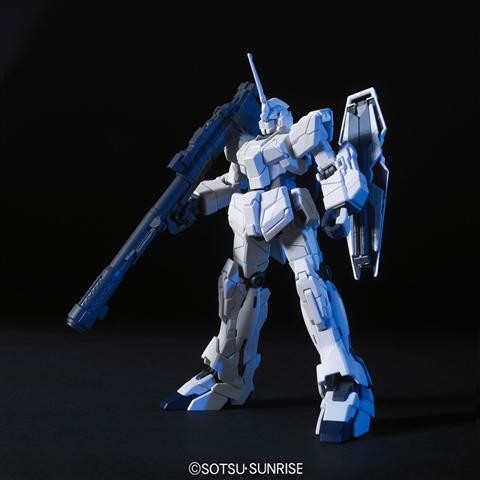 3. Unicorn Gundam (Unicorn Mode) x 2 sets
Hurry and enter now!
As the attack on Palau begins, the Unicorn reveals its hidden power.
In the stunning third volume of "Gundam UC," the newest entry in the Universal Century saga based on a story by author Harutoshi Fukui, the true power of the Unicorn Gundam now becomes clear!
Mobile Suit Gundam Unicorn Volume 3 (Blu-ray) is now available at Bandai Entertainment's The Store.
The Fine Print: Although unlikely to happen, Anime News Network reserves the right to cancel this give-away or change the rules of this give-away at any time. Give-away is open to any resident of any territory, except where prohibited by law. It is the entrant's responsibility to ensure verify the legality of this give-away. Prizes will be shipped to any country except where prohibited by law. Winners' names will be posted on AnimeNewsNetwork.com, their mailing addresses will be provided to our shipping agent of choice (ex: UPS) and no one else. Winners' addresses and e-mail addresses will be erased once the prizes have been shipped. Non-winners' names, e-mail and mailing addresses will not be given out to any one and will be erased when the winners have been confirmed. Non-winners will not be contacted, spammed or harassed in any way. We reserve the right to retroactively add new rules when and how we see fit.
---
discuss this in the forum (27 posts)
|
this article has been modified since it was originally posted; see change history