2005 6th Comic Exhibition @ Taipei, Taiwan

Interview: Makoto Tezuka

by Chih-Chieh Chang,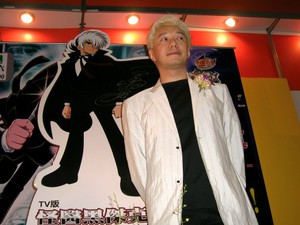 To celebrate the 30th anniversary of the Black Jack manga, a whole new TV animated adaptation is now being directed by Makoto Tezuka, son of its original creator Osamu Tezuka. Born in Tokyo on 1961, Tezuka started his career in cinematography when he was only 15 years old. Most of his previous works were live action movies, however, in order to get fans of the original work excited, he took over the job of direction and adaptation of his father's lifework, trying to transform it to be more widely accepted by a new generation of fans and recall the loving memories of long-time devotees. In order to promote the TV premiere and first DVD on sale in Taiwan, Tezuka was invited by E-Muse to meet and sign for the dedicated fans of Black Jack.
Q: Why animate Black Jack into TV series after 30 years? How did you feel while you were directing, and in which way did you want to present this title?
A: Recently, there are many wars and unfortunate events around the globe. I want this animation to bring up the issue and let people to ponder concepts like respecting life and reevaluate the value of human lives. These are the starting points for me to create this series.
Q: As a modern-day adaptation of Osamu Tezuka's manga, what do think about modern-day people? Since you have been involved in animation business as early as 15 years old, as well as having a father entitled "the god of manga," would you consider jobs that aren't related to animation?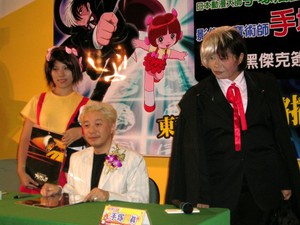 A: The material is very natural for me. This is my first directing job for animation. Most of my previous works are live-action movies. I have also been working on art design for films and some experimental movies. It's not necessary for me to stick with animation only.
D: We knew that the Black Jack manga was created more than 30 years ago. Through the years, medical technologies have been much more advanced and sophisticated since then. Did you find any difficulty or have made any modification of the original stories when trying to incorporate modern technologies into this newest adaptation?
A: The emphasis of the new adaptation is on humanity and sympathy, so it was never a big issue; the way of presentation may be different, but the spirit of humanity is always the same. However, we did incorporate modern medical practices like laser operation, and we gave Black Jack a computer to manage his files.
Q: Final comments, please.
A: I'm very moved and thankful to see there are so many readers dedicated to this old manga. Apart from Black Jack, there are many more interesting works created by Osamu Tezuka, and with this chance I wish you all could know more about his lifeworks. Thank you very much.
---
back to 2005 6th Comic Exhibition @ Taipei, Taiwan
Convention homepage / archives