×
remind me tomorrow
remind me next week
never remind me
Subscribe to the ANN Newsletter • Wake up every Sunday to a curated list of ANN's most interesting posts of the week.
read more
2005 6th Comic Exhibition @ Taipei, Taiwan

Interview: Pink Hanamori

by Chih-Chieh Chang,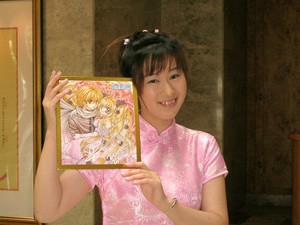 The press conference for
Pink Hanamori
, author of
Mermaid Melody: Pichi Pichi Pitch
, was a bit confusing, because Ever Glory Publishing had changed the location twice before it began. We also received the news that Hanamori-sensei was looking for hairdressers as early as nine in the morning!
Hanamori wore a pink Chinese dress, which she bought from Shizuoka. While being seated, she told us that she wore the same dress for the last convention she attended in Japan, and the feedback was very positive. However, there were demanding Japanese fans asking her to wear a mermaid suit!
Q: How do you feel for your work being animated? Have you met the voice actors of the anime?
A: Of course I'm very happy to see it being animated. I have met with the voice actors several times before.
Q: When did you start drawing manga?
A: I started to love drawing when I was 8-9 years old. However, it was not until I was 14 until I began to purchase specialized tools for drawing manga.
Q: What's your dream job?
A: Manga-ka, of course!
Q: When and how did you become one?
A: I sent my story and artwork to
Nakayoshi
when I was 21-22, and I debuted at 23. Oops, now you all know how old I am; now I'm embarassed!

Q: Were you an art major?
A: Not at all! I was a student of Domestic Science, and I loved it very much.
Q: Who is your favorite character?
A: Kaito Domoto. I put a lot of effort into drawing him and building his personality.
Q: Who's your favorite female character?
A: It's hard to say.
Q: Which character do you think resembles you the most?
A: Luchia Nanami.
Q: What's the biggest obstacle when drawing manga?
A: Series composition.
Q: What will be the possible story for your next title?
A: It could possibly be about about an alternate universe. When I visited the Hsin Tien Temple, it gave me many ideas, and I took a lot of pictures of it – maybe I'll use them for future material.
Q: What do you do other than your work?
A: I have three Pomeranian dogs.
Q: What do you feel about Taiwan?
A: Friendly and energetic — this is also how I feel about the staff of this convention!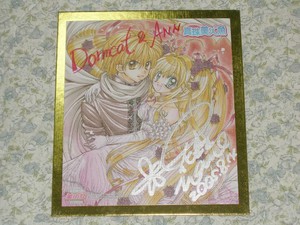 Q: Which manga has influenced you the most?
A:
Yū Yū Hakusho
by
Yoshihiro Togashi
, and artworks of
Megumi Tachikawa
.
Q: Did you model Kaito after any celebrity?
A: I love
Tsuyoshi Dōmoto
of
KinKi Kids
, so I modeled Kaito's face after him, and Kaito's personality was modeled after
Koichi Domoto
(the other member of KinKi Kids).
Q: We heard that you've met
Jin Kobayashi
-sensei yesterday. Did you know each other in Japan? Are you two "tomodachi ijou, koibito miman (more than friends, not yet lovers)?"
A: (Chuckling) No, no, no. We are just regular friends.
---
back to 2005 6th Comic Exhibition @ Taipei, Taiwan
Convention homepage / archives