×
remind me tomorrow
remind me next week
never remind me
Subscribe to the ANN Newsletter • Wake up every Sunday to a curated list of ANN's most interesting posts of the week.
read more
Anime Expo 2007

S.K.I.N. Concert

by Jonathan Mays,
June 29, 5:30 p.m.

If you had tickets to the world premiere of S.K.I.N, how long would you wait to see them? The concert should have started two hours ago. Instead, 2,000 anxious fans have just started the wave. Welcome to Long Beach Arena, where $75 buys you a front row seat in purgatory.
A camera crew prompts fans to scream as if something is happening on stage. They also did this an hour ago. Why does anyone indulge them?
The lights go out. It's 5:48. A short video of black and purple smoke electrifies the crowd. Two minutes later, the curtain falls and lead singer
Gackt
, clad in a black leather jacket and boots, screams ironically, "Are you ready to rock?"
Scattered glow sticks welcome the first song, "Gei-Sha," a mid-tempo rock number with heavy bass and drums. The latter is a given, of course, with
X Japan
co-founder
YOSHIKI
, one of Japan's very best drummers, on an elevated platform behind center stage. Flanking them are noted guitarists
MIYAVI
and
Sugizo
, as well as an unexpected fifth member on bass. The crowd is slow to join Gackt's "Shout!" call and response, but they will get ample opportunity to hone their skills.
YOSHIKI's drum solo is the first standout moment of the concert. After a Gackt-led call and response of "Yo!" the stage lights cut to blue, with the floor audience bathed in green. The words "Sweet Dreams" fades to and from the video screens, followed by shots of a forest, a sunset in clouds, and the moon. Gackt's 2-minute English narration is soothing but difficult to comprehend.
After a beat of low guitar humming, the video screens announce the next song: "Killing You Softly." Gackt stands alone under a single blue spotlight, emoting at about half the speed of the first song. YOSHIKI, MIYAVI, and Sugizo join for a mid-tempo verse, which slides into a key change at the chorus. Two pulsating piano chords keep the ballad grounded with single notes played up the scale. After Gackt intones the chorus once more, MIYAVI takes us through the bridge with a fine solo. But the real payoff comes next: a moment or two of near silence. In an arena that had been humming for nearly three hours, the held beat works as well as ever. As 6 o'clock nears, the song wraps on a shot of water reflecting the sunset.
Fading and returning after a moment, the shot reveals sunrise, sakura flowers, and a temple. "Beneath The Skin," the screens read. Beneath strobe lights Gackt gives English another try with marginal success: I can make out "It's burning" and "It's not the way it used to be." A head-banging refrain produces the expected crowd response, and the stage goes blue with the entrance of chugging low guitar and bass. One of the guitars falls into a rhythm of two building chords, mirroring the piano on the previous song. As the number reaches its peak, Gackt soars without the safety of the band. It's an excellent sequence.

YOSHIKI appears on the first piano shot of the night. This looks promising. Bathed in white light, he waves casually as his head rises and falls through a phrase. A silenced crowd watches in awe as Gackt joins on a piano across the stage, his back facing YOSHIKI's. Sugizo, who seems to have snuck off stage while the crowd was fixated on the dueling pianos, emerges from stage left with a violin. MIYAVI sits on stage, plucking what looks like a shamisen. A four-way vertical split screen artfully captures all of the action. Three minutes pass, and I wouldn't mind if this continued for another thirty. YOSHIKI heightens the mood by banging on the piano, and Sugizo's strokes become increasingly violent. The chords realign until the violinist crushes them with a sharp finishing edge. Wow.
Gackt remains on piano, playing off MIYAVI's measured guitar beats. As the guitar and drums take over, Gackt makes his way to center stage just in time for a disco ball to light up the arena. He stands silently, arms outstretched. The stage goes blue and Sugizo returns on guitar, bumping up the tempo but not back to that of the first song. There is no title on screen.
Looks like it was an interlude. The S.K.I.N. logo to which the crowd became quite accustomed between 4:51 and the start of the show sits on screen before a dark stage. YOSHIKI—or someone who has commandeered his drum set during the blackout—throws an opened water bottle into the crowd.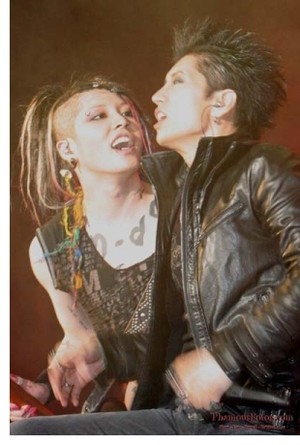 The silence continues. 30 seconds, 45…
Gackt takes the microphone: "This is not goodbye." 25 minutes into the concert? It better not be. "It's just until we meet again." Uh oh.
"We are…S.K.I.N!"
A green snake skin slides up the video screens, interrupted from time to time by flashes of "Get Back," the latest in Gackt's call and response motif. Spotlights that resemble throwing stars weave across the arena's ceiling as Gackt reminds the crowd to "Get Back!" thirty or forty more times. The refrain is punctuated by four syllables that seem to be in English, but I can't make out the words.
"Are you having a good time?" Quite so, until you shouted "Get Back!" the fiftieth time. "Thank you for having us in Long Beach! I hear you scream: S.K.I.N! S.K.I.N! S.K.I.N! Do you love S.K.I.N? One more time!" The crowd can't get enough.
"Now…it's time for you to meet us, the makers of S.K.I.N! First we've got…who is it? MIYAVI!" Gackt gets out of the way as MIYAVI explodes with a 360° solo that begins upright but doesn't stay there for long. He rolls like a breakdancer on the stage floor, remarkably without missing a note.
"Next, a guy who has played with me for a long time: Ju-Ken!" Our mystery man revealed. It's hard to hear the bass over the raucous crowd. "You wanna hear more?" Absolutely. "Okay, come on…MIYAVI!" Then Ju-Ken joins in a brief duo.
"Two years ago, I hated this guy, but now he's my best friend. Sugizo!" He meets the introduction with a stratospheric guitar solo.
"This guy needs no introduction. The one, the only greatest drummer in Japan: YOSHIKI!" The man takes over the arena, not even flinching when one of his cymbals falls on top of him. YOSHIKI rolls through all sorts of crazy beats, stands on a drum, drenches himself with water, and throws the rest to the crowd. One of the perks of founding a new band, and being one of the greatest performers in Japanese rock history, is that your solos are four times longer than everybody else's. Suck it up, Gackt.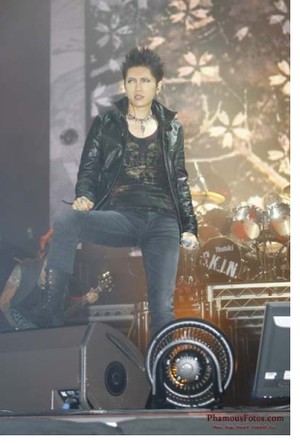 "And lastly, who am I?" Gackt poses the question repeatedly until his ego is satisfied with the response.
"We are…S.K.I.N!" Repeat
ad nauseum
.
The video screens go to the crowd, and Gackt goes back to the beginning of the song. "Get Back!" Shut up. The chant goes on for another four minutes. A fifth song would have affirmed this as a truly great concert. Instead, it's like they're stretching for time.
No wonder. At 6:39, less than 50 minutes after the concert began, the band crashes through its final chords, each one punctuated by a Gackt air punch. The music ends, but not the chaos. YOSHIKI tears apart his drum set, even cracking a guitar over it. So much for an encore. Another guitar is smashed over an amp, its splintered neck discarded to the crowd. MIYAVI launches a water bottle deep into the crowd. As does Gackt, from the other side of the stage.
The destruction reaches its peak when YOSHIKI trips over a piece of…guitar? Who knows. It is a theatrical end to a theatrical concert. But two indisputable facts loom over the production—49 minutes long, 2.3 hours delayed. Even with its moments of brilliance, it is perhaps too little, too late.
Photos courtesy of and © www.PhamousFotos.com.
Special thanks to Badymaru.
---
discuss this in the forum (22 posts)
|
back to Anime Expo 2007
Convention homepage / archives