×
remind me tomorrow
remind me next week
never remind me
Subscribe to the ANN Newsletter • Wake up every Sunday to a curated list of ANN's most interesting posts of the week.
read more
Tokyo Game Show 2009
by Evan Miller,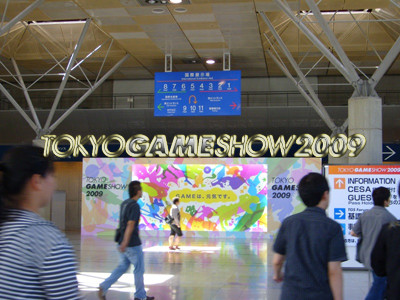 Reports:
Going to the Show
Retail Area
The Main Hall
Summary of the Games

"Game wa, genki desu."
The Japanese tagline for the 2009 Tokyo Game Show may have been translated by its organizers as "Game, it's so energetic!" but the original Japanese reflects more than that; "genki" has been used frequently in Japanese business circles to describe whether an industry is doing well ("genki") or not. The fact that TGS decided to make this sentiment so public seems to indicate the hopes of its organizers that their industry - gaming - will continue to prosper, even as other industries close to it (publishing, anime, etc.) have fallen on hard times.
If TGS was any indication, the gaming industry is holding together well. Lavish booths with multiple floors and facades filled the show floor as avid gamers stood by the Kaihin Makuhari train station on the press-and-industry-only days with signs saying, "Please help me get into Industry Day!" The show did have a few conspicuous absences - the most obvious being the lack of a Nintendo booth - but overall, the show lacked the air of worry and paranoia that has hung over events in other entertainment industries, such as the Tokyo International Anime Fair.
---
We headed to Makuhari Messe on Friday to check out the show, take some photos, and give you all a peek into what's coming up in the world of gaming. (Want to survive the show? Here are some handy tips...) We started our journey in the retail area of the show, where copious amounts of figures and game merchandise were on sale. After that, we made our way into the main hall. After spending a day standing in lines to play game demos, here are my impressions of the titles that the show had to offer.

Photos by Evan Miller and Lanny Liu.
---
discuss this in the forum (7 posts)
|
this article has been modified since it was originally posted; see change history