×
remind me tomorrow
remind me next week
never remind me
Subscribe to the ANN Newsletter • Wake up every Sunday to a curated list of ANN's most interesting posts of the week.
read more
A Brief Look at TIFFCOM
by Adrian Lozano,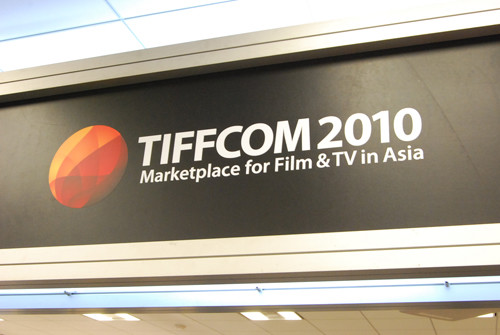 TIFFCOM 2010 is an event affiliated with the 23rd Tokyo International Film Festival held annually at Roppongi Hills, Mori Tower in Tokyo. TIFFCOM serves as the film festival's four-day business marketplace for film and television content produced throughout Asia. Both are just two of seventeen scheduled events during CoFesta, which spans about three months ending in late November. TIFFCOM's setting is strictly professional though much of the content falls within the "Cool Japan" moniker; unlike Tokyo Anime Fair's semi-formal business days, there are no booth babes, promotional goodies or inflatable anime characters hanging from the rafters.
The anime (and anime-related) content being solicited at TIFFCOM to buyers spanned the entire history of anime; some were as recent as the Sora no Otoshimono TV series and some as retro as the late 1980's OVA Urotsukidoji. One of the hottest projects on the floor was Micott & Basara Inc.'s new Appleseed XIII CG anime production that was announced just prior to TIFFCOM and is scheduled for completion sometime in 2011. The only information dispersed was in the form of a flier with a basic plot synopsis and staff credits; a short piece of animated footage was also being shown. International Digital Artist (IDA) was promoting their CG-animated series Cat Shit One (based on the manga titled 'Apocalypse Meow' in the US) by screening an English-dubbed version of the pilot on a daily basis. The pilot focused on a crack team of rabbit soldiers performing a daring rescue mission in the middle east; while it's light on substance, the juxtaposition of cute little animals in serious wartime situations was unique. IDA's intent is to produce a 12 episode series, but as of this writing, nothing further than the pilot episode has been produced.


The first and second series of
Vegetable Fairies: N.Y. Salad
and the
King of Thorn movie
were screened along with
Sunrise
's upcoming "Anime Fes. VS Battle Tour," which features the premiere of the OVA
Koisento
alongside the first episodes of
Mazinkaiser SKL
and
.hack//Quantum
. King of Thorn was released theatrically in Japan back in May of 2010 tied to a hefty marketing push prior to its release but it fell off the radar within the first week and it was quite obvious why. The film itself is only remarkable in that it tries so hard to be "edgy" that it winds up being dull; otherwise it's a standard apocalypse story that mashes up some clichéd horror elements (the cast is slowly picked off one by one) together with a "dangerous virus outbreak" element that doesn't leave much of an impression.
Mazinkaizer SKL, while consisting of nothing new, was at least competently-made testosterone-fueled giant robot action. Mazinkaizer SKL eschews the classic Go Nagai egg-shaped robot designs and actually features some robot vs. robot action, something the previous Shin Mazinger series never seem to have gotten around to. SKL also offers plenty of fanservice to both sexes, with an ample supply of curvaceous women for the men and the semi-masculine Mazinkaizer SKL pilots Ken and Ryo for the fujoshi crowd.


Vegetable Fairies: N.Y. Salad
is an animated series full of imaginative storytelling aimed at children ages 2-4. The character designs are based on
Yoshitaka Amano
's original illustrations, and the blend of 2D and 3D animation is simply amazing; it's hard to believe this production was done between 2007 and 2008.
Vegetable Fairies
follows a group of innocent and mischievous vegetable children as they explore their kitchen countertop surroundings.
While some pundits out there believe the OVA market is truly dead, Bandai Visual continues to think otherwise and are attempting to revive the market with a new .hack// release and a one-off romantic comedy called Koisento. The first episode of .hack//Quantum was fairly uninteresting; the story clumsily ping-pongs back and forth between a group of .hack// players and their avatars within the game. While the franchise has never been a shining beacon of quality storytelling, this episode felt like just another bland installment in a series that somehow survived the 90's anime/game boom. Here's hoping the other episodes pick up the pace a little.
Koisento, on the other hand, is a "super science-fiction romantic comedy" directed by Shuhei Morita with character design by Daisuke Sajiki, and it ended up being the surprise hit of the screening. Based on the lackluster promotional materials that were given out at Tokyo International Anime Festival the week leading up to TIFFCOM, Sunrise is simply not doing this beautiful and energetic OVA justice. Reminiscent of the transcendent works of Satoshi Kon, Koisento could have easily been a feature length film; while the OVA as it exists is very good, it definitely leaves you wanting much, much more.
---
discuss this in the forum (7 posts)
|