FanimeCon 2010

Day 3

by Gia Manry,
Day One
Day Two
Day Three
Day Four


Day 3

Sunday at FanimeCon started with an interview with Gainax acting president Hiroyuki Yamaga. In addition to kindly offering some information on an upcoming Gainax project, Yamaga spoke openly about government pressure ono studios and other topics-- you can read the full interview
here
.
After the interview it was time to head into the dealer room, where there were some familiar faces and some new ones. Returning were Fanime regulars Media Blasters, who had managed to acquire a full-size English-language Howl's Moving Castle movie theater display-- apparently at the Friday-evening swap meet. How many anime cons do you know where dealers add to their stock as well as depleting it?
Other familiar faces included the ever-present Anime Pavilion and Hawaii-headquartered KimonoKitsy Studios, the dynamic duo of Audra Furuichi and Scott Yoshinaga, who draw the web comic nemu*nemu.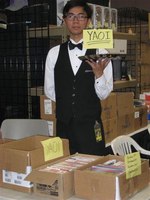 More surprising additions to the hall included two booths devoted exclusively to wigs, a booth advertising an upcoming anime and video game-inspired concert called HIDEO, and Arc System Works' booth for BlazBlue and convention guests Mori Toshimichi and Daisuke Ishiwatari. Some may be amused to note that one manga booth had not only sectioned off their yaoi books, but had also assigned it a butler to assist would-be buyers.
Other usual suspects in abundance: plushies, figures, costumes, and even a collection of MythWear bags that have outlasted their creators. In contrast, only a few sellers were carrying DVDs, with moderately more carrying manga.
After the exhibit hall came a panel on how to begin collecting figures, helmed by Otaku USA writer Heidi Kemps. Kemps displayed a number of figures from her own collection and on loan from Concord, California-based Toys Logic. The panel primarily functioned as a "Figures 101," explaining garage kits, the differences between PVC, polystone, and other materials, and other details.
---
back to FanimeCon 2010
Convention homepage / archives