FanimeCon 2010

Day 1

by Gia Manry,
Day One
Day Two
Day Three
Day Four

Day 1

Due to some scheduling conflicts I was only able to be at Fanime long enough to get my badge on day one, but both the pre-registration and at-the-door registration lines were packed but moving fluidly, even as late as 5pm-- no surprise, considering that while opening ceremonies had launched the convention at 2pm, the 24-hour gaming room had launched at 3pm the previous day.
Fanime is
very
serious about giving you a full weekend for your $60 full-weekend registration fee.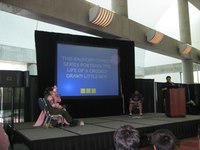 There may not be any panel reports for day one, but here's an observation to take their place: one of the coolest aspects of Fanime Con is a piece of its layout: Stage Zero, a small stage setup in the middle of...well, everything. If you face the stage, the dealer's room, game room, maid cafe, and autograph rooms are to your left, and all of the panel and viewing rooms are to your right, with more space downstairs for registration and, of course, cosplay gatherings at the fountains in front of the convention center.
The stage is host to everything from mini-concerts by the musical guests (full-scale concerts were held at the San Jose Civic Auditorium across the street) to a charity auction to game shows, and can even double as an additional movie screening space.
---
back to FanimeCon 2010
Convention homepage / archives