Otakon 2010

Welcome to the Space Show Focus Panel

by Gia Manry,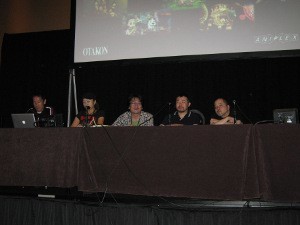 Aniplex's Hiroe Tsukamoto and Yosuke Kodaka introduced the three panelists promoting the film Welcome to the Space Show: producer Tomonori Ochikoshi, character designer Masashi Ishihama, and director Kouji Masunari. Tsukamoto went through works by each creator. Masunari has director R.O.D. -Read or Die- and the R.O.D. -The TV- TV series as well as Kamichu. Ishihama worked on both R.O.D. and The Girl Who Leapt Through Time. Ochikoshi also worked on R.O.D., Kamichu!, and the TV series Blood+.
A trailer with English subtitles and English-dubbed narration was then shown to the audience and Tsukamoto explained the plot of the film: five elementary school students ages 7 to 12 save a dog that turns out to be the alien Pochi, who takes them on a tour of the moon in thanks. But due to unfortunate events, the kids find themselves stuck until they launch themselves on a big-scale adventure. The five kids were introduced: would-be doctor Kiyoshi, new transfer Natsuki, who moved in with her younger cousin, animal-lover Amane, bibliophile and space enthusiast Koji, and fashionista Noriko. Pochi himself comes from the Planet One and defends a particular Earth plant from space poachers, resulting in his injury.
Tsukamoto noted that the first 22 minutes of the film are available on AniplexUS's YouTube channel.
After this, a Q&A session started by Tsukamoto began. Masunori spoke about the origins of the film: after working on the TV series Kamichu!, which received an award at the Japanese Media Arts Festival, which resulted in the trio feeling "over-confident" and pitching plans for a movie. Tsukamoto asked about the name "Besame Mucho," which is Spanish for "kiss me a lot" and is used by Ochikoshi, Masunari, and writer Hiroyuki Kurata. Ochikoshi replied that even though they were a group of adult men they could at least have a name that was cute. Ochikoshi also said that the group has no fixed membership and that he would like the group to become the anime production version of AKB48.
Tsukamoto followed with a question about the creation of the characters in Welcome to the Space Show. Ishihama replied that it started with Kurata and Masunari coming up with the character's personality. Ishihama takes the text description of the character and comes up with designs, which he has a lot of freedom on; he tried to come up with designs that would be fun for the staff of A-1 Pictures to draw.
When asked about favorite characters, Ishihama named Pochi, remembering a time when he was compared to a bull terrier and given some bull terrier merchandise. Since the principal alien would have a dog form, Ishihama took the idea of the bull terrier and added his own eyebrows to it. However, Ishihama said that all of the characters were equally fun to draw.
An open Q&A was then launched. The first questioner asked whether there would be art books for the film. Ochikoshi replied that there are four available in Japan and that it would be good to see American versions released. The next question was about how A-1 Studios was chosen to animate the film, as opposed to the studio Brains Base, which animated Kamichu!. Masunari said that he wasn't fixed to any one studio, but that the history of the project goes back to A-1's founding in 2005.
A question was asked about the involvement of anime director Masaaki Yuasa, who helmed the actual "Space Show" within the film. This was because that segment needed to feel and look very different from the rest of the piece.
Asked about inspirations, Masunari said that he is probably the one who's seen the fewest works of others, but that he knows he's been influenced by TV shows and movies he saw as a child. Among these, he's sure Galaxy Express 999 was an influence, as well as other shows like Gundam and Ideon. Since he's very much in love with the media that is animation, everything about anime is incorporated as sort of an homage in the film.
Next came a question about Kamichu! for Masunari. The question was about an episode which featured cats in a sort of "fight club," and the question was whether that was intentional. Masunari said that writer Hideyuki Kurata is a big fan of the film Fight Club.
A fan compared Natsuki's design to the character Yohko Yamamoto (from Starship Girl Yamamoto Yohko), and designer Ishihama said that he realized the similarity after he'd already put together Natsuki's look. In response to another question, Masunari noted that there was a character from Kamichu! in Welcome to the Space Show, a martian.
The next question related to the design of side characters, particularly other aliens. The aliens were designed by Okama, who drew them as they discussed. Another designer expanded these designs, adding clothing and the like, which resulted in about 400 aliens that were used throughout the film.
It was noted by a fan that anime films seemed to feature more simple character designs than television series, and the fan asked whether that was the case and if so, why. Ishihama felt that some designs were becoming simpler while others were becoming more complicated.
Masunari was able to expand upon the background of Pochi, though the information may be a spoiler for those who were unable to attend the screening: Pochi, Neppo, and Marie were scientists working together happily, but eventually they came to disagree on methods and practices and drifted apart.
Ochikoshi was asked about Blood+ and he confirmed that the series was really created with a western audience in mind, which is why they hired Hollywood composers: Hans Zimmer and Mark Mancina. It took some time to convey the differences in culture between the U.S. and Japan, but in the end the music was great, Ochikoshi said.
Next the three panelists asked the audience questions: Ochikoshi asked how fans in the U.S. watch anime, and commented on the decrease in anime sales. One fan responded that the DVD investment might be too much for some since fans can't watch them on television.
The panel was then closed with each panelist offering a closing comment.
Masunari: "Thank you everyone who went to see Welcome to the Space Show today, and if you haven't I hope you get an opportunity although that may be hard to do in the States. If you're coming to visit Japan and Akihabara I think you'll be able to come to a nearby theater to see it, and that might be a good way to catch it if you haven't already."
Ishihama: "I'd like to take home the energy of all the fans here at Otakon and compress that into incentive to create even more impressive works so that I can be invited back to Otakon again."
Ochikoshi: "Thank you for today. It was great that we could hold a conversation like this today. The U.S. release schedule for Welcome to the Space Show is forthcoming, so I hope that we can count on your support for that. On behalf of the industry I hope you can continue to support anime as a whole as well."
---
back to Otakon 2010
Convention homepage / archives