×
remind me tomorrow
remind me next week
never remind me
Subscribe to the ANN Newsletter • Wake up every Sunday to a curated list of ANN's most interesting posts of the week.
read more
New York Comic-Con 2011

Kodansha Comics Panel with Hiro Mashima

by Crystalyn Hodgkins,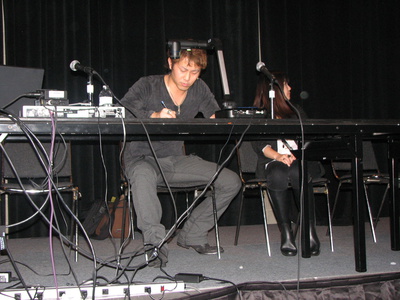 The panel hall was packed to the brim and the attedees were excited as the Kodansha Comics panel got underway. Dallas Middaugh hosted the panel with special guest Hiro Mashima, the manga creator of Fairy Tail and Rave Master.
Middaugh first mentioned that Mashima will be signing autographs at the convention on Saturday. He will be signing a Fairy Tail art board and volumes of his works. The first people in line will also get Fairy Tail character merchandise, some of which were also given away at the end of the panel.
Midaugh mentioned that Fairy Tail volume 16 won't be on sale until November, but Kodansha Comics has it available at its booth at NYCC now.
He then introduced Hiro Mashima, to a very loud round of applause. Mashima said a few words in introduction, speaking in English. He thanked Americans for their support and generosity during Japan's difficult time in the wake of the earthquake and tsunami, and mentioned that he felt the whole world was connected.
Mashima then gave a drawing demonstration. During the demonstration, Middaugh gave some trivia about Hiro Mashima, including that Mashima's favorite food is pasta, His Favorite manga is Berserk, he recently read and enjoyed Batman: The Killing Joke, and House of 1000 Manga's Jason Thompson and Middaugh himself have made cameos in Fairy Tail. Mashima's first published manga was the 35-volume series Rave Master. He followed up with 2-volume series Monster Soul. Middaugh mentioned that Kodansha Comics is publishing Fairy Tail and is publishing his four-volume series Monster Hunter Orage. In addition, Mashima created single volume of short stories titled Mahima-en in 2003. Middaugh also mentioned that Funimation will begin releasing the Fairy Tail anime on home video next month.
Kodansha Comics raffled off the art Mashima drew for the audience, as well as four other pieces he drew today. Middaugh also asked Mashima some questions as he drew. Mashima had been drawing since he was little, and he didn't only love drawing pictures but also creating stories. He was inspired by Akira Toriyama's Dragon Ball manga. Mashima mentioned he works six days a week, and each day he works for 17 hours. In order to come to NYCC, he had to draw in advance, so he drew for 18-19 hours each day then. Mashima is a big fan of Monster Hunter games, and he's also recently played and liked Gears of War 3 and Assassin's Creed. When asked what was coming up next in Fairy Tail, Mashima answered, in English, "secret."
Then there was a Q&A from fans. From that Q&A, Mashima noted he doesn't have a particular story in Fairy Tail that is his favorite, but he loves to draw the scenes with the guild members in the bar being rowdy and loud. When asked if Mashima would add any more dragon slayer characters in Fairy Tail in the future, he said he would like to say but his editor was glaring at him so he couldn't.
With that, Mashima left the panel, to more loud applause, and Kodansha began their announcements. Middaugh mentioned Kodansha started publishing manga in the U.S. a few years ago with Akira, but it just recently started a full line this spring, starting with Sailor Moon and Codename: Sailor V, the first volumes of which were released on September 13. He also mentioned that Kodansha had to double its print run for Sailor Moon, so it's printed 100,000 copies of it now. Volume 2 of Sailor Moon and Codename: Sailor V will be released on November 16, and then Sailor Moon will be released on a bimonthly schedule.
Middaugh then announced Kodansha's new licenses. It will release Genshiken and Kitchen Princess in omnibus format. It will also release Attack on Titan, and Miles Edgworth: Ace Attourney, the latter of which will be released bimonthly starting in May. Kodansha Comics will also released an app for the iPad at midnight, and its volumes will be priced at $4.99, however, for two weeks, all volumes of Fairy Tail will be available for $2.99. Kodansha's app will launch with four titles: Sayonara Zetsubou Sensei, Fairy Tail, Arisa, and Until the Full Moon. Further announcements about digital releases will be made in the coming months.



---
discuss this in the forum (6 posts)
|
back to New York Comic-Con 2011
Convention homepage / archives