×
remind me tomorrow
remind me next week
never remind me
Subscribe to the ANN Newsletter • Wake up every Sunday to a curated list of ANN's most interesting posts of the week.
read more
New York Comic-Con 2017 News Roundup

New York Comic-Con 2017: Q&A with Fairy Tail Creator Hiro Mashima

by Rai Kelly,

Anime News Network's coverage of New York Comic-Con is sponsored by Tokyo Ghoul: The Movie
---
Hiro Mashima is the creator of the hit series Fairy Tail, which is incredibly popular in both Japan and all around the world. It is a very successful series; it ran in Weekly Shōnen Magazine for 11 years and has over 200 anime episodes.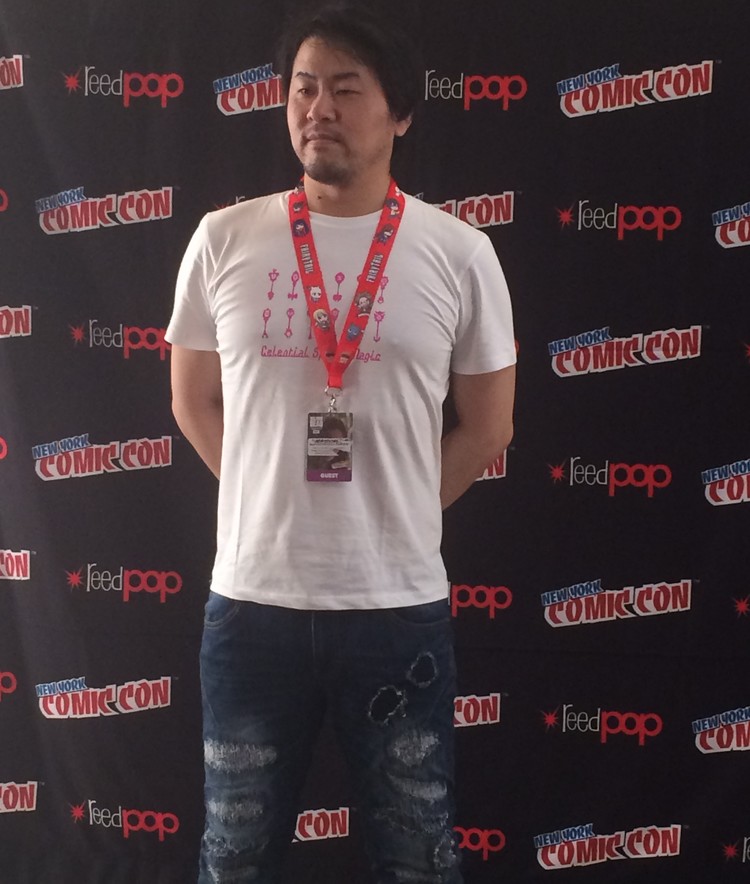 Fairy Tail has a passionate and dedicated fan base particularly in the United States. Knowing this, New York Comic Con invited Mashima for his very own panel, entitled "A Chat With Hiro Mashima" on Saturday, October 7. The panel took place at Hammerstein Ballroom, a concert hall right across from Madison Square Garden. Fans and cosplayers lined up on in front of the Ballroom hours before the panel started, eager to see the mangaka.
When the panel began, Justin Rojas from Funimation came on stage and asked everyone about their familiarity with Fairy Tail. He knew the crowd was anxious and then called on the main star: Mashima himself. He ran on stage and yelled "I love you, New York!" in English to which the crowd enthusiastically responded. Rojas asked if Mashima had anything he wanted to say to the Fairy Tail fans. He said, in English, "My name is Hiro Mashima." After that he added in Japanese, although a little embarrassed, "I actually can't speak much English. But I have to express how grateful I am to see you guys here today."

Next, Justin Rojas congratulated Mashima on finishing the Fairy Tail manga. "Thank you very much! I honestly owe it to everyone here," he said.
From there, Justin began a Q & A session, asking Mashima all kinds of questions from Fairy Tail, Rave Master, and his influences.
Rumor has it that you had never took a weekend off the entire time you were serializing Fairy Tail. Is that true?
This is actually true. This is whole time I was very motivated by the fan's voices who were looking forward to the next chapter.
What was the first thing you did when you finished the manga?
I did a lot of doodling.
That was July. And a few months later, you are here in New York in front of thousands of anime fans. How do you feel about being here in New York?
I am feeling all of the enthusiasm from all of the fans out here and I am really enjoying it myself. And it's just not Fairy Tail. I see a lot of cosplayers for Japanese manga and anime. Seeing those representations here in New York City is really amazing for me.
What inspired you to become a mangaka?
Back when I was younger, my grandpa had this tendency to collect recycled manga and I really loved reading them. What I ended up doing was copying some of the characters.
Is there a specific manga?
When I was younger, I was really into things like Dragon Ball and Ultimate Muscle Kinnikuman. 
After deciding to become a mangaka, how did you start working with Weekly Shōnen Magazine?
Back in the day, when I was an aspiring mangaka, in Weekly Shōnen Magazine, there was absolutely no manga that had to do with fantasies and adventures and magic, so I thought "Maybe this is my opportunity to stand out!"
You are a big gamer. What have you been playing lately?
It is actually something I have been into since about a year ago. I have been playing a lot of Overwatch.
Who is your main?
Reinhardt. I am not very good at shooting.
What were some of the inspirations for creating the world of fantasy, particularly the rules you created around magic? 
Again, I was inspired by various things. Lots of different manga and video games. All of these components are inspiration to me.

There are a lot of unique characters in Fairy Tail. How did you come up with each battle sequence?
I was wanted to prioritize what readers would be interested in like if one character fights another. Which one would be stronger? This sets me off into making those fighting scenes.
You had worked on this for 11 years. Why end it now?
I wanted new challenges. I was actually very sad to say goodbye to it. But I know these characters from Fairy Tail live within all of you guys, so I decided to leave Natsu and the Fairy Tail crew for a while. So I can transition onto doing something new.
Did you get to the ending you wanted? Is that how you always saw Fairy Tail ending?
Yes!
Did you get any feedback from other mangaka when Fairy Tail ended?
There are quite a bit of mangaka that I consider as a committee, and almost every single one of them contacted me and congratulated me. Some of the artists said that brand new artists get to do their manga now.
Do you have any interesting stories behind Rave Master?
When I was working on Rave Master, I created this character named Plue, but this character doesn't talk. He can only say "Plue, plue!" I realized that when the mascot character doesn't talk, it's really difficult to work with the character. Learning from this lesson, I decided to make my new mascot character Happy in Fairy Tail, who is very chatty. But Pikachu is the greatest mascot character of all time!
How did you feel when you first heard that Fairy Tail was going to be made into an anime?
I was happy! But at the same time, I was a little bit worried about how it was going to come out. But incredible people were working on it, so I knew it was going to be a success. Because of the anime, a lot of people got to know about Fairy Tail, not just in Japan, but also over here.
How involved were you in the process of adapting the manga into an anime?
Since I relied on the animation team and had faith in them, I decided to go completely hands-off. But there's people, like the director of the anime, that were like "Please! Please just check the script!" so I decided to at least take a look at the scripts.
In the anime, which arc you think was the best adapted?
There are segments when there are anime original stories and there is a part where the character's swap with another personality and body. I personally quite enjoyed that story arc.

Are there any parts of Fairy Tail that are based off of real life experiences?
There's actually quite a bit of those.
I am assuming not the body swapping part?
I want to experience it! Anyway, it is hard to point out a very specific part, but the guild and friends and how they come together to make a crazy ruckus. That is based on my personal experience from my college days. For example, there were some females that were incredibly strong in drinking alcohol or sometimes, like Erza, they were really scary. Or people like Gray who just takes off clothes, like myself. When I was younger, not anymore!
What character do you think is best portrayed from the manga to the anime?
Happy! "Aye!"
Is Happy based on somebody in real life?
I actually really love cats. 
We have seen you communicate online with fans from the West. Did any one of those discussions with fans across seas influence anything?
No, no, no! I actually really appreciate the fan feedback, but I try not to get too into it in order to write my own story. But I still like the interaction with the fans on social media, so I like to do stuff like posting my doodles on my Twitter.  Since I started Twitter, I feel like there are many fans from overseas, so that's when I thought maybe I should put more illustrations and art on my social media so that everybody in the world could enjoy it.
Do you notice a difference between the fans in the West and in the East?
I think fans in general are similar, but at the same time, I feel like the fans over here are so cheerful for creators like me to be on stage. In Japan, even if there one person is going "Yeah! This is fun!" everyone just kind of stands there and shakes their head.  
I am assuming the Exceeds are cats just because you like cats. Is that true?
I love cats, of course. But these cats have wings, so they are actually unique cats.
Which one of the Exceeds would you personally want as a pet or friend?
Frosh. He is super cute!
If you were a wizard, what power or magic would you use?
That magic that can turn day one into 48 hours instead of 24. If there were 48 hours, I could draw more manga.
What's next now that Fairy Tail is done?
I honestly can't talk much about the next story, but I am taking a break right now. I am already thinking about the plot for the next series and hopefully I can start it very, very soon.
Is there anything else you would like to say before the panel ends?
I got to continue writing the story of Fairy Tail because of your support. Even when I make the new series, I will make sure that you guys feel like "Wow! Oh my god!" I will make it very exciting, so I hope you guys will look forward to my next series. Thank you very much.
After this final question, Justin had the entire audience take a group photo with Mashima. The whole audience stood up and did the famous Fairy Tail hand signal together. As Mashima left the stage and waved goodbye, the crowd cheered one last time. On the way out, fans got free Happy enamel pins. Mashima will be appearing again on Sunday at New York Comic Con to sign autographs and meet more fans.      
---
discuss this in the forum (16 posts)
|
this article has been modified since it was originally posted; see change history
back to New York Comic-Con 2017 News Roundup
Convention homepage / archives