My Little Monster (GN 5)
---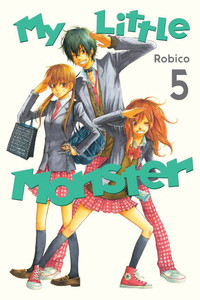 Title:
My Little Monster
Volume:
GN 5
Pages:
176
Distributor:
Kodansha Comics
Release date: 2014-11-18
Suggested retail price: $10.99
Age rating: 14+

ISBN-10: 1612626017 1612626017
ISBN-13: 9781612626017 9781612626017

Description:
Shizuku is now more determined than ever to make Haru aware of her love for him,​ but Haru is too preoccupied with fending off Yamaken to notice! Shizuku thinks Haru has nothing to worry about,​ but competitive above all,​ Yamaken has some plans of his own.​ Meanwhile,​ blossoming feelings turn the popular but romance-hating Natsume into a maiden in love?​!

Story and art by Robico.​
(added on 2014-03-12, modified on 2014-03-12)

Recovery of an MMO Junkie has been a wild ride, but it's finally time for Moriko and Sakurai to start a new chapter together. We speculate on the next horizon for this nerdy couple.
― Recovery of an MMO Junkie has been a wild ride, but it's finally time for Moriko and Sakurai to start a new chapter together. This week in anime, Michelle and Steve speculate what lies on the horizon for this nerdy coup...
Vice is absolutely determined to get his money's worth out of his old Kill La Kill cosplay, no matter what the cops say.
―
Magical girls get a military makeover in this dark take on the genre. Rebecca Silverman has the details.
― What do you think has been lacking from dark magical girl reboots? If you said "big ass guns and crippling PTSD," then Magical Girl Special Ops Asuka might be the series for you! While the concept of the dark magical girl story is hardly new – those who remember the final moments of the last Nur...
The C3 Anime Festival Asia Singapore holds the crown as the biggest anime festival in Asia outside of Japan. The con celebrated its 10th anniversary this year, and was attended by over 96,000 people. This year's events featured no major changes from the previous ones, but why fix what isn't broken? Notably, 2017's guest lineup included the main staff of Violet Evergarden, which was part of the con...
We frequently hear about how in Western animation, performances are often taped before animation really starts - but the opposite is apparently true in Japan. Justin gets into it.
― James asked: Some time ago, you stated that one of the major differences between western animation and Japanese animation is that, in western animation, all dialogue is recorded first, and then the animation is done to m...
Paul gets into the recent film remake of this gearhead classic, along with all this week's new anime releases!
― I really liked the ending of Recovery of an MMO Junkie this week, but now I'm starting to realize that the early finale means I'll have to get through the rest of the season without it. You know a series is good when the thought of not having new episodes to watch makes you feel a little ...
One of the most beloved shojo anime of all time comes to Blu-ray in this "sweet sixteen" special edition set! Rebecca Silverman looks back on how this heartwarming classic has held up sixteen years later.
― Back when it was first released, Fruits Basket, based on the manga of the same name by Natsuki Takaya, was a sensation. Combining elements of fantasy, slice-of-life, and reverse harem romance come...
Mike devours a few episodes of the genre-smashing French action cartoon Lastman and wonders - is this anime?
― Earlier this year I was at the Crunchyroll Expo, where I hosted a bunch of discussion panels and presented a couple of my own. The homogenous look and omnipresent Crunchyroll branding took some getting used to, but it was ultimately an energetic and well-run show, a deft mix of the stuff I l...
My Monster Secret's sixth volume maintains its madcap romcom appeal in spite of some predictably glacial pacing. Nick Creamer has the details.
― At last, it's time for action. As My Monster Secret's sixth volume opens, our hero Asahi reiterates his determination to actually confess to his vampiric classmate Shiragami. Having been spurred into action by the courage of his childhood friend Mikan, he's ...
With Monster Musume and Miss Kobayashi's Dragon Maid in the rearview mirror and a few more weeks to wait before Killing Bites next season, here are seven great monster girl manga to whet your appetite.
― Back in 2015, monster girls were all the rage thanks to Okayado's hit Monster Musume. The anime adaptation was one of the first to introduce a harem of all non-human girls. It also successfully marr...
Shonen Jump's rising hit series captivates with a dark tale about a cruel and unusual home for orphans. Rebecca Silverman plunges the depths of this promising new title.
― When Jonathan Swift published his satirical treatise on why the economic crisis in Ireland could be solved by eating children in 1729, it took him until the final lines to clue his readers in on the joke. The Promised Neverland tak...