Boogiepop - Music Album Inspired by Boogiepop and Others (OST)
---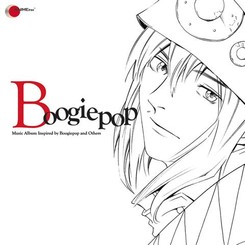 Title:
Boogiepop - Music Album Inspired by Boogiepop and Others
Volume:
OST
Running time:
40
Distributor:
The Right Stuf International
Release date: 2005-03-01
Pre date: 2005-02-01
Suggested retail price: $14.98

SKU: AT-9311
UPC: 742617931123 742617931123
ISBN-10: 1570328951 1570328951

Description:
The audio CD containing the hauntingly beautiful music from the Boogiepop and Others Live Action Movie. Created by Japan's spectacular composer Yuki Kajiura, famous for her amazing work on such well known titles as Noir, Gundam SEED, .hack//SIGN, and Kimagure Orange Road: Summer's Beginning.

Features music heard in the movie as well as original scores inspired by the Boogiepop and Others Japanese Novels. With musical styles ranging from light jazz and piano and to pop mixes this is a great addition to any fan's collection.

Total Running Time: 40 minutes, 11 tracks


Track Listings:

Daphne (4:42)
Sad Bird (3:45)
Nepenthe #1 (2:30)
Porcelain (2:19)
Egotism (3:14)
Forget-me-not (3:12)
Nepenthe #2 (2:21)
Criss-Cross (2:37)
Embrace (2:31)
Boogiepop (4:08)*
Bonus Track

Wagner/Overture "Die Meistersinger Von N'g" Boogiepop Version Classical Mix (8:47)

*As was the intention of the producers, track 10 and the bonus track have very long running times. There are points during which noise will be heard. Be aware of this.
(added on 2004-12-07, modified on 2004-12-07)