×
remind me tomorrow
remind me next week
never remind me
Contest Extended Until MIDNIGHT Nov 1! • Your guys' entries are the pick of the patch, so we're adding an additional 48 hours to get your pumpkins in!
read more
Interview: Tomo Takabayashi and Nozomi Ohmori
by Chih-Chieh Chang,

The original creator of Kyo Kara Maoh!, novelist Tomo Takabayashi, was invited by Kadokawa Media (Taiwan). Originally published by Kadokawa Shoten Beans Bunko (Kadokawa's collection of fantasies aimed at girls) as the "Ma no (魔の)" series, her novel began with a high school boy named Yuri Shibuya, while trying to rescue a classmate being bullied, became a victim of the delinquents himself and was dragged into a men's room. When his head was forced into a toilet bowl and flushed, he was teleported into a Medieval European-style universe, where his oriental black hair and eyes are "evidence" of his being a "maoh" (demon king). Due to its popularity, the novel has been adapted into anime which is equally popular.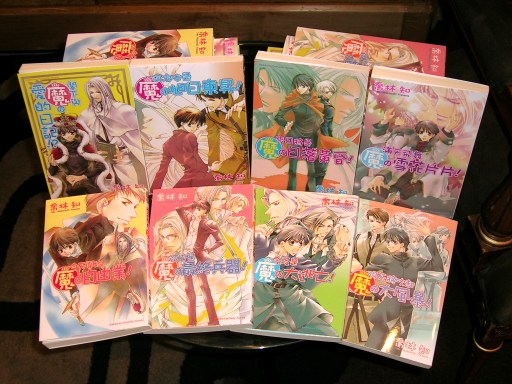 MC: Please say hi to readers and press.
Takabayashi: Greetings, I'm Tomo Takabayashi, creator of "Ma no (魔の)" series. I'm thankful to be able to participate this event. This is my first time going abroad, and I'd say Taiwan is a wonderful place.
Ohmori: I often translate English novels and make comments of them. Today I'm here as a commentator.
Gotoh: As Takabayashi-
sensei's corresponding editor of Kadokawa Shoten Beans Bunko, most of the time I'm in the background supporting sensei. I am a bit nervous for I was expecting to visit here quietly and didn't see the chance to be at center stage.
Why did you create "Ma no" series?
T: "Ma no" is about a normal high school student dropping to another world and becomes a "maoh". The story started with a lunch with Gotoh-san, when we talked about that although there are many novels with "young protagonist(s) teleported to another world and become a hero, killing monsters and saving the world" etc., etc., there isn't one with the protagonist becoming an evil "maoh" himself. We know that the protagonist was named Yuri Shibuya, which was named after where we had our lunch. If we had lunch at Ikebukuro, then his name would be Yuri Ikebukuro instead.
Where do you find inspiration? Had anything specific given you a strong impression?
T: I gather ideas from various sources: newspapers, international news on TV, other novels, etc. I'd quickly browse through them a bit then start my imagination. The event with the strongest impression to me was that Yuri Shibuya was teleported to another world by flushing into the toilet drain when he was bullied by a group of delinquents forcing his head in a toilet bowl. In addition, I love to watch Jidaigeki (Japanese historic drama) as well, so I put more effort into the way Maoh speaks, and his people with Jidaigeki-type vocabularies.
We know that "Ma no" hs been animated. How was it decided to be animated? How do you feel about the anime adaptation, if you have watched it?
T: When I heard the news about it being animated, I was very surprised; "is it real?" and while I was still bewildered the anime was already in full production. To be honest, I didn't quite understand how was it decided; Gotoh-san might be able to answer this question. After watching it, I'd say some parts are even better than the novel (sweat), so I was kind of nervous.
G: NHK animation division asked Kadokawa Shoten if there's a good novel or light novel to be animated. I knew that NHK wouldn't accept any title with sensitive materials, so I replied "there's a novel about a courageous young man willing to protect his friends, families, and values; he does his best on fighting... etc." I lied a little bit, for its content was not exactly as what I said, but later NHK agreed to animate it.
T: Were those topics in my novel (laugh)?
Those illustrations are very pretty. Do illustrations affect the storyline of your novel? Do those illustrations fit your imagination?
T: Temari Matsumoto-sensei's art could even represent what I can't say clearly enough in text, which helped me a lot. Characters are rather fixed after illustration designs, so they made my job easier. I'd say many fans bought the book because of the cover art. I'm very grateful to Matsumoto-sensei. Compared with my text, Matsumoto-sensei's art style is even prettier.
There are many "pretty boys" under your pen. Do you model them after some real world "pretty boy" celebrities? Do you consider Takeshi Kaneshiro a pretty boy?
T: Compared with "pretty boys," I like stronger, masculine characters more (laugh), so my personal favorites are quite different from characters I created. Kaneshiro-san has a very straight nose profile and looks very cool (laugh).
MC: Please write him into your novel then.
T: I'll write him as a masculine macho man (laugh).
Sensei mentioned her favorite type of men are masculine ones. You've also added wrestling and martial arts to your novel. Which is your favorite?
T: In addition to martial arts (wresting, K1, etc.), I love baseball as well, and I love to write the player's masculine styles into the book.
Did you determine to write light novels from the start or just step into the field naturally?
T: I'd like to write whatever I like, but due to the younger age of light novel readers, I want my readers to say, "this is a good and funny book" after reading.
How and when did you become a writer?
T: This is my first bunkoban (文庫版) novel. I used to write some boy's love (BL) novels; later, I felt that I'm not particularly good at it, so I decided to write some novels with less romance. My penname was different back then, so not many people know about my older creations.
Then why did you start with BL works?
T: I was introduced to an editor, who was associated with a BL-oriented publisher, so I started with that, yet later I found I'm not very good with romantic stories.
When did you start writing? Did you start writing since young age?
T: I love reading since early childhood and have been writing short essays, but I didn't start writing novels after college graduation. The exact time of when I graduated and started writing was a secret (laugh).
(To Ohmori) Light novels have been significantly increased recently. Do you think light novel is a future trend?
O: In '90s Japan, there were many popular light novels like Record of Lodoss War and Slayers; both were important standard bearers. When work similar to these started appearing, the entire market would start to reflect the need. Back then, most readers were middle and high school students, but right now there are more and more diversified in both genres and contents of light novels, e.g. Ma no has readers up to 60 years old in Japan. The change in readers' structure will bring changes for light novels, and the trend of reading light novels will become more prevalent.
Could you demonstrate your sophisticated whistling?
T: (Laugh) I wouldn't show it easily, for it's at professional level. I'd like to play some wind instruments, yet my neighbors might protest, so I whistle instead.
Sensei's works contain many funny materials. There are many Japanese comedic TV programs; do you like watching them or get inspired from them?
T: Not specific to a single program, but there's one on NHK (爆笑オンエアバトル) where comedic stars compete with each other. The audience at the scene would vote for the best performer. I watch it in order to learn which comedy artist of the younger generation would be a future star.
Do you have other works in composition in addition to "Ma no?"
T: Not saying "Ma no" is ending, but I'm preparing for another novel right now; not necessarily a light novel and might be in hardcover. Probably for older audiences and will not be related to "Ma no" series.
Anything you want to tell Taiwanese readers?
T: I'm very happy and thankful to see my creation being translated and published overseas with more and more readers. However, because I used many cultural elements for comedies, I'm not sure if Taiwanese readers would get the joke after translation. I'll do my best to make sure that even those jokes that were not perfectly translated the overall story are still considered funny. Please keep supporting my works in the future!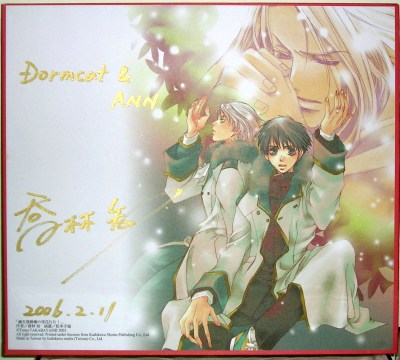 ---
discuss this in the forum (12 posts)
|
back to Taipei International Book Exhibition 2006
Feature homepage / archives