Interview: Charles Campbell
by Zac Bertschy,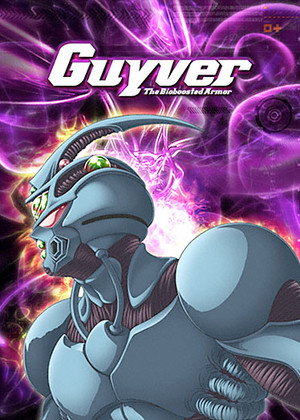 Charles Campbell is the seasoned veteran of ADV's lineup, having worked with hit shows like City Hunter and Samurai X; his latest project, Guyver: The Bio-Boosted Armor, a remake of the classic 80's sci-fi action show, is on shelves now. We sat down with Charlie for a look at his experience directing the English language version of the show.


What was your initial response to working on a project like The Guyver?
I was very excited to get the chance to direct an all new production of such a classic story.
Were you familiar with the older version? Did you re-watch it to prepare for this new version?

I had seen both "live-action" films and parts of the previous anime productions. I rented all of them and refreshed my memory before starting work on this one.
How did you approach this project? What was your philosophy, in directing? the dub?
First and foremost, I wanted to choose a first rate cast. The production quality of this new series called for no less!  Guyver is a great Sci-fi / Horror epic. I want the audience to really get to know and like Sho and Tetsuro so that when they get in trouble they care what happens.  I wanted this production of "Guyver" to finally do the story justice it deserves.
What was the most challenging aspect of working on The Guyver? The easiest?
The most challenging aspect of dubbing Guyver is recording the monsters (Zoanoids). I want them to sound massive and creepy, but must also make sure their speech is understandable through all the processing.  The easiest thing about doing Guyver is maintaining my enthusiasm about it! I have to watch each episode repeatedly during production, but I never grow tired of it. I'm so fortunate after having worked on another all time favorite (Gatchaman), to have landed this one!
How did your past experience with action shows like City Hunter help you when directing the Guyver dub?
Having directed so many titles over the years I had some good ideas where to start. Guyver has the epic feel and gore reminiscent of "New Fist of the North Star," the sense of impending doom of "The Devil Lady" series, some of the character interplay and interpersonal depth of the "Samurai X" OVA's,  and the humor and family dynamics of "Zone of the Enders: Dolores i." If you look closely, you will see voice actors from all of those previous productions, now appearing in "Guyver."

If there's one anime you could work with, which would that be?
I've been very happy so far. Doing a year and a half and 105 episodes of "Gatchaman" was a childhood dream come true!  With "New Fist of the North Star," "Samurai X," and "Guyver," I'm on a roll!  I just look forward to whatever other great shows ADV sends my way.

Any funny stories from the recording sessions you could share with us?
Well, we've only done two volumes so far, so we're just getting our feetwet with this series. But, let's see... Both Chris Patton and Lowell Bartholomee keep the engineer and me laughing. Bill Wise has somehilarious comments between takes while voicing "Guyot." I think what hasmade us laugh more than anything has been the characters themselves.The reactions and logic of Sho and Tetsuro are very entertaining. Especially when you consider how you might react if thrown into the bizarre situation they find themselves in. Guyot gets a lot of in-studio teasing for his huge blond rock-a-billy hairstyle and his leather tan. But you just know that someone that vain and that freaky looking has gotto be bad news. Stay tuned! There is so much more to come!
---
discuss this in the forum (1 post)
|