Crows x Worst: An Introduction
by Erik Jansen,

Editor's Note: Erik, a friend of the site, expressed a serious passion for the incredibly popular Crows x Worst merchandise line, which is huge in Japan but not anything I was familiar with, so I asked him to write on the subject for us. Here's his piece.
---
Crows X Worst (aka Crows & Worst) is one of the biggest current toy trends in Japan – and one that has yet to make it to America. Perhaps it never really will, but it's a phenomenon worthy of some exploration. If you're looking for something unique and edgy, and completely off the radar of most collectors and fans, Crows X Worst might be right up your alley.
But first, some background. Crows began in 1990 as a manga series created by Hiroshi Takahashi. It's a gritty story about short-tempered teenage gangsters battling for respect and control of Suzuran All-Boys High School. Imagine a manga version of Eastside High from the film Lean On Me before Morgan Freeman shows up – and populated by a menacing student body of Japanese gangsters, tough guys and biker delinquents. Takahashi's hooligans are something to behold, dressed in the latest Bōsōzoku biker, street punk and rockabilly inspired fashions rendered with a realistic flair reminiscent of Takehiko Inoue.
The high school brawler genre certainly isn't new to manga and Crows follows in a tradition of classic fighting manga like Rokudenashi Blues and others about adolescent alienation like Baki, GTO, Blue Spring, Tokyo Tribes, Gang King and was memorably spoofed by Cromartie High.
At the center of Crows is The Front Of Armament (TFOA), a biker gang. These stylish, motorcycle-riding, tattooed tough guys smash through anything or anyone that gets in their way. The characters and plot development are rich with drama involving preserving one's honor and reputation and doing street justice.

Worst
is the sequel to
Crows
and debuted in Japan in the January 2002 issue of
Shōnen Champion Monthly Magazine
. It remains in-print as a tankoubon series and continues to be a best-seller. In the U.S.
Digital Manga Publishing
printed the first 3 volumes of
Worst
back in 2006 but sadly the series appears to be on hiatus. While the
Crows
back-story gives
Worst
readers insight into a variety of recurring characters from TFOA and themes shared between the two series,
Worst
is a completely self-contained story that revolves around a new cast.

In Japan, the widespread popularity of
Crows X Worst
inspired a dizzying array of collectible figures, bobble-heads, gashapon capsule toys, and t-shirts and other apparel. Many are inspired by The Front Of Armament gang from
Crows
although more recently figures from the
Worst
manga and two live-action
Crows Zero
films have also appeared.
Like
Gundam
models,
Evangelion
collectibles, or even Star Wars figures, the popularity of
Crows X Worst
merchandise has transcended the manga and/or films that originally inspired them to become a pop culture (as retail) phenomenon all their own. Just look at this fan's room!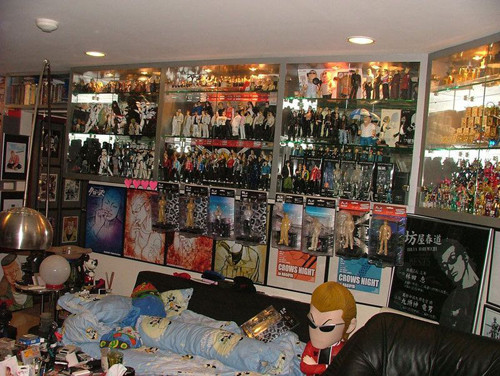 Two live-action films –
Crows Zero
and the recently released
Crows Zero II
– were directed by
Takashi Miike
, who has received a lot of recent acclaim from the international film community, and were box office hits in Japan.

I discovered
Crows X Worst
figures in 2007 at the San Diego Comic-Con where Organic Hobby displayed a 12 inch resin prototype of Bouya
Harumichi
, one of the series' most charismatic delinquents (and with a name like Bouya and a perfect blonde pompadour, how can you NOT have a figure like this?).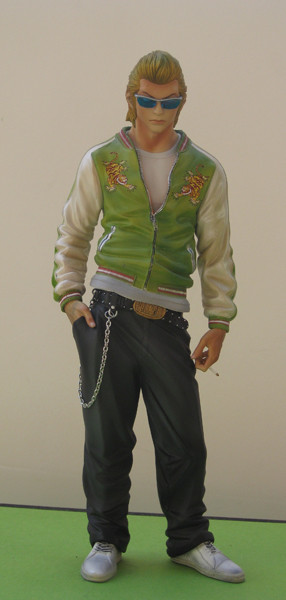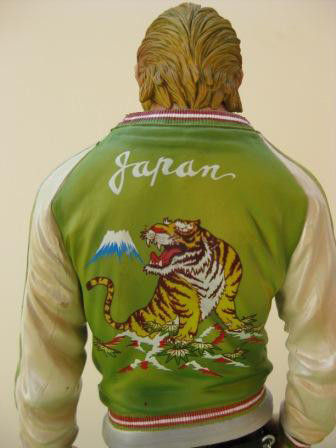 Note his faithfully reproduced "Sukajyan" jacket, which are usually lavishly embroidered with dragons, tigers, phoenixes and other Asian iconography and are the outerwear of choice of many fashionable delinquents – both real and imaginary. It's kind of the Japanese answer to the classic leather motorcycle jacket – though many
Crows X Worst
figures wear those too.
Bouya was surrounded by a ring of smaller gashapon figures dressed in every manner of yakuza and leather biker couture. I was intrigued and captivated, but disappointed to learn from the Organic representative that the figures were prototypes and their eventual availability in the U.S. was yet to be decided. Organic Hobby has produced several 12 inch figures and several collections of smaller 4 inch gashapon figures. Another company,
Union Creative
also did a 12 inch version of Kousei Takeda.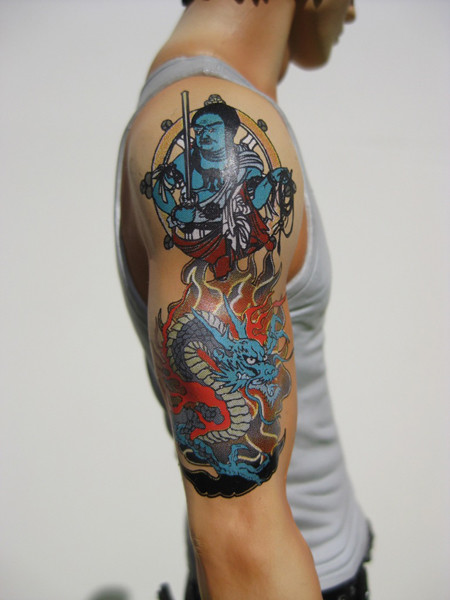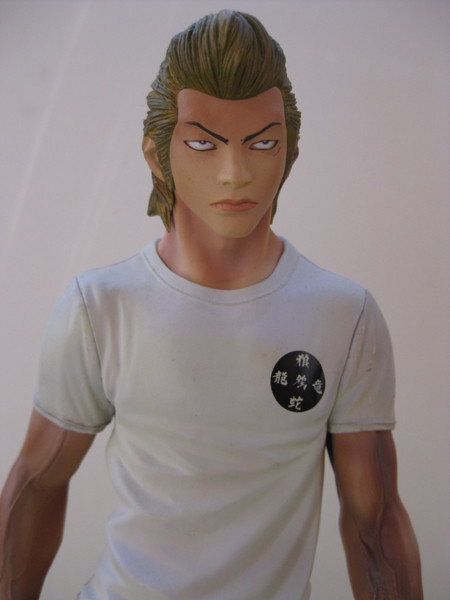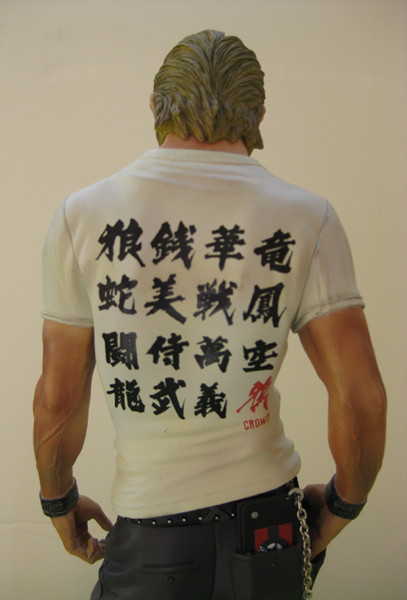 The reputable Hobby Link Japan (
www.hlj.com
) carries some of these 12 inch figures and does stock bobble-heads and gashapon editions on occasion (they usually sell out fast) and is a good resource. I've since obtained a few through them.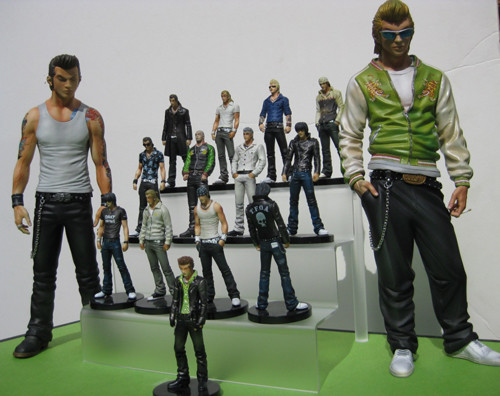 A comprehensive web site for English speaking fans is finally filling the void at
www.crowsxworst.com
and it's a valuable cache of information on all things
Crows X Worst
. It offers background on the manga, anime, live-action films and most of all – the toys! The site has a great gallery of the array of figures from a variety of manufacturers with multiple pictures of each design, including many special edition variants. The information/news page is also updated regularly.
As I prepared this story Chris, the web site's creator and an ardent fan gave me an insightful observation saying, "On the surface, the appeal of the Crows X Worst story would have to be the action and fighting. I mean, we all initially got into Gundam because we like seeing BIG robots blowing shit up, this is no different. After the allure of violence draws us in, we discover that there's so much more to it than just ass kicking. What kept me coming back for more Crows wasn't necessarily the fighting, but the underlying themes. Sure, there's more than enough action, but friendship, loyalty and social bonds are always pushed to the foreground. Those are important values in my own life, so I'm always thrilled when it's mirrored in my hobbies. Not only this, but to me Crows represents a power in youth. The decisions we make while growing up help form who we eventually become. "
Let me just say that an interest in Crows X Worst figures can be EXPENSIVE, but then so is collecting manga, anime and toys in general. We all know the feeling of finding a treasured item then wondering how the hell we'll pay for it. But even a single figure adds a unique flair to any collection and when grouped together, they definitely have a presence.


---
discuss this in the forum (17 posts)
|