×
remind me tomorrow
remind me next week
never remind me
Subscribe to the ANN Newsletter • Wake up every Sunday to a curated list of ANN's most interesting posts of the week.
read more
Report: Kazuo Koike and Gen Urobuchi Chat
by Ko Ransom,

WARNING: There are major spoilers for the end of Puella Magi Madoka Magica contained in this article. Reader discretion is advised.
---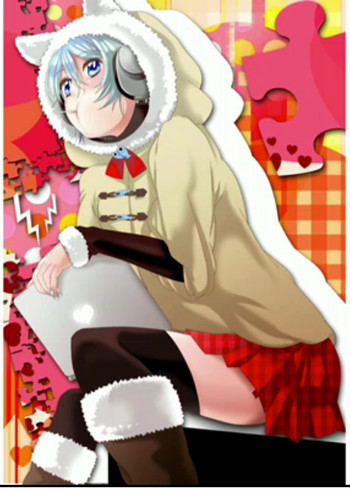 Manga creator Kazuo Koike (Lone Wolf and Cub, Crying Freeman) spoke with writer Gen Urobuchi (Puella Magi Madoka Magica, Fate/Zero) on Sunday during the seventh installment of his live Koike Kazuo no Nico Nico Character Juku (Kazuo Koike's Nico Nico Character Cram School) net show. The two creators discussed topics including the similarities and differences in their respective writing styles, the story of Puella Magi Madoka Magica, and the widespread influence of the psychological style of character creation that Koike has written extensively about.
The session began with Koike, who has expressed his high regard for Madoka Magica, explaining how he was surprised at the many ways that Urobuchi's screenplay for the series differed from his own approach to storytelling and character building. He then stated that one of these differences was their respective ways of naming characters, with Koike saying that he names his characters in a straightforward, easy-to-remember fashion so that readers will immediately understand their personality and not forget them, while Urobuchi's characters have names that clash with their personality and may be hard to remember and understand. He said that seeing Urobuchi's approach made him realize that the method can actually work to invite viewers to involve themselves deeper into the story and actively work to understand the characters. Urobuchi added that his characters are also named in unique ways so that it would be easy to search for them on websites such as Google, and that Koike's technique of having a character's name match their personality was so widespread that he felt as though by straying from it, he would be able to stand out.
Koike also noted that their approaches to pacing a story were quite different, as he makes a strong effort to grab a reader's attention within the first seven pages of a manga, while a viewer may find it hard to understand the direction of Madoka Magica until the third episode. Urobuchi replied that the approach he took of inserting the viewers into the middle of an unfamiliar situation in the first episode, explaining the rules of the story's world in the second episode, then creating a surprise twist in the third episode was something he learned from anime screenwriter Yousuke Kuroda (Mobile Suit Gundam 00, Trigun).
Koike also asked Urobuchi questions about Madoka Magica from a fan's perspective. He began by asking Urobuchi if Madoka became a god at the end of the series, and Urobuchi replied that it depends on one's definition of the term, saying that in essence, she became the rules that governed the world of the series. When asked about Homura's position at the end of the work, he described her as an evangelist who is the only person within the world she lives in who understands Madoka's existence and role. Urobuchi added that unlike most cases in anime, the director of the series (Akiyuki Shinbo) gave him a very wide degree of freedom as far as the content of the story, and that much of the writing process for him was driven by drawings of the characters he received from character designer Ume Aoki.
Throughout the talk, Koike noted that he was learning many new things about storytelling from Urobuchi, and that he hoped to incorporate them into his new title, Magical Girl Mimi Mimitsuki's QED, a story about a magical girl who is sent to the human world to learn about advanced technology. Koike also showed a sketch of the main character of the story, and noted that Nico Nico Seiga will be involved in the distribution of the series.
Following their discussion, Urobuchi and Koike answered selected questions submitted by viewers of the live Nico Nico Douga stream. One viewer noted that many of Urobuchi's titles are hardboiled in style, and asked what other genres he would like to work in if given the chance. Urobuchi answered that he did not consider his works "hard" enough to be considered hardboiled, as his characters all contain weaknesses that he tries to highlight. He also replied that storytelling in a true hardboiled style is very fact-based, with little explicit explanation of a character's motives, which may cause modern-day viewers to become confused and lose interest.
Other viewers asked Urobuchi directly about Madoka Magica. One viewer asked Urobuchi about the meaning of Homura's black wings seen at the end of the series, but Urobuchi quickly replied that even he himself did not know, as they were never mentioned in his script, and instead added by Gekidan Inu Curry, the production designers for the series. He noted that additions by the animation production team added more mystery and depth to his characters, and without them, it would have been very difficult to write any further stories in the world of the series, hinting that the meaning behind the wings may be explained in the Madoka Magica movie trilogy. Another viewer asked Urobuchi to explain the ecology of the Kyubey character's species, which he did not have a direct answer for, instead explaining that by showing their actions such as cannibalizing their dead in order to not waste energy, he wanted to stress the fundamental difference in morals between their species and humans.
Urobuchi was later asked about what other titles and creators had an influence on his work. Regarding the story of Madoka Magica, Urobuchi said that it was very strongly influenced by three of Director Akiyuki Shinbo's anime series, Hidamari Sketch, Magical Girl Lyrical Nanoha, and Le Portrait de Petite Cossette. Regarding overall influences on their careers as writers, both Urobuchi and Koike spoke highly of author Stephen King, with Koike singling out his title Misery as a very important work to him.
As the talk came to an end, Urobuchi admitted that he was nervous at first speaking on a live internet stream and to Koike, who is twice his age, but that it ended up being surprisingly easy to talk for the hour and a half that their session spanned. Koike replied that even at his age of 76, he still wants to be able to find out about exciting new ideas and techniques, and that speaking to Urobuchi was a learning experience for him.
---
discuss this in the forum (4 posts)
|
this article has been modified since it was originally posted; see change history