Interest

Naruto's Hokage Rock Recreated in Real Naruto City

posted on by Gia Manry
---

The city of Naruto in Tokushima Prefecture hosted several projects this summer to attract tourists who are fans of Masashi Kishimoto's manga Naruto. One attraction was a replica of the Hokage Rock — the rock-carved, Mount Rushmore-esque monument to the leaders of the Hidden Leaf Village in the manga — above a local government building.
Among the other highlights were official Naruto gift certificates, a Naruto poster for the August 9-11 Awa Odori summer dance festival (pictured below), and a guest appearance by Naruto voice actress Junko Takeuchi on the festival's final day. The Tokushima Animate store also hosted a temporary onsite shop during the festival. Thanks to the Yoyogi Animation Gakuin school, fans could dub clips from the Naruto anime at the onsite shop.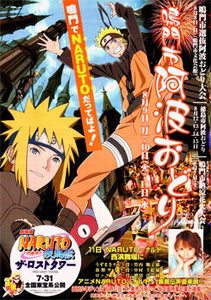 The city of Naruto was founded on March 15, 1947. Fifty years later, Kishimoto launched his Naruto manga as a one-shot story in the August 1997 issue of Akamaru Jump, a seasonal spin-off of Shueisha's Weekly Shounen Jump magazine. The manga launched as a regular series in Weekly Shounen Jump in 1999. Earlier this year, Naruto became the fifth manga published by Shueisha to have over 100 million copies of its collected volumes in print.
In 2002 a TV anime adaptation created by Studio Pierrot began airing in Japan, with the Naruto Shippūden follow-up series replacing it in 2007. The franchise has also spawned seven movies, several original video anime (OVA) projects, and a wide variety of video games. Viz Media licensed both the manga and anime in North America, and the anime is currently airing on Disney XD as well as simulcasting on Crunchyroll and Naruto.com.
[Via Sankei News, Yomiuri Shimbun, 2ch news flash vip blog]
Images © Sankei News
© Masashi Kishimoto
---