Interest

Gintama Anime's Return Celebrated With 41 Dishes

posted on by Sarah Nelkin
Namco
Nanja Town theme park holds event with desserts, entrees until May
---

To mark the
return
of the
Gintama
television anime,
Namco
Nanja Town (an indoors theme park in Tokyo's Ikebukuro ward) will
host
a campaign that features 41 different desserts and entrees from February 19 to May 15.
Here are some examples of the different dishes:

"Natural Perm
Gin-san
2"
680 yen (about US$8.10)
Vendor: Oriental Blue Moon
(Ice Cream City)
Character: Gintoki Sakata
Turkish Ice Cream Gin-san. The face is
Chai
ice cream, and the natural perm is a milk-and-black-sesame mix ice cream. Made with Ramune and candy, Gin-san's favorite dango dumplings are included as well.

"Seconds, All Right?" (Kagura's catchphrase: "Okawari Yoroshi?")
730 Yen (US$8.70)
Vendor: Soft Cream Bar
(Ice Cream City)
Character: Kagura
The sailor uniform and spinning googly glasses are made with soft-serve ice cream with an octopus-shaped sausage as a topping. This menu item is based on the Year 3 Class Z character Kagura.

"I'm Really Starting to Die Here!!"
680 Yen (US$8.10)
Vendor: Angelina
(Tokyo Dessert Republic)
Character: Sagaru Yamazaki
Yamazaki's funeral scene has been recreated on a fried crepe. The badminton racket is made with chocolate, while his portrait is made of cheesecake.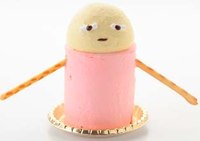 "Justaway Cake"
680 Yen (US$7.50)
Vendor: Roman Arbor
(Tokyo Desert Republic)
Character: Justaway
With a roll cake as a base, the face is made of pumpkin cream. The eyes are whipped cream and chocolate, while the hands are stick snacks.

The "Gintama in Namco Nanja Town" will also have a miniature attraction called "Sakura Struggle! Flower-Viewing Battle!" as well as vendor stalls.
Source: Comic Natalie
---