Interest

Poll: 68% Say No Post-Quake Self-Restraint on Anime

posted on by Egan Loo
Anime tops Kantō poll on what shouldn't change after quake — higher than eating out & weddings
---

68.2% of the people surveyed in Tokyo's Kantō area in April say that anime programs should not exercise self-restraint in the aftermath of the Great Eastern Japan Earthquake disaster (Higashi Nihon Daishinsai).
After the March 11 earthquake and tsunami, many anime titles faced changes, edits, or preemptions due to disaster-related content. The Japanese call the tradition of exercising such self-restraint "jishuku." The affected anime included Precure All-Stars DX3 Mirai ni Todoke! Sekai o Tsunagu Niji-Iro no Hana, Oniichan no Koto Nanka Zenzen Suki Janain Dakara ne—!!, Tokyo Magnitude 8.0, the final episodes of Puella Magi Madoka Magica, and most recently, Gyakkyō Burai Kaiji: Hakairoku-hen.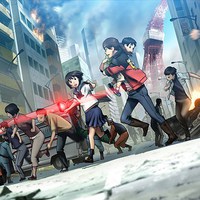 The Internet survey firm Marsh posted the results of its April 5-8 survey among 500 people, between 20 and 69 years old, in Tokyo and the surrounding Kanagawa, Chiba, and Saitama Prefectures. The two genders and five age groups (20s, 30s, 40s, 50s, 60s) were all evenly represented. For its third question, Marsh asked what items should or should not have self-restraint after the disaster.
The #1 item on which people believed that they should exercise self-restraint was "unnecessary use of electricity"; 83.8% agreed that people should conserve electricity after the disaster damaged several power plants. The top 10 items that should have self-restraint are as follows:



However, there were some items that the majority of the people surveyed said should not have self-restraint. The top 10 items to not exercise self-restraint are as follows: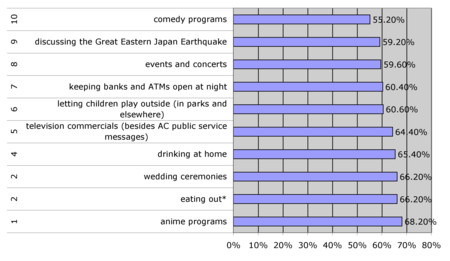 * Some news programs recommended that people in electricity-conserving areas dine out; the reasoning goes that restaurants are more energy-efficient at cooking meals for customers than if the same customers were to cook at home individually.
Source: Sankei News
Images © Kōichi Kusano, Futabasha/Oniichan Kansatsu-tai
© Tokyo Magnitude 8.0 Production Committee
---