Interest

Windows Mascot Nanami Madobe Gets Her Own Browser Mini-Game

posted on by Crystalyn Hodgkins
'Business card battle' game pits Windows 7 mascot against monster cards
---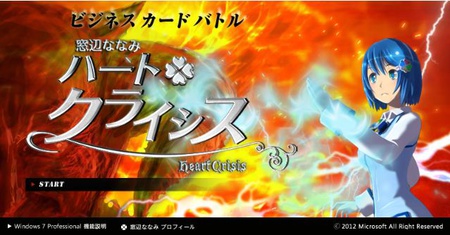 Microsoft's Smart Business Center has launched a browser mini-game titled "Heart Crisis" starring the Windows 7 mascot character Nanami Madobe. In the "business card battle" game, players use cards containing different attack moves for Nanami to defeat computer-related monster cards, such as a "wallpaper pretty" card that has replaced Nanami's wallpaper with a picture of her parents right before an important presentation.
Nanami Madobe was created to promote the Microsoft Windows 7 operating system to build-it-yourself computer owners. Prolific voice actress and singer Nana Mizuki has been voicing the character since the mascot debuted in 2009 as a bonus customization theme for Japanese premium sets of the Windows 7 Ultimate Edition. The Akihabara PC Game Festa event created an original anime commercial starring the character in 2010.
The name "Nanami Madobe" can be interpreted as a wordplay on Nana Mizuki's name, as well as the Japanese words madobe ("by the window") and nana ("seven").
---