Interest

Super Heroine Chronicle Crossover RPG Adds More to Roster

posted on by Egan Loo
Higurashi's Mion,
IS
's Cecila, Zero F's Tiffania,
Di Gi Charat
's Petit Charat, more
---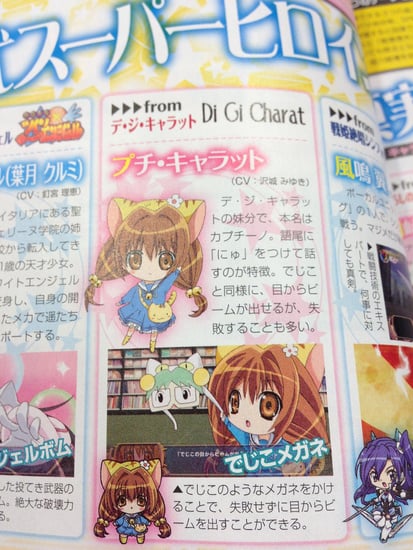 This week's issue of ASCII Media Works' Dengeki PlayStation magazine is revealing more characters in Super Heroine Chronicle (Chō Heroine Senki), Namco Bandai Games' upcoming "heroine melee simulation RPG," on Thursday. In the game, heroines from several franchises join forces to save the world, including one more character voiced by Rie Kugimiya:
Rie Kugimiya as White Angel (Kurumi Hazuki) from Twin Angel: Twinkle Paradise
Miyuki Sawashiro as Petit Charat from Di Gi Charat
Nana Mizuki as Tsubasa Kazanari from Senki Zesshō Symphogear
Satsuki Yukino as Mion Sonozaki from Higurashi When They Cry
Mikako Takahashi as Shirayuki Hotogi from Aria the Scarlet Ammo
Yukana as Cecila Alcott from Infinite Stratos
Mamiko Noto as Tiffania Westwood from The Familiar of Zero F

The game will feature an original "Ability Destruction System" by which players can decimate their oponents' attributes mid-battle.

The game already boasts the following characters:
Kaitō Tenshi Twin Angel: Yukari Tamura as Red Angel, Mamiko Noto as Blue Angel
Kyousogiga: Rie Kugimiya as Koto
Di Gi Charat: Asami Sanada as Di Gi Charat
Senki Zesshō Symphogear: Aoi Yūki as Hibiki Tachibana
Super Sonico: Super Sonico
When They Cry - Higurashi: Mai Nakahara as Rena Ryūgū
Aria the Scarlet Ammo: Rie Kugimiya as Aria H. Kanzaki
Infinite Stratos: Yōko Hikasa as Houki Shinonono
The Familiar of Zero F: Rie Kugimiya as Louise Françoise Le Blanc de La Vallière
Dream Hunter Rem: Naoko Matsui as Rem Ayanokouji
In addition, the game will introduce new original characters:
Meru Ransheru (voiced by Hisako Kanemoto)
Noel Kazamatsuri (Rina Satou)
Claude (Hiro Shimono)
As in many of Namco Bandai's Super Robot Wars RPGs, the characters appear in regular full-size form in some game screens, but battles takes place in super-deformed (SD) form. The game will be on PlayStation 3 and PlayStation Vita.
[Via Re:Tawagoto, Hachima Kikō]
---