Interest

Kanako Miyamoto, Mika Kikuchi, Shizuka Furuya, Yuna Taniguchi Join Robot Girls Z Anime's Cast

posted on

2013-08-31

03:10 EDT by Sarah Nelkin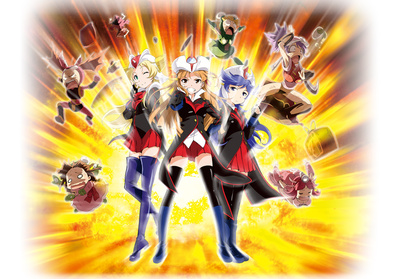 The official website for Robot Girls Z, the new anime from the project that turns Dynamic Planning and Toei Animation's robots into beautiful girls, announced additional cast members for the upcoming anime on Friday:
Yuna Taniguchi as Geromazen R9
Kanako Miyamoto as Gerossum X2
Mika Kikuchi as Minerva X
Shizuka Furuya as Line X1
The new cast will be joining Mariko Honda as Z-chan (a girl reimagining of Mazinger Z), Inori Minase as Gre-chan (Great Mazinger), Kazusa Aranami as Grenda-san (UFO Robo Grendizer), Aya Hisakawa as Ashura, Yukiko Morishita as Garada K7, Nao Tōyama as Daburasu M2, Kaori Takaoka as Gai-chan (Gaiking), Satomi Satou as Gacky (Ga-Keen), Ayumi Tsuji as Bara-tan (Baratack), and Chiharu Kitaoka as Dandan (Danguard Ace).
Together the trio form Robot Girls Z (a.k.a. Team Z), a unit assigned to promote the future energy source Photon Energy and eliminate enemies who seek Photon Energy for themselves. (Photon Energy comes from Go Nagai's original Mazinger Z manga and anime.) Usually, the team operates from Nerima Ward Oizumi Academy's Photon Energy District in Tokyo.
Hiroshi Ikehata (original Toei Robot Girls, Ring ni Kakero 1: Sekai Taikai-hen) is directing the new anime, and Kazuho Hyodo (Tactical Roar) is in charge of the scripts. Tetsuya Kawakami (Shigofumi - Letters from the Departed, Toei Robot Girls) designed the characters.
The nine 10-minute shorts will have the dual themes of slice-of-life gag humor and violence. The Toei Channel will run the shorts this January. The Episode 0 promotional video for the anime began streaming last month:
The earlier Toei Robot Girls project eventually spawned a pilot film in 2011. The project had launched two years earlier to promote the various works in Toei's anime catalog.
---