Interest

Get Your Kyousogiga Goods and Wallpapers at Pizza Hut

posted on by Bamboo Dong
Pizza Hut fans, you could get your hands on some sweet Kyousogiga merchandise... if you live in Japan, that is. (And even if you don't, you can download exclusive wallpapers of your favorite characters chowing down on some pizza.)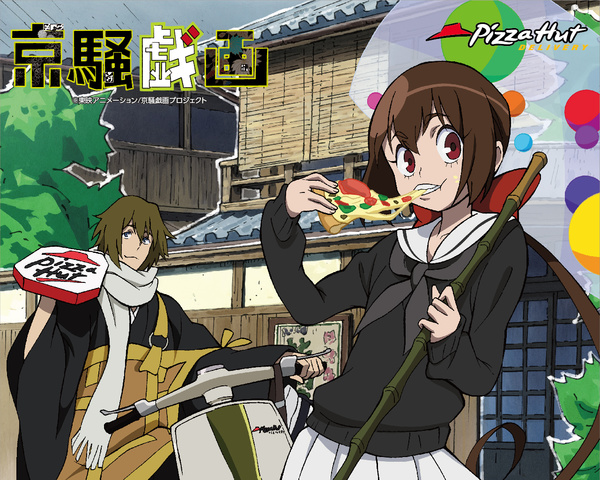 The fast food pizza chain is holding a giveaway until November 10 to give Kyousogiga fans the chance to win 37 web-exclusive, one-of-a-kind merchandise. The lottery prizes include:
Episode 1 voice-over script with cast signatures autographed by Rie Kugimiya (Koto), Aya Hisakawa (Koto), Kenichi Suzumura (Myōe), Akira Ishida (Inari), Shigeru Nakahara (Kurama), Eri Kitamura (Yase), Chiwa Saito (Doctor Shōko), Eiji Takemoto (Fushimi), Noriko Hidaka (Aun Brothers A), Ryoko Shiraishi (Aun Brothers Un), Kazuki Yao (Chief Priest) [5 winners].
Original poster [8 winners]
Two volumes of Kyousogiga manga with mercre's autograph [5 winners]
Web-exclusive Kyunchara Koto figure [1 winner]
Event-exclusive Koto figure [1 winner]
1,000 piece Kyousogiga jigsaw pizzle [1 winner]
Kyousogiga artbooks + 4 bookmarks [16 winners]





In order to win, contestants must be registered Pizza Hut members. To enter, contestants must use Pizza Hut Online to place an order, and add the "Kyousogiga entry" to their cart.

In the series, a mirror version of Kyoto exists where yokai, humans, and even robots coexist. Koto is a 14-year-old girl who visits that world to find her mother.
---