Interest

Sailor Moon's Moon Rods/Wands Inspire Chopsticks

posted on
Also: 147-second promo video for 8,800-yen/US$89 Moon Stick toy for grown-ups
---

What the English Sailor Moon dub called a Crescent Moon Wand, the original Japanese anime (and the new English manga translation) calls a Moon Stick. So what better way to use a Moon Stick everyday than as chopsticks?

Sailor Moon joins Bandai's DX My Hashi Collection with three kinds of chopsticks (hashi) inspired by the rod and sticks in the anime. From left to right, here are the Moon Stick (Crescent Moon Wand), Cutie Moon Rod (Moon Scepter), and Pink Moon Stick chopsticks:

Fans can place pre-orders starting on November 11 at 1:00 p.m. Japan Time (November 10 at 11:00 p.m. EST), and the chopsticks will actually ship next March. Each pair of AS/ABS plastic chopsticks costs 1,575 yen (about US$16, tax included, but not shipping and handling). They are about 221 millimeters (Moon Stick) to 225 (the other two kinds) millimeters (8.7 to 8.85 inches) tall.
Bandai also began streaming the 147-second promotional video for Proplica Moon Stick, a revamp of the classic 1992 Moon Stick toy for grown-ups:
The video debuted at the Tamashii Nation 2013 exhibition in Tokyo earlier this month. The new Moon Stick is the first item in the Proplica ("prop" + "replica") brand for collectors from Bandai's Tamashii Nations.

The 26-centimeter-long (about 10-inch-long), "nearly life-size" replica is now more realistic and unlike the original, has a detachable Silver Crystal that lights up in seven colors with LEDs. The stick itself glows with another LED setting.
Unlike the original toy, the new replica will emit at least eight different sounds, including voice samples. Original Sailor Moon voice actress Kotono Mitsuishi supplied voice snippets like "Moon Healing Escalation!" and "Sailor Moon, the sailor-uniformed pretty warrior for love and justice! In the name of the moon, I will punish you!" The commercial teases that another mystery voice will also be recorded in the toy.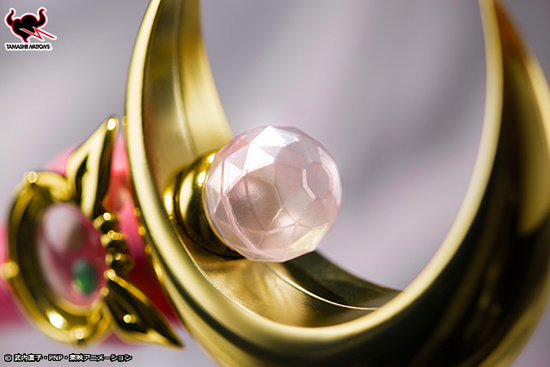 Bandai will ship the new Proplica Moon Stick with an exclusive display stand in late April of next year, and it plans to offer it worldwide simultaneously.

A new Sailor Moon anime was announced for worldwide simultaneous streams this winter.
Images © Naoko Takeuchi
© Naoko Takeuchi, PNP, Toei Animation
---