Interest

Dragon Age, Young Ace Editors Get Into Fake Fight on Twitter

posted on by Eric Stimson
Result: face-off between magazines' characters
---
It all started pleasantly enough, when the official Twitter account of the manga magazine Dragon Age noted that it had some fresh new titles coming up in February and March and the official account of Young Ace, another manga magazine, commented that it, too, had fresh new titles coming up. From there it escalated to insults, teasing, and some decidedly unprofessional remarks before culminating in a fight.
The conversation began on January 20, with Young Ace suggesting that the two rival magazines plan something to promote their upcoming series. Dragon Age agreed, but asked Young Ace to send an e-mail to its staff. Given that both magazines are owned by Kadokawa Shoten, Young Ace tweeted that it was "a way to treat a stranger," but agreed.
On the next day, conflict flared up again, when Young Ace tweeted that it was uncomfortable teaming up with Dragon Age since that magazine shares its name with a more popular video game, so it lacks name recognition. Dragon Age fired back that it had more recognition than Young Ace since it had more followers (2,531 to Young Ace's 1,197), then asked if Young Ace's "shitty replies" were the work of Katou. Young Ace declared that Dragon Age's account must be handled by "editor-in-chief Hitomi, who's famous for being S at work, M at home!" Dragon Age called the partnership off until Young Ace apologized.
The fight heated up further when Young Ace linked to an article about Kadokawa's new restructuring policy, which seeks to retire 300 employees early. "Perfect for Hitomi!" it tweeted. Dragon Age retorted that Hitomi wasn't yet 41 years old, so the program doesn't apply to her.
On January 22, the tussle finally came to a head. "You eat from the same pot as Shonen Ace! Why stoop to this?" Young Ace asked. "From head to toe, I'm a Dragon Age person," came the reply. Young Ace concluded that there was nothing left to do but fight, and Dragon Age agreed ("It's war"). Young Ace then announced a "K-1 Climax Campaign" between the Young Ace and Dragon Age casts.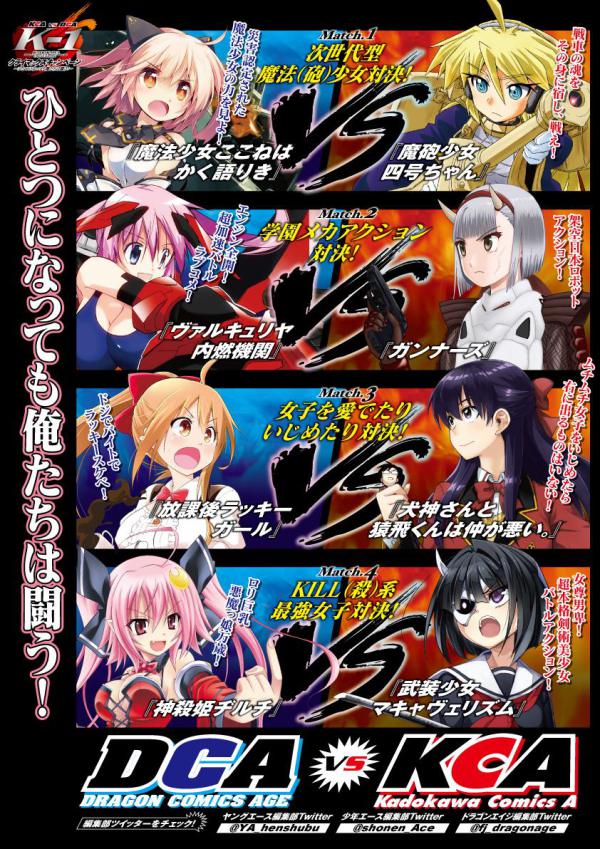 It was all a publicity stunt after all. Young Ace went on to ask its followers which of these series was more interesting, and asked them to look out for "battle-style" illustrations from the manga's creators at bookstores. Both magazines then apologized to any readers or staff for any misunderstandings.
From top to bottom, the competing series are:
Mahou Shoujo Kokone-ha Kaku Katariki ("Thus Spake Magical Girl Kokone") vs. Mahou Shoujo Yongou-chan ("Magicannon Girl Number Four"), as they are both "next-generation magical girls"
Valkyrja Nainen Kikan ("Valkyrja Internal Combustion Engine") vs. Gunners, as they are both "school mecha action" series
Houkago Lucky Girl ("After School Lucky Girl") vs. Inugami-san-to Sarutobi-kun-ha Naka-ga Warui ("Inugami and Sarutobi Do Not Get Along"), as they both "admire and bully girls"
Kamigoroshi Hime Zilch ("God-Killing Princess Zilch") vs. Busou Shoujo Machiavellianism ("Armed Girl Machiavellianism"), as they are both "murderous, powerful girls"

[Via Netlab and PR Times; Images from Otaku.com, Fortress 76 and Comic Natalie]
---