Interest

Limited Edition Lupin the Third Ukiyo-e Prints Available Internationally

posted on by Lynzee Loveridge
Anime News Network's merchandise coverage sponsored by
Tokyo Otaku Mode
.

---
The limited edition Lupin the Third ukiyo-e prints shown at Isetan Shinjuku Store's Fashion Museum earlier this year are now available for sale internationally.
Tokyo Otaku Mode is offering a limited number of the prints created by the Takezasado woodblock printing company. Each print is made to order and ranges in price from US$697.99 to US$1,744.99. There are individual framed prints of Lupin, Jigen, Goemon, Fujiko, and Inspector Zenigata and a larger 13.4" by 20.5" "Aquatic Detective Story" piece. The portraits show the characters in classic kimono while the Aquatic Detective Story art depicts Lupin's crew in gondalas after a heist.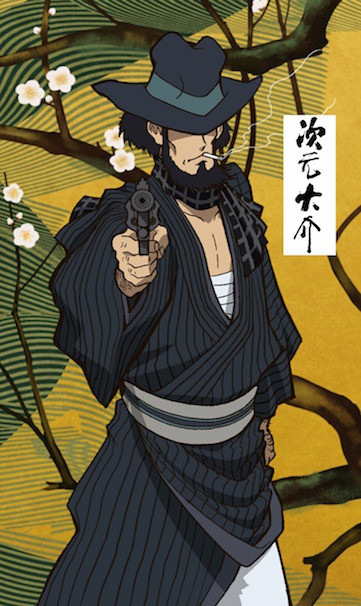 The prints were created using the Takezasa-Do woodblocking technique of Kyoto. Each character's name is printed in calligraphy by Japanese calligrapher Tansetsu Ogino. Living Japanese national treasure Ichibei Iwano created the paper for the prints, as he previously did for the Ghost in the Shell ukiyo-e prints.
For a closer look at how the prints were made, TMS Entertainment is hosting a 18-minute video that shows artwork from the design process to printing.
The prints are available for order internationally except in the Holy See (Vatican City State), Malta, Monaco, San Marino, Slovenia, and Switzerland. The prints are made-to-order and are shipped approximately eight weeks after an order is placed.
---