Interest

Ultraman Monsters Tell Us, "Don't Think, Drink!" in New Kaiju Sakaba Collaboration

posted on by Amanda Whalen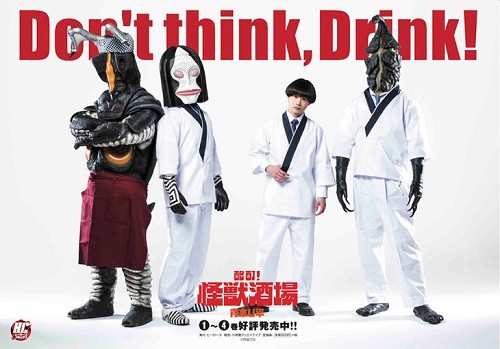 A new collaborative event has been announced in order to celebrate volume four of Aoki Uhei's manga Meitei! Kaiju Sakaba (Intoxication! Giant Monster Bar), which will be released on April 5. The collaboration will feature actor Yuma Yamoto of Super Salaryman Mr. Saenai, along with the Ultraman monsters Dada, Zetton, and Kemur Man.

The event will be taking place at izakaya in the Shimokitazawa neighborhood in Tokyo beginning on April 5. Participating establishments will be distributing two varieties of limited edition coasters displaying the collaboration visuals and leaflets from chapter three of the manga. A list of participating izakaya can be found on the following website (Japanese only).


Bunkyōdō Animega bookstores will be offering temporary book covers featuring the collaboration visuals, and other merchandise will be available at some participating bookstores.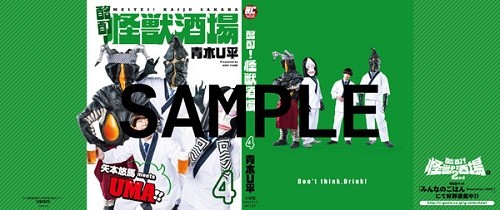 The Meitei! Kaiju Sakaba manga, which is serialized twice a month on the website "Minna no Gohan" is a comedy featuring well-known monsters from Ultraman working at a bar.
Volume four will conclude the first series of the manga, and the second series, Meitei! Kaiju Sakaba 2nd (Intoxication! Giant Monster Bar 2nd) will begin serialization on the Minna no Gohan website. A special feature about the 1st installment in the 2nd series will also appear in the May issue of the monthly magazine Heroes, which is currently on sale.
A real life Kaiju Sakaba exists in Kawasaki, complete with an Ultraman-themed menu and costumed actors. It has been successful enough that a new location will be opening in Shinbashi, Tokyo, at the end of May.
Kaiju Sakaba also had an anime spin-off series Anime Kaijū Sakaba Kanpai! (Monster Bar Cheers!), which aired in summer 2015.
Source: Natalie Comics
---