Interest

Humans Are Off the Menu at Attack on Titan Cafe Collaboration

posted on by Jennifer Sherman
With an unending supply of tempting treats in sight, pesky Titans may soon decide to put something besides humans on the menu. The buffet-style restaurant chain Sweets Paradise is collaborating with the second season of the Attack on Titan television anime to host a special cafe.

Although there is no apparent explanation, the collaboration is featuring Attack on Titan's main characters as sailors. For an additional 650 yen (about US$6) on top of the buffet price, people can choose one item from the food and sweets menu and one item from the drink menu. The food menu includes items such as seafood omurice with famous dialogue from the anime and a doughnut with a lurking Colossal Titan.


A set of monaka sweets will feature 11 anime characters in their super-deformed sailor forms for 1,080 yen (US$10). In addition, the "challenge menu" item will be a 2.8-kilogram (6-pound) bowl of Black Castle Ruins Curry inspired by Utgard Castle. The curry must be ordered a day in advance, and it will come with a set of 11 coasters for 3,900 yen (US$35).
For each item people order from the food and sweets collaboration menu, they will receive an original paper luncheon mat. For each item people order from the drink menu, they will receive one of 11 coasters.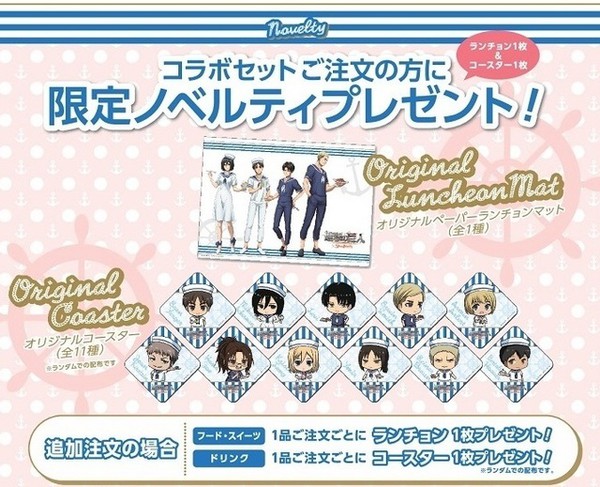 Fans who take a picture of the collaboration's real version of the can of herring that appears in the anime can participate in a Twitter campaign. People who use the campaign hashtag to tweet their pictures will be eligible to receive one of 10 Sweets Paradise tickets.

Collaboration cafe locations will sell an original A4-size clear file for 378 yen (US$3), four varieties of acrylic key holders for 756 yen (US$7), 11 varieties of trading super-deformed acrylic key holders for 702 yen (US$6), and 11 varieties of trading super-deformed tin badges for 378 yen (US$3). The clear file and regular key holders are going on sale on Friday, followed by the super-deformed key holders at the end of June, and the tin badges at the beginning on July.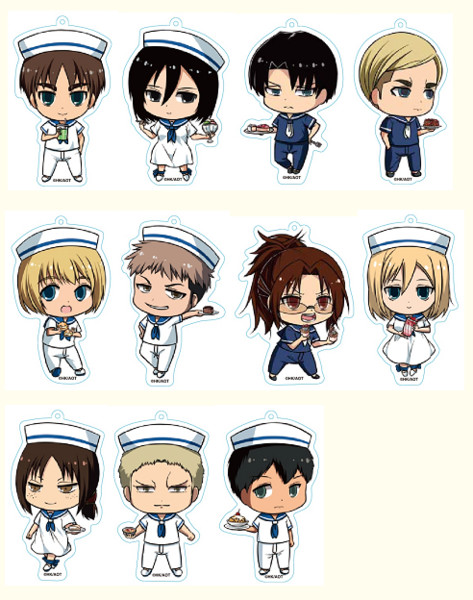 The cafe is debuting in Sweets Paradise's Shinsaibashi location in Osaka on Friday and running until July 31. The cafe will also run in the Ikebukuro location in Tokyo from July 22 to September 3, and in the Parco store location in Nagoya from August 5 to September 18.
Tokyo Skytree's Attack on Titan event is offering a similar themed menu until July 14.
Sweets Paradise collaborated with the Fairy Tail: Dragon Cry anime film earlier this year.
[Via Nijimen]
---